Well-off move into gold courier business
By Aanya Wipulasena and Deepa Adikari
Insatiable India's high prices ratchet up smuggling rackets
View(s):
Recent raids at Bandaranaike airport reveal that gold smuggling couriers now include those in high positions in companies or in other white collar jobs. Gold couriers are not necessarily the desperately poor any more. In a recent raid, two staff members of a known airline were arrested with 75 gold biscuits amounting to more than Rs. 300 million.
The biscuits, weighing 7.5kg in total, had been brought into Sri Lanka by a passenger travelling on Emirates Airlines Flight EK 348 and been handed over to the two airline workers who were intending to surreptitiously take the gold through security to be given to agents who would smuggle it onwards into India. Their plans were thwarted when a Sri Lankan Airlines security officer inspected them. It was revealed later that the two officials had been successful in several previous attempts to smuggle gold into the country.
In another incident, a Customs official attempting to smuggle gold hidden in wrapping around his leg was intercepted. A separate event revealed a female accountant flying from Dubai caught with 10kg of gold concealed in her undergarments. She was also in possession of different passports, revealing that she was backed by officials in higher positions. These high officials work with smugglers to obtain easy high profits.
Sea Street (Hetti Veediya) has now become the headquarters for smuggling of the precious metal. It is brought in illegally from countries such as Dubai and Singapore, where gold is relatively cheap, and smuggled out to India where the price is high.
Previously the men and women trafficking gold that is swallowed, hidden among garments or worn as jewellery were people stricken with poverty or under the control of smugglers. Now they have been joined by a new section of society: white collar workers craving an immediate and high reward. They have become smugglers as they have more power and more easily get around legal obstacles.
Sri Lanka is involved in the trade because India has an insatiable crush on gold for reasons ranging from tradition to showcasing of wealth. Gold is an important element in Indian weddings and more gold a bride wears at her wedding day the more status she will gain in her immediate circle and society.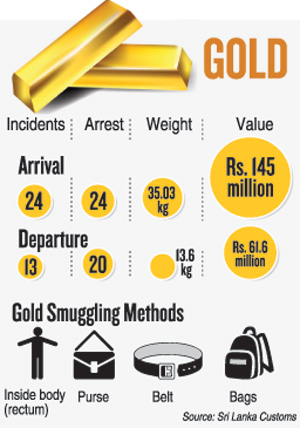 The Gold Demand Trends report by the World Gold Council (WGC) shows that the consumer demand for gold in India exceeded that of China last year, making it one of the main countries that own this metal in large quantity in the world. India holds more than 557 tonnes of gold representing 7.6 per cent of the metal's reserves, making the country the world's second largest consumer of gold.
In a bid to limit the consumption of gold and reduce rupee depreciation the Reserve Bank of India introduced restrictions on gold import in August 2012, a plan that backfired when importers began a new business – gold smuggling."Poor Sri Lankans are a part of this trade with most attempting hazardous methods of smuggling gold out of the country," said Sri Lanka Customs spokesman Leslie Gamini, addressing the involvement of low-income people in the illegal business.
According to Customs statistics, this year so far, 24 people have been arrested in 24 cases of smuggling into Sri Lanka a total of 35.03kg of gold worth Rs. 145 million. Thirteen cases of people attempting to smuggle gold out of the country were detected in the same period, involving 20 individuals arrested while illegally trying to take 13.6kg of gold valued at Rs. 61.6m out of the country. Most of those who were caught were mere couriers while the people hiring them remain at large.
Mr. Gamini also said that the modus operandi has changed over the years with people attempting new and innovative ways for smuggling purposes. Nonetheless conventional methods such as carrying gold inside the body by swallowing or hiding in the rectum, concealing a cache in bags, or carrying gold as unfinished jewellery and as belt buckles were still prominent, he added.
"Hiding inside the body can be very harmful. Many who were caught attempting to smuggle gold this way complained of severe pain and bleeding. Couriers working this way are very poor people, mostly from the Southern Province, who are paid around Rs. 10,000-15,000 per trip," Mr. Gamini revealed.
Sri Lanka's gold industry has been negatively affected by smuggling of gold out to India, with a number of sellers and craftsman being on the verge of finding alternate employment as a result of this.
Organised gold smuggling in and out of Sri Lanka has carried on for the past 50 years but a business that used to deal in small quantities has now ballooned due to price differences between Sri Lanka and India. Today the rate of 24 carats gold in Sri Lanka remains at Rs. 43,000, while in India it is slightly higher. Two weeks ago Sri Lanka's gold price was Rs. 40,400 per 24 carats but the prices increased due to the rise in demand for the yellow metal, in particularly for smuggling into India.
"This business has created an uneven demand for gold in Sri Lankan industry," said Sri Lanka Jewellers Association General Secretary A.R. Saravanan. He added that due to the rise in prices the market had become unstable.Mr. Saravanan said the volume of smuggling had prompted the government to impose a 10 per cent tax on gold to save the country's banking sector. This had added to the burden of  gold sellers.
In spite of this, he said, the call for gold from neighbouring India continues.
Local goldsmiths cut out by cheap Indian workers
Many local gold craftsmen have been driven out of business because of the smuggling out of the countryof semi-finished and unfinished gold and the employment of an increasing number of Indian workers.More than 3000 Indian jewellery workers who work for lower wages and fewer allowances are now in Sri Lanka and are forcing local skilled workers out of business.

"This has become a big issue in the industry," said Sri Lanka Jewellers Association General Secretary A.R. Saravanan. He said Sri Lankan jewellery was an aid for the tourist trade and had to be crafted to meet international standards. He said the current situation was unhealthy for the Sri Lankan gold industry.
Deep ocean handovers hardest to stop
The most challenging method of gold smuggling for law enforcement agencies is by sea, through fishermen from Tamil Nadu, especially Rameswaram, who go far out to sea for a handover of gold from their Sri Lankan counterparts. In most instances, these cases go undetected.The Sri Lankan Navy reported a few cases it was able to track down. On December 16 last year, the navy captured two people attempting to smuggle 1.075kg of gold into India, on the beach of Ussimukkanthurel. On September 29, the navy seized a stash of gold weighing 1.730kg concealed under fishing nets in a fibreglass dinghy on Madagalthurel beach. The navy said the gold was to be trafficked into India.

Last October, the navy intercepted a dinghy with 45kg of gold neatly packed in plastic cans and concealed under fishing equipment west of Madagal. Two people arrested during the raid admitted they had been taking the gold to India.
An official attached to the All Mechanised Boat Fishermen Association in Rameswaram who asked for anonymity said most of these gold smugglers were small-scale fishermen who go to sea at night in small boats and meet Sri Lankan fishermen near Talaimannar for gold handovers.

"There is no way to put a stop to this. Gold smuggling is very real in Rameswaram. To avoid getting caught at least 10 small boats go together. This way only one or two boats will be caught by the Sri Lankan or Indian Navy," he said adding that gold smuggling was booming in his area as a result of the drop in the fishing industry caused by the dispute over territorial waters.