Lanka's VIPs bust millions to watch movies, including porn, in New York
View(s):

Whenever Sri Lankan delegates made their annual pilgrimage to the United Nations in September, they flew business class and were virtually armed with blank cheques.  No expenses were spared — be it five-star luxury hotels, unlimited overseas calls, room service, laundry valet, late night refreshments, a fully-stocked refrigerator and in-room movies.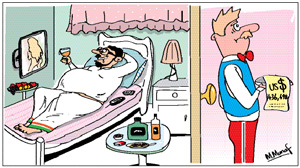 Last week we revealed the whopping $436,498 hotel bill (equivalent of SL Rs. 47.3 million) left behind by our delegation during a 2006 visit to New York — all paid for with public funds. Since then, the Sunday Times had access to a new set of 31 invoices from the UN Millennium Plaza listing every single item charged to the hotel bill. Perhaps most revealing are charges for in-room movies, mostly pornography, at $18.37 each.
The most avid movie fan, who was charged for 11 movies, occupied room 3,520, the hotel guest being a minister from a minority party, followed by a lady official (charged for eight movies) and an MP (charged for six movies). All movies are piped in through cable TV.
The scores of overseas calls, along with internet charges, amounted to a hefty $11,645. The going phone rates in New York hotels are about 300 percent over and above cell phones — which all of the delegates were in possession of. This generated a separate set of bills.
The presidential suite cost $2,300 a night. But the president had a clean bill of health — metaphorically speaking — with no extraneous charges. So were two ministers and an MP of the former regime. They were apparently too busy getting medical check-ups and had no time for movies.
The grand total for the delegation's 10-14 day visit to New York, including expenses relating to accommodation, hiring of vehicles, renting cell phones, meals, photography etc.) was US$ 436,498 – equivalent to a staggering SL rupees 47.3 million.
---
Hired campaign teams dupe politicians
During elections period it is not uncommon that there are many who earn money by helping candidates in their campaigns by putting posters and distributing leaflets. However, the groups helping in the distribution of leaflets usually join in with supporters of one particular candidate and distribute his or her propaganda material.
Householders in some of the electorates in the Galle witnessed a different type of operation this time. A group of youth were distributing posters of not only of one candidate, but of several and more surprisingly not only of the same party, but of several parties as well. Inquiries revealed that there were groups who undertook the job to earn money. They had paid Rs 25,000 for a team of 10 members.
Much to his chagrin, one of the candidates found that his propaganda material along with the party manifesto had reached the voters only this week.
---
Kiribath with sheaves of bulath for media
Journalists who attended the final pre-election media conference of the United People s Freedom Alliance (UPFA) in Colombo this week were given a kiribath' (milk rice) treat at the end in an appreciation for their regular coverage of the media briefings.
There was also another unexpected show of gratitude by the UPFA members present including Susil Premajayantha and Dilan Perera who handed over sheaves of betel leaf to all the journalists. The fact that the betel leaf is the party symbol of the UPFA was not lost on those present.
---
EIBs for polls
Police Stations countrywide have opened Election Information Books (EIB) to record complaints from candidates.
The Police Elections Secretariat has directed that such EIBs "be preserved carefully and kept under lock and key until all cases arising from the elections are disposed of." All Officers-in-charge of police stations have been told that they are personally responsible for those books.
In the event of a transfer, the book should be handed over and taken over by the succeeding officer, according to instructions sent out.
---
Assistance for crime victims, witnesses
Victims of crime and witnesses will now be entitled to seek assistance and protection.
Justice Minister Wijeyadasa Rajapakshe has issued a Gazette notification that the Assistance to and Protection of Victims of Crime Act (parts I, II, III, IV and IX) have come into force from August 15.
---
Special show for singing politico
For a politico contesting from the Colombo District, it was luck all the way. He not only had his own musical show telecast live. He also took the microphone into his hand and sang. This was after saying that politicians should usually not sing such songs.
However, the talking point was not his song but the speech. During one that lasted some five minutes, a member of the audience counted the use of the word visheeshyenma (or particularly) 26 times. Why not when that was a special event?