The Pink Shalwar
By Manoshi de Silva
View(s):
As soon as Zeeniya returned home from her class, she ran upstairs. Her cousin Shaziya had come from Galle with her family and they were going to stay for the Ramazan festival. Zeeniya peeped into Shaziya's room but she was not to be seen. "Everyone went to town to buy some things," her grandmother said as she passed by. Zeeniya saw some packages on Shaziya's bed. They were things they had brought the other day, when Shaziya went shopping with some of their family members. As usual Zeeniya couldn't go because of her classes. She saw a soft sparkly material in one of the bags. It was in a pretty shade of pink. Zeeniya felt curious to find out what it was.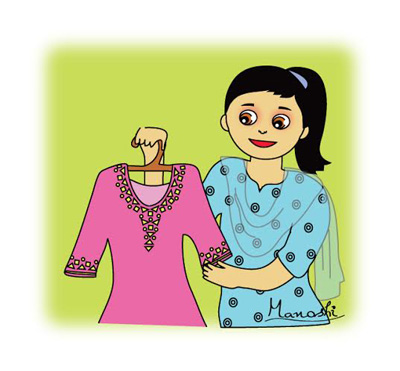 Zeeniya was very close to her cousin, so she knew Shaziya wouldn't mind her looking at it. She slowly pulled the material out of the bag. It was a beautiful shalwar. She remembered Shaziya telling her that she had bought a beautiful shalwar to wear for Ramazan and that she would show it to Zeeniya. "So this must be it!" thought Zeeniya holding it against herself and staring at the mirror.
"Shaziya was right. This is so beautiful!" thought Zeeniya, turning side-ways and looking at herself. It had beautiful, shiny embroidery of sequins and beads which ran around the neck and the cuffs. It was just so pretty. Zeeniya slowly ran her hand down the embroidery, admiring it. But her bangle got tangled in a piece of thread. She panicked and pulled off her bangle, breaking the thread which removed the embroidery, spilling the shiny sequins and beads all over. "What have I done?" stuttered Zeeniya in horror. She quickly put the shalwar back into the bag with all the sequins and beads she could collect and ran downstairs.
Late in the evening Shaziya and the rest came home. Zeeniya wanted to tell Shaziya what had happened and apologize. She wanted to talk to her alone. But they were surrounded by family and relations. After breaking fast, Shaziya wanted to show Zeeniya what she bought from shopping. "That's alright. Let's look at those later," replied Zeeniya. "How do I break this news to her?' thought Zeeniya who really wanted to tell her cousin what happened but still didn't want to upset her. "Today, there's too much of a crowd," she finally decided, "I'll tell her tomorrow and apologize."
But the next couple of days got much busier and Zeeniya didn't get a good enough opportunity to break the news about what happened to the shalwar. Shaziya was in such a happy mood and Zeeniya didn't have the heart to spoil it. So she kept on postponing it, waiting for a good opportunity to talk to her cousin about the shalwar.
Finally on the Ramazan festival day, after prayers the whole family gathered at Zeeniya's house, which was their ancestral home. She looked around for Shaziya, but it was not easy because everyone was so busy. Finally she saw Shaziya coming down the stairs, all dressed up to celebrate the day. But she was wearing a blue shalwar.
"What have I done!" thought Zeeniya miserably, "If I told her on time, maybe she would have got the pink shalwar mended in time to wear today. She must have not worn it because of the damage I caused to the design." Zeeniya looked at Shaziya sadly, but Shaziya looked cheerful like she always did. The blue shalwar she was wearing was very pretty but not as elegant and richly worked as the pink shalwar. "I never got a chance to tell her what I did. But I should do so at least now," thought Zeeniya.
"Hey, nice shalwar, Shaziya," said a cousin brother of theirs who walked in. "Thank you nana," she said with a big smile. Zeeniya sighed. "If she wore the pink shalwar everyone would have complimented her more. Because that shalwar was much nicer than what she is wearing now. It's entirely my fault," she thought and quickly ran towards Shaziya.
"Wait I need to talk to you about something important!" Zeeniya said holding Shaziya by her hand. "Can't it wait a little? I have to help in the kitchen," said Shaziya dragging herself towards the kitchen. Zeeniya shouted, "No, it's very important. I need to talk right now!" "What is it?" asked Shaziya, looking a bit worried.
"It's about your other shalwar, the pink one," said Zeenniya. Shaziya looked surprised. "I saw it a couple of days back on your bed and took a look at it. I knew you wouldn't mind. But I am so sorry, my bangle got tangled in the thread and some of the sequins and beads fell out. And now thanks to me, you're not able to wear the pink shalwar you bought to wear today. You had to wear this one instead," she said in a tearful voice, "I wanted to tell you so many times but I just didn't know how to and I never got a good enough chance."
Shaziya listened to all this and smiled. "Well, thank you for telling me. I appreciate your honesty. But don't worry; I didn't buy the pink shalwar to wear today. I bought this one specially for that!" Shaziya said pointing at what she was wearing. "You'll have to fix the pink shalwar yourself, Zeeniya because I bought it as a gift for you!" Zeeniya looked surprised. "When I saw that shalwar, I remembered you, because pink is your favourite colour. So the only reason I got it was to give it to you. Just think of it as a gift for your honesty and for being my special little cousin," she said. Zeeniya smiled and held Shaziya's hand, feeling relieved and very happy at the same time.