Give him some sage advice
View(s):

My dear Ratnasiri and Di Moo,
I am writing to you to let you know what a pleasant surprise it was to see you back in the public eye, being appointed as presidential advisors on political affairs. It was a surprise because we all thought we had heard the last of you, now that both of you are well into your eighties.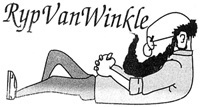 It was also a surprise because, during the recent presidential election campaign, one of the main complaints from Maithri's campaign platform was that Mahinda maama was wasting public money by appointing dozens of advisors who had little or no work to do. Now, he too has done just that!
That is unless of course the two of you really get down to work and give Maithri his money's worth by providing some sound political advice. And, just looking at what has happened — or not happened — in the past few weeks, it does look as if Maithri could do with some good advice too!
For the moment though, both of you have demonstrated that silence is golden. It hasn't been even six months since Mahinda maama was voted out of office. Since then, instead of going around the country singing his praises, you kept your thoughts to yourself — and you have been rewarded for that.
Ratnasiri, we were in fact surprised as to why you didn't join Maithri's team earlier. You had a reputation for being Satellite's loyal and faithful servant for many decades and in this battle within the Blue party, Satellite is firmly on Maithri's side simply because she hates Mahinda maama that much.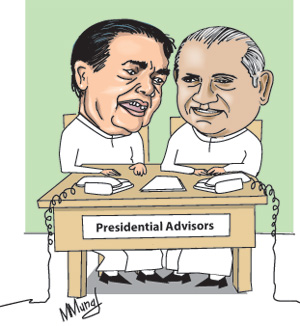 We also remember how annoyed you were when you were appointed as a 'senior minister' with hardly any work to do and no office to call your own — after being a loyal Prime Minister to Mahinda maama for five years. But, being the loyal party man that you are, you didn't make a big fuss about it.
Ratnasiri, I suppose you, like many others in Parliament these days, also have a son who is in politics. It could be that Maithri was thinking about enlisting his support as well when he offered you this position. If that is indeed so, it looks as if Maithri is not averse to a little bit of give and take too!
Di Moo, we hope you didn't discard the suit you specially tailored and wore when you were appointed Prime Minister. We had given up all hope of seeing you in the limelight again because we heard your health was failing and anyway, it is now Mahinda maama himself who is after your job.
We remembered, Di Moo, that during your term of office there was that scandal about a letter issued from your office to release a container that was found to contain narcotics. And, the 'yahapaalanaya' team made a huge hue and cry about that during their election campaign, didn't they?
When that came to light, you said that someone in your office issued that letter and that it had nothing to do with you. Well, someone else has learnt from that: now, our Governor of the Central Bank is saying someone else in his office is responsible for the scandal there and he has nothing to do with it!
Anyway, Di Moo and Ratnasiri, if you are indeed providing advice to Maithri I hope you would tell him to hurry up with this dissolution business. The more he waits, the more time he is allowing Mahinda maama to conduct rallies throughout the country and split the Blues into two camps.
We all know Maithri is struggling to get all these changes to the Constitution through Parliament but if he waits too long he will find that he has transferred some of his powers to the Prime Minister and that PM is none other than Mahinda maama. I don't think it is a prospect that he will enjoy.
You should also advise Maithri that he should crack the whip on errant Blue boys. During Mahinda maama's time, they all obeyed him like spineless kittens. Now, encouraged by the freedom they have because of 'yahapaalanaya' they seem to do what they want — and not what Maithri wants.
Di Moo and Ratnasiri, maybe you should also tell him that offering deputy minister posts is not the best way of doing this. Now he has given posts to a dark horse who you wouldn't dare to bet on and Sana Boy. They are not the purest among the Blue boys and many are questioning the wisdom of this.
Anyway, Di Moo and Ratnasiri, we wish you well. It is very likely that we wouldn't see you in the next Parliament and while many will question whether paying you for your advice is money well spent you are at least making a graceful exit — instead going to temples and engaging in politics there!
Yours truly,
Punchi Putha
PS: Remember that old story about the Raigamaya and Gampolaya? It was a story about two cunning people trying to outdo each other and both becoming victims. We can only hope that with a Raigamaya and a Gampolaya as his political advisors, Maithri and the country will not become victims!