Lankan grad developing oil spill solution
Jasmin Athas conducts research on efficient materials for a dispersant that is non-toxic, eco-friendly and even edible
View(s):
Research conducted by the Complex Fluids and Nanomaterials Group at the University of Maryland (UMD), USA, in developing safe and efficient materials to clean oil spills has been making the news. The research was conducted by Sri Lankan graduate student Jasmin Athas under the guidance of Prof. S. Raghavan.
The University of Maryland's student newspaper, 'The Diamondback' highlighted Jasmin's research in its March 26 issue. Jasmin is a fourth year graduate student in UMD's Department of Chemistry.
Aisha Sharipzhan's article in 'The Diamondback' outlines how researchers at UMD "have recently found materials that not only help clean up oil spills more efficiently, but are also non-toxic and even edible to some organisms."
The research was begun by Prof. Vijay John of Tulane University who is working with professors from 40 different universities. Prof. Srinivasa Raghavan of UMD's Chemical and Biomolecular Engineering Department with the Complex Fluids and Nanomaterials Group of which Jasmin is a member, is partnering this research.
The research using food-grade ingredients was initiated by Prof. Raghavan and funded by the Gulf of Mexico Research Initiative (GoMRI). GoMRI is an independent research initiative that was set up after the oil spill in 2010. Funded by British Petroleum (BP), it studies the effects of the oil spill on the environment and human health.
"We are trying to make [a dispersant that is] more bio-friendly, eco-friendly, less harmful to the environment," the article quotes Prof. Raghavan as saying. "We want something that's completely nontoxic but which also does a good job of dispersing the oil in the water."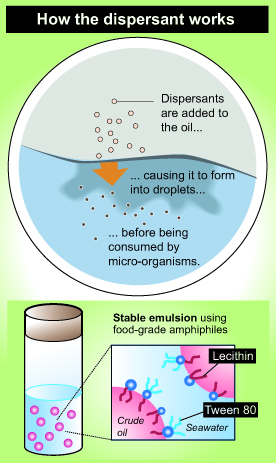 The article continues – "Some solutions to these spills involve the use of chemical dispersants that use molecules called emulsifiers to blend together substances normally unable to mix, like oil and water. The oil is still there, but it sinks down and becomes diluted into small droplets rather than sitting in heavy concentrations on the surface. However, other effects of currently used dispersants are not clear, Raghavan said, and they show some levels of negative effects with certain organisms.
"Jasmin Athas, a graduate student in the chemistry and biochemistry department, joined Raghavan's team and soon found a mixture of two food-grade molecules, lecithin and Tween 80, which potentially created an effective emulsifier. Lecithin is found in soybeans and is used in a number of products such as chocolate, and Tween 80 can be used as an ingredient to emulsify ice cream.
"This new lecithin and Tween 80 blend is able to create smaller droplets than currently used dispersants, allowing for more efficient dispersion. Since the material is also food-grade, it is nontoxic and edible for some marine microorganisms, which can contribute to cleaning up the dissolved oil.
"Both Raghavan and Athas emphasize that the current developments are conceptual. The research is ongoing, as the group continues to investigate proofs to show that the material is in fact an effective dispersant", the article states.
Jasmin Athas joined UMD in Fall 2011 after obtaining her B.S. in Chemistry from SUNY (State University of New York), Plattsburgh.
An earlier February 25 article published under the UMD's Research Division titled 'Non-Toxic, Edible Materials Could Help Break Up Oil Slicks' also highlighted the achievements of the Complex Fluids and Nanomaterials Group. "Recent results published in Langmuir describe a new food-grade emulsifier that creates smaller droplets of crude oil in seawater and keeps them apart longer than chemical dispersants," the article stated.
"The team combined two surfactants to create a new emulsifier that is effective on mixtures of crude oil and seawater. One of these materials is lechithin, a natural phospholipid (a type of fat) found in soybeans, certain seeds, and eggs. The other is a polysorbate (a combination of natural sugar alcohol and fatty acids) called Tween 80®, which makes products like ice cream smoother. Both are amphiphiles, meaning their molecules are attracted to water on one end and fats and oils on the other. While neither is an effective emulsifier on its own, they make a great team in a 60/40 lechithin/Tween 80 blend.
"The rate at which the oil degrades varies enormously, depending on factors such as water temperature, oxygen levels, and the physical and chemical nature of the oil," explains graduate student Jasmin Athas (Department of Chemistry and Biochemistry), the paper's first author and a member of Raghavan's group. "The more resistant the oil droplets are to coalescence, the better. The fact that they are stabilized by a material that the bacteria might also eat is a bonus."
"Athas stresses that the current work is a proof of concept, the first step in designing a new dispersant. In the next phase of the research, the group will explore replacing another key ingredient, the solvent, which is the liquid medium that holds the emulsifier so that it can be sprayed as evenly as possible over an oil spill.
"Ideally, we want a nontoxic solvent that's able to deliver the surfactants to the oil with very little mixing energy, since we can't predict how strong the waves will be," she says", the article states.