Dansal: They are a-changing but CMC will check them all
By Chrishanthi Christopher
View(s):
In a sign of the times, 63 of the 93 Vesak dansal registered in Colombo will be distributing ice-cream and soft drinks while the rest will serve food such as rice and noodles, said council authorities planning stringent checks on all the outlets.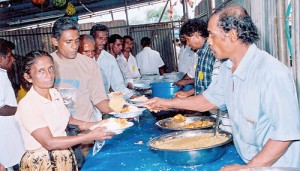 Sixteen Public Health Inspectors (PHIs) will be deployed in Colombo to ensure that the food served in dansal are prepared under hygienic conditions.
All the 93 dansal applications received by the CMC – most from Colombo Central and Colombo West – were granted approval immediately, Colombo Municipal Council (CMC) Chief Medical Officer Dr. Ruwan Wijayamuni said.
The PHIs will go around checking the quality of the water supply and the ingredients used in preparing the food and the conditions under which they are cooked. It is understood that Ministry of Health (MOH) officers will join the mobile checks.
"They [dansal operators] prepare food on a mass scale in improvised kitchens with minimum facilities and there can be contamination," Dr. Wijayamuni said, explaining why the CMC is carrying out inspections.
The CMC said it was not mandatory to register a dansala but if PHIs, during random raids, find any food prepared and served under unhygienic conditions, action would be taken.
Samples of suspect food would be taken for testing and the persons charged. "We will be even checking on the expiry dates of the ingredients used," Dr. Wijayamuni said.
The CMC has set up a complaints hotline, 2676161, for anyone who has concerns about the quality of the food served.
It will have ambulances with doctors stationed in places of public interest.
CMC Commissioner B.K.A. Anura has also drawn up extensive plans to have the city clean during the Vesak days. Garbage contractors will be deployed at dansal and pandals sites and other places where crowds gather for a week.
Special attention has been given to the Gangaramaya, Baudhaloka, CMC and Sirisasa Vesak zones. "They have been asked to clean the city during the night and day and have the city clean by morning," he said.
The CMC also has made arrangements to have 5000-litre water tanks located in many areas.