De Lanerolle Brothers pledge support to Unity Mission Trust
View(s):

A familiar name to music lovers in Sri Lanka, Rohan and Ishan De Lanerolle last week announced they would be Brand Ambassadors to the Unity Mission Trust.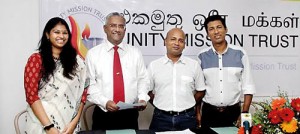 The Ekamuthu Oray Makkal Unity Mission Trust (UMT ) has since May 2009, been committed to fostering unity, integration, healing and reconciliation amongst the youth of the Wanni and their peers across Sri Lanka. The non-profit voluntary Trust is governed by a Board of Trustees and by a fully volunteer-based Executive and an Operations Committee, which is strengthened by a Regional Network of Youth Leaders spread across Sri Lanka as well as by a National Youth Leadership Council.
"The new relationship with UMT, enables us to contribute to the future of our motherland in a new, very meaningful and exciting manner that will uplift and empower the socio-economic development of the current and future generations to develop themselves and the country in the name of unity," Rohan and Ishan de Lanerolle said in a statement.
Bertal Pinto- Jayawardena, Founder Trustee and co-ordinator of UMT expressed his delight that the De Lanerolles have joined hands to help create awareness of the work being done to build up equality and unity amongst sons and daughters of this land. The Trust uses a platform of empowerment and leadership development at a series of residential Unity Camps for 500+ youth at a time, from across Sri Lanka , as well as leadership programmes to achieve their goals of building bridges of friendship , unity, integration and healing