'Pride and Power' exhibition
View(s):

Pala Pothupitiye has become one of Sri Lanka's most recognised and celebrated emerging artists. His latest body of works reveal the artist's strong expressions of Sri Lanka's contemporary social and political culture.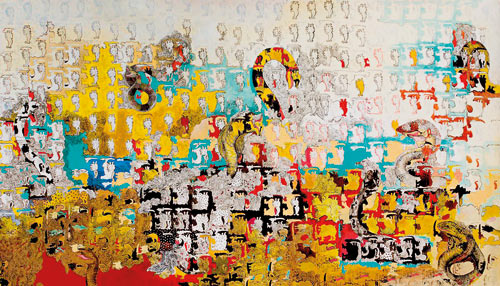 Religio-cultural extremism and majoritarian Sinhala nationalist sentiments are the main focus in his latest exhibition 'Pride and Power' which opens on February 21 at the Hempel Galleries in Colombo. Works for the current exhibition which continues until March 14 include paintings, drawings, sculptures and installation, in which religio-cultural extremism and majoritarian Sinhala nationalist sentiments are the main focus. Last year's Aluthgama tragedy and political support for extremist Sinhala Buddhist nationalism are the background to the inception of these works. His representation of traditional symbols and patterns shows how Sinhala Buddhist national and cultural icons can be misused and abused to support violence and extremist ideas.
The attraction of Pala's work is inescapable. It allows the viewer to address the realities of terror, violence, corruption, right-violations and injustice, within an environment of visual pleasure. Pala provides an aesthetic experience similar to life in Sri Lanka, where despite the

underlying acute problems; people are enjoying much of the country's recent development and beautification.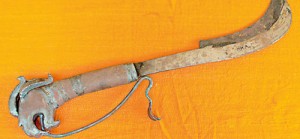 "Pala is a multiple organism," says friend and photographer Michael O'Shea. The sweat and thoughts of many people come together in this artist's work.
Pala's background is traditional training in ritual-craft mixed with formal academic education that have uniquely modelled his art thinking. His lineage includes traditional craft artists and ritual specialists. Goldsmiths, ritual healers and medicine men form part of his ancestry.
Pala's dedication and commitment to his work has consistently taken priority in all aspects of his life. He is in every sense of the word, a 'true' artist. Over the last ten years, he has come to achieve international success and recognition. Pala has exhibited extensively both within Sri Lanka as well as internationally, such as in Delhi, Dhaka, Karachi, Kathmandu, Japan, Germany, Hong Kong and London. In 2010, he was nominated for the Sovereign Asian Art Prize and won the first prize which proved to be a turning point in his career. Pala's work goes from strength to strength.