Munchee's Gamata Sarana CSR initiative helps rural communities
View(s):

Ceylon Biscuits Ltd (CBL) recently completed six community projects under the 'Munchee Samaga Gamata Sarana' infrastructure development initiative.

Through this initiative CBL has completed nearly 100 CSR projects throughout the island that directly benefited 83,765 people this year alone, the company said in a media release.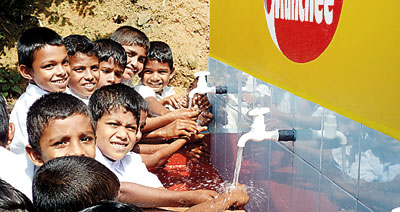 These recent projects include a community centre in Deniyana which benefited 2800 families; provision of safe drinking water to two schools in Morawaka and Badulla which benefited 650 students; a new school stage for the students of Kekirawa Nelliyagama Central to hold school concerts and assemblies; a state-of-the-art science lab for the 250 students of Pagaragammana Muslim Vidyalaya in Mahiyanganaya; and a modern school library for 300 students of Deegawapiya Sinhala Maha Vidyalaya.
"We are a company that contributes towards the community because we believe business is not only about profit but also helping our community grow," said Nandana Wickramage, Group Director and Head of Marketing and Sales, said in the statement. "42 per cent of our projects have been school-based and 29 per cent were to provide clean drinking water. These may seem like simple things but they make a world of difference to the people in the communities we help."
Picture shows children at the M/Edadukitha Primary Collage
Alapaladeniyaya Morawaka