Implementation of those 'Maithri' promises
View(s):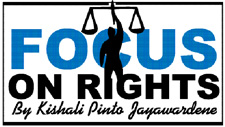 A sudden and somewhat amusing enthusiasm for observing constitutional proprieties has become apparent on the part of the Rajapaksa Government.  In his address at Colombo's Nelum Pokuna theatre, (yet another public facility named after him) President Mahinda Rajapaksa warned this Friday that only his administration had the parliamentary majority to abolish the Executive Presidency. Implicit in this claim was that promises made by common opposition candidate Maithripala Siriisena who maintains that he is the General Secretary of the Sri Lanka Freedom Party, as opposed to the Raja-Party or the Raja-Pakshaya, were 'unconstitutional.'
These promises relate to the core of good governance in Sri Lanka, including bringing back in the 17th Amendment, abolition or effective dilution of a dictatorial Executive Presidency and restoration of an independent judiciary. A few days earlier, External Affairs Minister GL Pieris, (yet another Raja-pakshaya minister with no effective power to run his ministry) indulged in similar concern.
Coyly hiding behind the Constitution
I say that such perturbation of the Government is amusing for several reasons. It was not so long ago that the Rajapaksa Government cast the Constitution to the veritable four winds as it impeached its own Chief Justice with less ceremony than that afforded to a common thief when she displayed the slightest hint of rebellion. Lest we forget, this was in the face of two judicial opinions at the highest levels advising the Government to desist.
The fact that a full year later, a Bench of the Supreme Court now thoroughly taught the lesson of its own impotence, would depart from that thinking is a mere predictable irrelevance. The point is that this Government cannot disregard the Constitution and then, at the same time, coyly hide behind it when it suits its own purpose.
Pushing the institution of the judiciary to the point where it invites public ridicule was a mistake that previous Sri Lankan Heads of State clothed in Presidential garb sans the aggravation provided by the 18th Amendment to the Constitution, (including even the architect of the 1978 Constitution, the late JR Jayewardene), cannily avoided. Once Executive Presidents embark on that slippery slope, there is little telling as to where this journey will end.
Time for a thorough accounting of Sri Lanka's judiciary
And as those of us unfortunate enough to be unwilling front row witnesses to the ruination brought upon Sri Lanka by shamelessly 'politicking' Chief Justices under the Presidencies of Chandrika Kumaratunga and Mahinda Rajapaksa would perhaps agree, it is time that a thorough accounting is done of Sri Lanka's judiciary. A judicial institution does not face a crisis of this magnitude overnight. As critical scrutiny would show, it was within the past fourteen years that controversy surrounding the Office of the Chief Justice deepened, even while the professional and academic community kept largely silent.
Each and every decision had its own drastic impact upon the country. Judicial relaxation of parliamentary cross-overs without loss of the electoral seat is a good case in point. This principle was taken to a new extreme in Ameer Ali v Sri Lanka Muslim Congress, (SLR 2006, 1) where the Sarath Silva Court determined that overwhelming and exceptional reasons must warrant an expulsion to be ruled as valid under the relevant constitutional provision (Article 99 (13) (a).
As the Rajapaksa government chuckled over this precedent along with other similar cases which operated mightily to its benefit at the time, it would have been unimaginable that eight years hence, the cross-overs would be from the government benches to the opposition. Such is the nature of politics, one might well say.
Speaking to a hint of desperation
That said, the Government strategy of calling the Constitution (or for that matter, the Court) to aid in a climate where people have lost basic respect for the law, lacks wisdom. This is a fact that President Mahinda Rajapaksa himself would have immediately realised not so long ago. But cornered by family bandyism and bloated beyond measure by delusions of post-war monarchical grandeur, the President appears to be in a different stratosphere.
Indeed, this frequent trumpeting of a (current) legislative majority speaks to a hint of desperation. Parliamentary majorities, as we all know, are decidedly fickle things. This is even more so now judging from the continuing unease in government ranks where open dissatisfaction with the 'Raja-pakshaya' is voiced.
What is in question here is the very nature of a patently corrupt family-run administration, its ruthless encouragement of racial and religious hatreds and its utter contempt for the law. This has realised the worst nightmare of the Executive Presidency foisted upon Sri Lanka decades ago. The Government's attempts to use a typically myopic if not bombastic claim by a spokesman of the Global Tamil Forum that the President would be taken before an international war crimes tribunal if defeated, has little electoral currency. Rather than playing these games and dismissing the 'Maithri' promises as unconstitutional, the President himself should immediately commit to implementation thereof, before the January 2015 Presidential election, if he wishes to court an alienated electorate, majority and minorities alike.
Grasping the nettle, thorns and all
But the possibility of such course correction on the part of this Presidency is extremely slim. In 2011 it was observed in these column spaces that even the minimally necessary recommendations of the Lessons Learnt and Reconciliation will not be implemented by the Rajapaksa Presidency as it would undermine its own distastefully patronage fuelled power base. Simple facts were testimony thereof including its adamant refusal to enact a Right to Information Law.
As the opposition campaign, poised to launch strategically from Maithripala Sirisena's familiar home base and Sri Lanka's ancient capital Polonnaruwa commences, it is clear that whatever may be its outcome, the political impact is already significant. This is something that cannot be brushed over by airy talk of a Constitution for which public regard has become abysmal.
And the nettle of displacing Sri Lanka's distasteful patronage Presidency will doubtless need to be firmly grasped, thorns and all come January 2015.