Poll advanced to Jan 2, common candidate CBK or Ranil
By Our Political Editor
View(s):
Presidential election date changed to facilitate Pope's visit, but final decision from the Vatican soon
Mangala re-emerges as kingmaker with threat to quit UNP; Malik Samarawickrema plays key role in common front move
Chandrika returns to the national scene; President calls Karu to congratulate him
Premadasa continues to rock UNP; insists it must be Wickremesinghe or himself for the presidency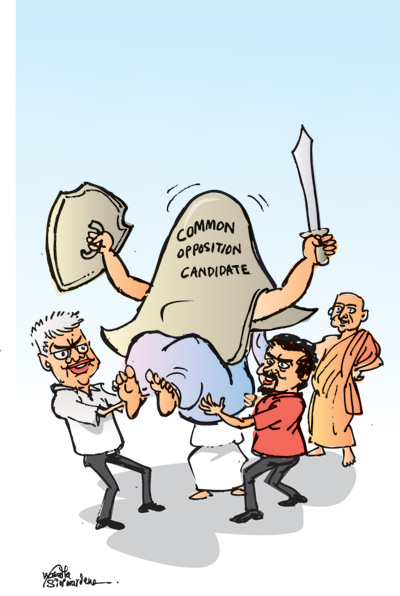 As presidential election fever continues to mount, a series of dramatic and significant political developments were the major highlights this week.
n The date of the polls has now been advanced to January 2 instead of January 8 next year. This is to give more time for preparations for the three-day visit of Pope Francis to Sri Lanka beginning January 13 next year. The UPFA Government believes this will influence the Vatican to keep the visit on schedule.
n Mangala Samaraweera, a former Foreign Minister in the Rajapaksa administration and now a Vice President of the United National Party (UNP) is to decide soon, possibly in a week, whether he should join the UPFA Government or continue to remain in the opposition party. He has already held talks with both sides, including the UPFA hierarchy with which some important issues have been resolved but a few still remain. He has also had talks with the UNP leadership including Ranil Wickremesinghe, the national leader. He was to explain reasons that prompted him to quit the UNP. He is under heavy pressure, however, not to leave.
* Samaraweera's threat to quit has jolted the UNP leadership and prompted it to shift course. Wickremesinghe, who was the acknowledged presidential candidate, was willing to step down, according to former Chairman and close friend Malik Samarawickrema. This is to pave the way for a candidate from a 'common front' of opposition political parties. Thus such a "common candidate" may come forward under a symbol which is not the UNP's Elephant. Moves by a UNP parliamentarian to urge Deputy Leader Sajith Premadasa to come forward as presidential candidate have been spurned by the Hambantota District MP. There are increasing prospects of former President Chandrika Bandaranaike Kumaratunga being the "common candidate" though some UNP lawyers opine she faces legal impediments. The next alterative centress on Karu Jayasuriya, a former Deputy Leader and current chairman of the UNP's Leadership Council, but Wickremesinghe, for he fears it might break the party.
* A full bench of the Supreme Court is to accept written submissions on advice President Mahinda Rajapaksa has sought under article 129 (1) of the Constitution. This is to determine whether he could seek a third term as President. There is no indication the SC will hear oral submissions.
The Pope's visit
A delegation from the Vatican was briefed in detail last Monday on arrangements currently under way for Pope Francis' scheduled visit. External Affairs Minister G.L. Peiris who chaired the meeting spelt out the different measures that were being taken. Defence Secretary Gotabaya Rajapaksa, armed forces commanders and several officials were present at the meeting.
The three-member delegation from the Vatican arrived in Colombo last Saturday to take part in this conference. Two of them who were in the front rows of the discussion were Alberto Gasbarri, Chief Organiser of Pope's International Travel, Secretariat of State of the Vatican, and Paolo Corvini, Senior Protocol Officer, Secretariat for Relations with States, Ministry of Foreign Affairs of the Vatican. The Archbishop of Colombo His Eminence Malcolm Cardinal Ranjith, several Bishops, Papal Nuncio Monsignor Pierre Nguyen Van Tot, were among those who took part. The delegation from the Vatican also visited the Madhu Church which the Holy Father will travel to on January 14. They will report on their findings to the Vatican where the final decision would be made. The Catholic Church in Colombo is confident that there will not be any change.
Plans to conduct the presidential poll on January 8 next year caused some concerns over the Pope's visit. This was due to apprehensions that after the results are known, with unlikely prospects of a delay due to any re-count, the time left would not be sufficient for arrangements including security precautions. A Government source said yesterday, "Advancing the date to January 2 for the presidential poll, and repeated assurances that there would be sufficient time, we hope will help convince the Vatican and the Catholic clergy here." The source said in the light of this "we are quite confident that the visit will not be cancelled."
Polls originally set for January 8 next year, were considered astrologically auspicious to Rajapaksa. As reported earlier, his astrologers had said that in January all dates were auspicious until the 23rd of the month. Hence, the new date is not an issue astrologically and is being considered very much a lucky one like January 8 — even though in the past, Rajapaksa relied on the number'8′ in numerology as his lucky number.
The Mangala Samaraweera saga
After a two-year stint as Minister of Foreign Affairs in the Rajapaksa Government (2005 to 2007), Samaraweera was ousted from that portfolio. However, he was allowed to retain the portfolio of Shipping and Aviation. He was then embroiled in many an issue and once refused to sign a Cabinet Paper to resuscitate the loss making Mihin Air. He was also opposed to the construction of a port in Hambantota. His undoing was a 13-page letter he wrote to President Rajapaksa expressing concerns over the threats of human rights violations Sri Lanka faced. He was then sacked.
Samaraweera remained in an "advocacy" group that called itself the Sri Lanka Freedom Party (M) and contested the 2010 parliamentary elections on the United National Party (UNP) ticket. He was invited by Wickremesinghe to join the party in August 2010. There, he became the Vice President. Later he was named the Director of Communications and was thus responsible for the party's media strategies. In that capacity he was ex officio member of the Working Committee and the Leadership Council. From an office in the basement of Siri Kotha, he directed the party's media strategy.
The advent of Sajith Premadasa as Deputy Leader of the UNP was the beginning of Samaraweera's woes. It is no secret that the enthroning of Premadasa was the result of efforts by General Secretary Tissa Attanayake. The conduit for this exercise was Tiran Alles, an MP of the Democratic National Alliance (DNA) who went back and forth talking to the two of them to broker a deal. Although a list of demands for Premadasa to get more fully involved in party activities was given by Attanayake, they were firmly rejected by national leader Wickremesinghe. He said he would not yield to any demands and refused to accept the document from Attanayake. Premadasa continued to insist that until he receives his responsibilities in writing from his leader, there was little he could do. Such a letter has in fact been signed by the UNP leader this week and handed down to Attanayake to be given to Premadasa. Yet, one of the wishes of Premadasa, an archrival of Samaraweera, earlier was that the latter did not handle party media strategies. In a bid to ensure there is no displeasure, Wickremesinghe took over the media campaign for the conduct of the presidential elections under his personal charge. However, he later declared that Samaraweera could still continue as the Director of Communications focusing on issues other than the presidential polls.
Another instance was when the UNP Polling Agents were invited to a rally at the Hyde Park on October 28. It was arranged by General Secretary Attanayake. Samaraweera was relegated to the second row drawing criticism from some seniors in the party. It turned out that a close aide to Attanayake had been responsible for allotting seats and had placed Samaraweera in that row.
It is in this backdrop of disillusionment that Samaraweera received a junior VIP visitor to his private residence overlooking the Bolgoda Lake at Gal Kanuwa Road, Gorakana, Moratuwa. The UPFA VIP visitor conveyed that the top UPFA leadership was remorseful about what happened to Samaraweera. They were equally concerned, he claimed, at his plight in the UNP. He invited Samaraweera to return to the Sri Lanka Freedom Party (SLFP) fold and that the invitation had the blessings of the very top of the ruling UPFA. The two-storied house separated by a swimming pool by the spacious Bolgoda Lake became the centre of a hive of activity thereafter. Another senior VIP from the UPFA, this time one who held greater responsibility in governmental and political matters, took over. He continued the visits. Both VIPs made clear during the talks that they had the full endorsement of President Rajapaksa in their efforts.
The senior VIP also started his discussions with Samaraweera by first expressing the remorsefulness of the UPFA leadership at the highest levels over the circumstances under which Samaraweera had been forced to leave the Government. Then came discussions on different issues. Samaraweera was offered the portfolio of Minister of External Affairs and Constitutional Reforms. The different responsibilities in this regard have been spelt out to him already. He would have a free hand to run the Ministry. This is besides restoring his "seniority" in the Sri Lanka Freedom Party (SLFP) and naming him as a Vice President.
amaraweera had also talked about the need for constitutional changes, the implementation of certain 'democratic reforms' and cited the case of Myanmar which had emerged from a pariah state to one on the road to economic and political recovery. However, there were senior ministers in the UPFA who got to know about these discussions and who did not favour the move. "He is trying to dictate to us on change of policies. He can come but other issues are a matter for President Rajapaksa," said one of them. However, the UPFA leadership was determined to rope in Samaraweera. Even Defence Secretary Gotabaya Rajapaksa who Samaraweera criticised bitterly has endorsed his return.
The news of a possible Samaraweera crossover went viral in the Matara District first. Minister Dullas Allahapperuma (now in charge of the District for the UPFA), who did not favour Samaraweera's re-entry, who told party organisers that he was to crossover. However, at a different meeting at 'Temple Trees' with the same organisers last Monday, Rajapaksa won their endorsement for Samaraweera to return to the party and be the Matara District Leader. Though some of Samaraweera's demands have still not been agreed upon, an accord was reached. It was endorsed at the highest levels. Samaraweera made it known he would assume office when he returns to Colombo after a private trip to Singapore, said a UPFA source. The present Minister of External Affairs G.L. Peiris is to be given another portfolio no sooner the Budget's Committee stage debate on the votes of his ministry is over on November 14. Samaraweera had told his interlocutors that he planned to go to Singapore for a private trip. As a result, the source said, some of the outstanding issues are to be discussed upon his return.
He left on Wednesday. On Monday, ahead of his departure, he called at the private office of Malik Samarawickrema located near the Department of Elections at Rajagiriya. The latter is a Working Committee member and a close confidant of Wickremesinghe. Samaraweera was to explain the reasons why he had decided to quit the UNP. "That will be a big blow for the party," said Samarwickrema who pleaded that he changes his mind. The former Minister in the Rajapaksa cabinet said he was being increasingly isolated by a group backed by General Secretary Attanayake. He complained that in the current circumstances if Sajith Premadasa (now Deputy Leader) were to become party leader by chance, he saw no future for him in the UNP. Thus, he would also be prevented from working towards the ideals he stood for. Wickremesinghe was to turn up at the Samaraweera-Samarawickrama meeting and urge Samaraweera to remain in the UNP.
He said Samaraweera's departure would also affect his campaign. Just then a call came from former President Chandrika Bandaranaike Kumaratunga to Samarawickrema's handphone whereupon he responded by handing over the phone to Samaraweera. When he broke the news that he was leaving the UNP to join the UPFA, she exhorted "you want to join that ……. again?" She urged her former minister and close friend not to do anything till she met him.
No sooner had the meeting ended, and Samaraweera had returned home did his phone begin to ring incessantly. Those in the UNP who did not want to see him leave had persuaded members of the family as well as friends overseas to ask him not to do so. Several UNP parliamentarians were calling over at the Samaraweera residence in Moratuwa to mount pressure on him. Later that day Samaraweera also met UNP Chairman Kabir Hashim and former President Kumaratunga. The latter was to appeal again to Samaraweera "not to do that horrible thing." She declared, "Give me some time. I will sort things out. Please don't go."
The next day (Tuesday) Samarawickrema had invited Samaraweera to lunch at the Paradise Road Café off Duplication Road in Kollupitiya. Others present were Hashim, Eran Wickremeratne MP and Krishantha Cooray from the party media unit. It was a re-run of the reasons why he had chosen to quit. Samarawickrema told Samaraweera that he had not slept the previous night. The latter was to elaborate on his earlier remarks by saying that he sees no future in the party and how moves to form a 'common front' had broken down. Samarawickrema was to offer Samaraweera any position he wanted in the UNP only to draw the remarks "I am not after any position." An angry former UNP Chairman was also critical of General Secretary Attanayake. Samarawickrema said that he was willing to negotiate for the formation of a 'common front.'
Wickremesinghe to quit race?
Samarawickrema then told Samaraweera that Wickremesinghe was willing to stand down from being the UNP presidential candidate. The naming of a UNP candidate has been a political see-saw. At first the UNP declared that its nominee would be made known only after the proclamation was issued. Thereafter, Premadasa announced at the Hyde Park rally for polling agents that it was Wickremesinghe who would be the UNP candidate. He said if Wickremesinghe was unable to be the one, he (Premadasa) was willing to come forward if given the party leadership. And now, Samarawickrema has declared Wickremesinghe will stand down. Yet more confusion was to follow.
The same message was given by Wickremesinghe when Janatha Vimukthi Peramuna (JVP) leader Anura Kumara Dissanayake met him at the office of the Leader of the Opposition in Parliament last Tuesday. If he was going to be the presidential candidate, Dissanayake had said that his party would field a candidate too. However, if the name of an acceptable 'common candidate' emerges, the JVP would consider supporting, Dissanayake had said.
When the lunch at Paradise Road Café was over, Samarawickrema and Hashim accompanied Samaraweera for a meeting with Wickremesinghe. A lengthy discussion ensued. Pleas were repeated by those present that Samaraweera should not leave. The discussion centered on addressing the issues raised by Samaraweera. There was general agreement that there should be a "common programme," "a common platform" and a "common candidate." Such a person, if elected, should address the constitutional issues that were raised. Wickremesinghe noted that nominating Karu Jayasuriya as a 'common candidate' would anger Deputy Leader Premadasa. Hence, he was not in favour. This was in the light of Premadasa's pronouncements that it should either be Wickremesinghe or him. However, the UNP national leader opined that Premadasa may not have objections to 'someone from outside' like Chandrika Kumaratunga.
Now that task of persuading Kumaratunga to become the presidential candidate has fallen on Samarawickrema. Whilst he has spoken on the subject with her, others conducting a dialogue include Wickremesinghe and Ven. Maduluwawe Sobhita Thera. A UNP source said Kumaratunga has asked for three days to respond to Samarawickrema's appeal. However, other sources said she is steadfast in her conviction that she would not contest any elections in view of pressure from her children who are in Britain. Some UNP lawyers opined that legal questions could also arise if Kumaratunga came forward as a presidential candidate. They cited the Water's Edge case where she was convicted and fined three million rupees by the Supreme Court on allegations of corruption during her tenure in office. In such an event, the question in UNP circles is whether the mantle would fall on Karu Jayasuriya, a choice which Wickremesinghe is not in favour lest it anger Premadasa. It is Samarawickrema's assignment now to bring together other opposition political parties to support a 'common candidate.'
Jayasuriya received a telephone call yesterday from President Rajapaksa amidst media speculation that he was also a likely candidate. "Mang kathaa karanney subapaththana (I am calling to wish you)," he said.
Jayasuriya was to reply that "Eya gena pakshaya thawama theeranayak arang nehe or the party has not taken a decision on the matter." Rajapaksa went on to say that he had even asked Jayasuriya's son-in-law Navin Dissanayake (a Cabinet Minister) to support Jayasuriya since he believed in family unity. Jayasuriya responded by saying that he did not discuss politics in the family — much the same as the tradition followed by the late Premier Jawaharlal Nehru in India.
Other than the proclamation, possibly on November 19 for presidential polls, there is a bigger deadline for Samarawickrema. He would have to wrap up a 'common front' and agree on a 'common candidate' within a week, just before Samaraweera returns from Singapore. That is the unwritten understanding reached if he were to change his decision to cross over. If that does not happen, Samaraweera is sure to join the UPFA Government ranks though he may sometimes delay his return from Singapore by a few days to give Samarawickrema more time. Hence, the former UNP chairman is working overtime.
Whether Samaraweera returns to the UPFA fold or chooses to remain, there is little doubt that the crisis within the UNP will deepen. That is with only seven weeks to go for January 2 presidential polls. Firstly, Premadasa is steadfast that it should be either Wickremesinghe or him who should be the presidential candidate. He is demanding the leadership of the party to defeat President Rajapaksa. Yet, Premadasa rejected a request by Kurunegala District parliamentarian Ashoka Abeysinghe to come forward as the presidential candidate. He admonished him for coming up with such a proposal in the lobbies of Parliament. Abeysinghe, a Premadasa loyalist, had said he was willing to originate a petition from UNP parliamentarians urging them to support him.
Even Premadasa's promoter, DNA parliamentarian Tiran Alles, was angry. He telephoned Samarawickrema to ask "what is going on?" sniffing for information. Samarawickrema was to snub him by saying that he was free to speak with anyone he wanted and did not have to reveal them. Premadasa told a trade union meeting in Siri Kotha on Wednesday that the party had decided that Wickremesinghe would be the party's presidential candidate. It seemed only Premadasa was announcing Wickremesinghe's candidature when Wickremesinghe himself had not. His remarks drew an angry retort from Colombo District parliamentarian Ravi Karunanayake. He told the BBC's Sinhala service Sandheshaya,
"There are some persons in our party trying to get rid of us. I wish to tell these people not to spread rumours. There were similar claims earlier. Since we can take up these matters we have been able to tolerate it. The Government tries to take advantage of this. There are about 25 to 30 Government members trying to come to us. There are people in our party who oppose a 'Common Programme.' There are persons in our party who are happy to see us defeated." In a related development, Samarawickrema telephoned his critic Karunanayake this week to seek his support in his initiatives. Weeks earlier, the latter had accused the former UNP Chairman of being a UNPer by day and UPFA supporter by night. There was also camaraderie between them as they chatted together with Thalatha Athukorale MP and frontline women's leader at Siri Kotha on Friday evening.
Also on Friday evening, the "G-20″ group of the UNP tasked to oversee matters relating to the presidential poll met at the parliamentary complex. Wickremesinghe who presided announced that the signing of a Common Minimum Programme with Opposition political parties was being finalised. An agreement is to be signed, he said. A rally by those who ascribe to the programme is being held on Wednesday. JHU's Ven. Athureliye Rathana Thera had wanted the event held at the Hyde Park. However, Colombo Municipal Commissioner Badrani Jayawardena had turned it down on the grounds that it has been given to another party. Ven. Rathana Thera walked into her office on Friday to lodge a protest. Now, Ven. Rathana Thera has obtained the Muttiah Park overlooking the Beira Lake and near the Gangaramaya Temple.
Wickremesinghe made no mention to the "G-20″ members which candidate the party would support but declared that the UNP should get its team together and ensure that the members co-operate fully in the party's approach. One of the notable absentees at the meeting was Premadasa. With the new programme in mind, Wickremesinghe also held a meeting on Friday night with former General Sarath Fonseka, now leader of the Democratic Party, at a private residence in Kotte. Fonseka was to tell him that he would neither support Chandrika Kumaratunga or Karu Jayasuriya. He said his Democratic Party was willing to only support Wickremesinghe. If he did not contest, Fonseka said, his party would field his wife Anoma as a candidate. Wickremesinghe was also to tell him that there is still no formal decision on who the presidential candidate would be. Hence, he asked Fonseka not to rush to conclusions. When the news of this meeting reached another party leader, who did not wish to be identified, he telephoned Wickremesinghe to ask whether he was coming forward as presidential candidate. The UNP leader clarified that he would do so only if Chandrika Kumaratunga declines. Earlier on Friday, Wickremesinghe also had a one-on-one meeting with Venerable Maduluwawe Sobitha Thera.
Already three different groups are scheduled to hold a news conference today to announce their support for a 'Common Programme.' They are the National Movement for a Just Society (Ven. Maduluwawe Sobhitha Thera), People's Movement for Democracy (JVP) and the Pivithuru Hetak (A better tomorrow)-led by Venerable Athureliye Rathana Thera. This group which includes the JHU wants to back Karu Jayasuriya and has said it would otherwise consider fielding another candidate. However, JVP leader Anura Kumara Dissanayake told the Sunday Times, "Our party has not made a firm decision so far whether to take part or not. Our campaign at present is restricted to educating the people that Rajapaksa cannot seek a third term. A final decision whether or not to back a 'common candidate' will be taken only after a proclamation is issued." That raises an immediate question — whether a 'common front' will eventually fall in place in the light of diverse positions.
Whether Samaraweera chooses to remain in the UNP or leave, one critical factor remains. That is the crisis within the grand old party. With his public pronouncement that the party's presidential candidate should be Wickremesinghe or if he is unwilling, it is none other than himself, Premadasa, the party's newly anointed deputy leader raises new issues. He has also insisted that the party should come forward with its Elephant symbol. Now, the party, for at least this week, appears to have done an about turn. If indeed there is a 'common candidate,' the symbol sure will not be the Elephant. How Premadasa and his supporters will react to such a move remains a critical question. The only certainty is that the party would remain divided and the prospects of Premadasa not getting involved in the polls campaign are very high in such a situation.
SC to rule on MR's third term
On November 5, M.M. Jayasekra, Registrar of the Supreme Court, wrote to the President of the Bar Association of Sri Lanka informing him that the President has referred the following questions for its consideration and for an opinion before November 10. The questions are:
"(a) Whether in terms of Article 31 (3A) (a) (i) of the Constitution, as amended by the 18th Amendment, I, as the incumbent President, serving my second term of office as President, have any impediment, after the expiration of four years from the date of commencement of my second term of office as President on 19th November, to declare by Proclamation my intention of appealing to the People for a mandate to hold office as President by election, for a further term; and
(b) Whether in terms of the provisions of the Constitution, as amended by the 18th Amendment, I , as the incumbent President, serving my second term of office as President, and was functioning as such on the date the 18th Amendment was enacted, have any impediment to be elected for a further term of office."
The Registrar in the letter to the BASL added:
"I shall be pleased, if you could inform to the membership that written submissions in respect of the above mentioned questions will be entertained at the Registry of the Supreme Court until 3 p.m. of 07th November 2014. The written submissions would be tendered to the Registrar of the Supreme Court."
The letter has raised concerns in larger sections of the legal profession. Lawyers say the Supreme Court has chosen to only invite written submissions and not hear oral statements. The fact that a full bench of the SC is likely to scrutinise written submissions, they say, also raises another question. They point out that former Chief Justice Sarath N. Silva has declared that he wanted to challenge the constitutional legality of President Mahinda Rajapaksa contesting for a third term before the SC. Hence, they ask that in the event of the SC rules in favour of the President, allowing him to contest for a third term, who would hear arguments against such a view by the former CJ and any others. Of course, a lawyer backing another term for Rajapaksa argued that if there were valid arguments, there was no doubt the learned judges could change their views after hearing submissions.
These lawyers also point out that Article 129 of the Constitution that empowers the President to refer to the SC "a question of law or fact has arisen or is likely to arise which is of such nature and of such public importance that it is expedient to obtain the view of the SC" in itself is an acknowledgement of the seriousness of the issue and that is a matter of 'public importance'.
The UPFA leadership's strategy in reaching out to Samaraweera, no doubt, is tactically driven to draw him away from his close ally, Kumaratunga and thus deny the UNP a strategist for their propaganda work. As for the UNP, after all the hemming and hawing, it will be no surprise if national leader Wickremesinghe emerges the presidential candidate. This is after all the efforts of Samarawickrema to find an "acceptable" candidate bear no fruit.
Nevertheless, Mangala Pinsiri Samaraweera is a winner either way. On the one hand, he is set to not only conduct President Mahinda Rajapaksa's foreign policy but also become the catalyst for constitutional change. On the other, he is set to remain in the UNP as a formidable member if the party heeds his call for a 'common front' and a 'common candidate.' Whichever way things turn out, Samaraweera has made clear he has not lost his clout.
And while the Opposition is still in search of a 'common candidate', the Rajapaksa bandwagon has started rolling. 'Temple Trees', the official residence of the Prime Minister now used as the President's alternate office (alternate to the Presidential Secretariat) is teeming with party workers and members of various unions and associations brought in in their busloads to interact with the incumbent President.