Lanka joins the MICS club
View(s):

Cardiothoracic Surgeon Dr. Vivek Gupta who launched minimally-invasive surgery to bypass several blocks in heart vessels at a private hospital in Colombo discusses its advantages with Kumudini Hettiarachchi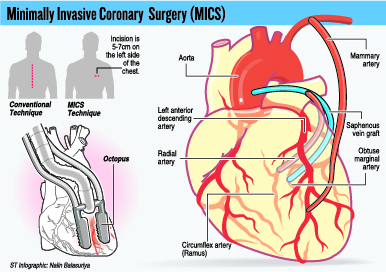 Working in a deep well, with "low visibility and hardly any space to manoeuvre" is what the procedure is compared to. It has, however, nothing to do with soil and digging but everything to do with the heart.
For, what Consultant Cardiothoracic Surgeon Dr. Vivek Gupta has been working on for over one year is minimally-invasive surgery to bypass several blocks in heart vessels.
Launching Minimally-Invasive Coronary Surgery (MICS) at the Asiri Surgical Hospital in May 2013, with a 130-kg patient undergoing this procedure, he says he has come public only this year (2014) after perfecting the art over the last year.
While the first total arterial multi-sequential grafting was performed by him in September this year, now it is being offered on a routine basis at the Asiri Surgical Hospital, MediScene learns.
Dr. Gupta as a young medical student had never imagined that he would take up cardiothoracic surgery. He was then only intent on following in the footsteps of his father, a Cardiologist, but his father's death after a bypass, propelled Dr. Gupta compellingly in this direction. He has had his training at the Escorts Heart Institute in New Delhi.
Getting down to multiple-grafting through this minimally-invasive procedure, Dr. Gupta says "it is challenging".
Usually 99% of coronary artery bypass grafts (CABGs) are carried out on the beating heart, after sawing the breast bone (sternum) and opening up about 8"-12" of the chest.
The disadvantages are obvious – a large scar and delayed healing, particularly if the patient has diabetes, is obese or is elderly. There could also be an infection of the wound. A patient would take about two months to recover, according to him.
"Mini-sternotomies and mini-thoracotomies were tried out but they too are inadequate for those with multiple blocks of their vessels," pointed out Dr. Gupta, explaining that the inherent problem was the inability to harvest the full mammary artery to be used to bypass the blocks. "The patient could get angina and be symptomatic afterwards, so it was not fully successful and cannot be justified."
The suitable option is MICS. There is complete re-vascularization, no scar is prominent and the patients are on their feet again very soon and can get back to their routines and also their jobs, it is learnt. Under MICS, the incision (cut) is 5-7cm on the left side of the chest. Seven centimetres would be needed if the patient is big-made and muscular and when three grafts are needed, according to Dr. Gupta.
The left lung of the patient is collapsed in this procedure lasting about 3-4 hours, according to this Cardiothoracic Surgeon, who then uses special equipment such as a retractor to lift up the chest to enable him to see into his "work" area which is the heart. Long instruments, as long as a foot and the 'octopus', a flexible tissue stabilizer are also used.
A patient who underwent MICS had three blocks in the left anterior descending artery, the ramus artery and the obtuse marginal artery, he says.
He reiterates that harvesting the mammary artery – 'spares' or parts of which are then used to bypass and re-route the blood with nutrients and oxygen around the blocks – is extremely difficult and requires much manoeuvring, in a small space. The other vessels which could be harvested are the radial artery and the saphenous vein.
Titanium light-weight instruments are used and handling these needs skill and expertise, while the restricted space makes it essentially a one-man show with not much room for assistants. MICS is being practised only in a very few centres all over the world due to the degree of difficulty needed to master it and the expertise needed, he says, pointing out that Sri Lanka has now joined this 'elite club'.
"Whenever I use the octopus, I first put it on my hand to check its suction pressure, otherwise it can produce myocardium haematomas," says Dr. Gupta, adding that most anastomoses (reconnection of two vessels) are done without suction. "We perfected the art of MICS because if we mess up, the patient dies. This is why we cannot afford to fail," he adds.