From Facebook friendships to sexual harassment: Police probe cases
By Aanya Wipulasena
View(s):
Two more complaints where women were harassed by men with whom they built a friendship via social media – Facebook – were received at the Kotahena police.
Kotahena Chief Inspector Hemantha Ovitigama said that the women lodged complaints at the police regarding incidents where they were harassed and threatened by men using fake accounts over a social media site.
"They get friendly through Facebook and demand money or sex. We are currently conducting investigations and will take legal action against the suspects if found guilty," CI Ovitigama said.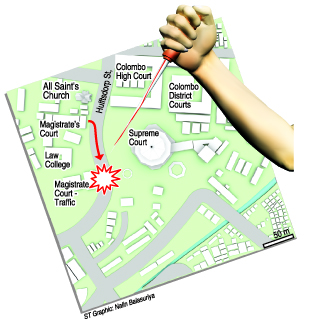 The complaints came in the wake of Monday's incident where a man stabbed a person opposite the Hulftsdorp courts over a similar case where his daughter had been abused after building a relationship with youth via Facebook
The man who died in the incident was the father of the suspect, 25 year-old Diroshan who was leaving court accompanied by his father and sister after a hearing regarding the case of allegedly abducting, drugging and sexually assaulting a 17 year-old girl from Modera.
The enraged man who stabbed the group of three was the father of the girl from Moratuwa.
According to police the girl and Diroshan had struck up a friendship on Facebook several months ago and on August 19 the girl had agreed to meet Diroshan after he had threatened to post nude pictures of her if she failed to do so.
When they had met the man had forcibly taken her on his motorbike to a motel in Mount. Lavinia. According to police the boy had allegedly offered her a drink spiked with drugs and she had soon lost consciousness. When she awoke, she realised she was almost naked. He had then dropped her at Kotahena.
He had then called her over the phone threatening once again to post naked pictures of her online if she didn't give him either Rs. 12,000 or have sex with his friends.
The girl had then complained to Kotahena police.
Chief Inspector Ovitigama said the suspect was arrested the following day and his mobile phone was scrutinised.
"His mobile phone memory card was checked and there were no photos on it. The motel's CCTV camera showed them arriving at 1 p.m. and leaving the premises at 5," he said.
The suspect was produced in the Magistrate Court at Hulfsdorp on August 25 and was released on bail. The stabbing incident occurred when he was leaving court.
Keselwatta police the girl's father was arrested over the stabbing and the case is being investigated by Keselwatta police.
CI Ovitigama said police had received several complaints where men had opened fake facebook accounts and used them to threaten young girls and women.
"They get friendly through Facebook and demand money or sex," he added.
In a related incident a French couple, touring Sri Lanka had complained of being harassed in Anuradhapura. The incident had taken place around 9.45 p.m. on August, 19. Following a complaint made by a resident to the police on the emergency line the suspect was arrested.
The suspect will be produced in court on September 2 for an identification parade.
In the first week of July a principal attached to a school in Hambantota was arrested for allegedly sexually abusing a student. It was later revealed that the principal had abused another student in a previous school he was in.
According to the National Child Protection Authority (NCPA), it received 714 complaints of rape, sexual harassment and abuse against children from January to July 14 this year.
Last year the NCPA received 1772 complaints while in 2012 it received 1463.