Locked up
View(s):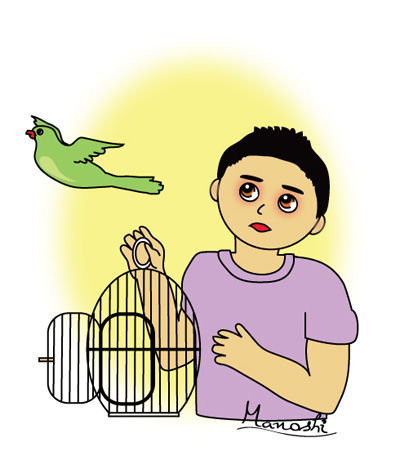 Sameera was given permission to travel alone for the first time and he couldn't hide his excitement. He was allowed to go by himself to his grandmother's house, which was a little distance away. Although it was not too far, her house was away from the town and was near a big ground where Sameera loved to play. The best part was that there were lots of kids in her neighbourhood for him to play with and since it was a Saturday he could play the whole day. 
His parents got ready to go to work and advised him to go  carefully. His mother reminded him of a few chores to do before he left. "Put the old newspapers in the
store-room and don't forget to put food for Polly. Since you'd be out the whole day, make sure to keep a bowl of water as well!" Polly was Sameera's pet parrot who lived in a small cage behind the house.
"Don't forget to lock the door and go  carefully!" said Sameera's father  and then they both left for work.
Pieces of papaw, mango and banana were put into a plastic cup. Polly looked at Sameera with  doleful eyes when he took a bowl of cut fruits to the cage. "You're a lucky bird Polly!" he told the parrot. But Polly looked uninterested; she just stared into the sky with an empty look in her eyes.
Sameera then got his backpack ready. In went a packet of biscuits, a big chocolate to share with the other kids and a water bottle.
He was about to close the door when he remembered the old paper pile. He grumbled and walked back in.
He carried the paper pile to the  store-room and struggled for a while, trying to open the door. He  remembered his father saying
something about the lock needing to be fixed and he was right. There was something wrong with the lock and every time Sameera managed to unlock the door it got locked again. He was only able to open it after wasting quite some time.
Muttering under his breath Sameera nudged the door open and dumped the papers on another paper stack. The door suddenly closed with a bang. Sameera arranged the papers and tried to open the door. To his horror, it was locked and the key was on the other side. "Okay, don't panic!" he told himself. With beads of sweat pouring down his  forehead he jangled the door-handle this way and that way, but it just didn't open.
Sameera knew he was in trouble. There was no other way than to wait till his parents got home. Luckily since it was a Saturday they both worked only half day. That was a little relief but the thought of being trapped in a store-room, even for that long, was not a pleasant one!
Even if he shouted for help there was no one else around to hear him. Sameera tried to calm down and looked around. The room was kind of gloomy and smelled a bit musty. There was a very small window high on the wall. Sameera kept a broken chair and opened it. A little bit of air came through. He sighed, took off his backpack and sat on the ground.
Sitting there alone with nothing to do felt like punishment. Sameera felt happy he left food for Polly. "Otherwise she would have been very hungry!" he thought.
The thought of Polly interested him. She was kind of like him in a way…
She was also alone in a cage with nothing to do. "She must be very bored," he thought, "why didn't I ever think of that?" But he tried to justify his thoughts by thinking about the food Polly got to eat. She got to eat different types of fruits  and vegetables every day. "Most birds wouldn't have even seen the food she gets to eat!" he thought.
After a couple of hours Sameera felt thirsty. He felt happy his  backpack was with him. But  surprisingly he had no appetite to eat, not even the chocolate. He just drank a few sips of water. Sameera felt very miserable and sad. If it was some other day he wouldn't have thought twice about eating the
chocolate but it wasn't the same when you are trapped inside a room like a prisoner.
He stared at the small window. He could see the clear blue sky with fluffy white clouds and the golden sunlight. How he longed to be out, to play with his friends, to be free. Polly's sad eyes came to Sameera's mind and how she always stared into the sky, just like he was doing right now.
After what seemed like eternity, Sameera finally heard the gate open. It was afternoon and he knew that had to be his parents. Then he heard the front door open and his mother's voice. Sameera shouted asking for help. When his parents came near the door he told them what  happened. His father asked him not to panic and after struggling with a screwdriver for a while, he managed to get the door opened.
As soon as the door opened Sameera's mother hugged him and asked him if he was alright. "Yes!" he answered without stopping and ran towards the back door as fast as he could. Both his parents followed him to see what was wrong. Sameera stopped near Polly's cage. "Polly, I have always wondered why you looked so unhappy, even when you got the best food to eat," Sameera told the parrot. "Now I know why…" With that he opened the cage door. Polly stared at Sameera, perhaps in surprise.
Then she flew out and perched on the mango tree. She then took one look at Sameera as if to say "Thank you!" Sameera watched her fly away into the endless blue sky and smiled  happily.