Kids world
View(s):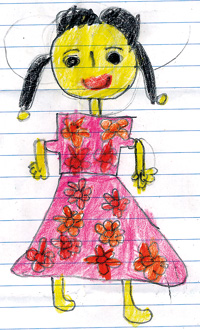 My mother
My mother's name is Rizmina. My mother loves me. She is fair. I love my mother.
Aaqib Shirazi
(Pre Grade)
Lyceum Int. School, Kohuwala
---
Have you wondered?
Have you ever wondered?
To live a life alone
Some think it's fun
Or may be you feel glum
Have you ever wondered?
If you could fly in the sky
Or sit on a cloud
And talk to yourself aloud
Have you ever wondered?
What it would feel like
To see your next birth
Or whether you'll be born on earth
Look at it this way
Sometimes it rains
Sometime it's sunny
Have you ever wondered What it would feel like to be a bunny?
Maybe just maybe
Think about the sky
Think about the ground
Think about the sound
Then you'll realize what's around
Amaya Silva (11 years)
Lyceum Int. School, Nugegoda
---
A walk in the evening
One evening my mother, my sister, my dog and I went on an evening walk near the Diyawanna Lake. We left home and crossed a ditch and started walking.
As we went, we met other people who came to walk. When the sun sets, the whole lake looks like it is sparkling. Some people come to row there too. When the birds fly between the trees, it is very beautiful.
Fresh air blows by too.
There is a hotel on the other side of the lake and when the hotel puts on the lights it reflects on the lake and it is very lovely. You can see the
sea-planes land on the lake too.
You can see birds making houses and children playing.
A walk in the evening is very fun and lovely.
Analki Dharmawansa (8 years)
Ladies' College
---
My mother
She is the prettiest flower in my life. Without her I can't go anywhere. Can you guess who it is? That is my mother. My mother's name is Loretta. She is 41 years old. She is a dressmaking teacher. She is very kind. She likes to play with my two squirrels. She cooks well and she knows to cook all Chinese food and Indian food. She loves to cook.
Her favourite colour is green.  Her hobby is stitching dresses.  Every day in the morning she gets up at 4.30 a.m., and she cooks food for school and puts it in my younger and elder sisters' and my lunch boxes. Then she plays with my two squirrels to relax. She prepares milk for them and pours into their cups. Then she wakes us all up and then washes our dishes and bowls. Then she calls the Auto uncle to come to take us to school.
She does a lot of work. I love my mother.
Rozanne Villawarayen (12 years)
Colombo 14
---
My mother
Everybody in the world has a mother. My mother's name is Azeema.
She is talented in everything. She is working with my father. She has faced lots of problems in her youth. She looks after us and runs the business with my father. She always cares for us and never leaves us alone.
She is good, beautiful and a caring mother to us. I forgot to say that she is 44 years old. I am lucky to have a mother like her.
I love her more than myself!
Hassan Namiz
(11 years)
Zahira College
---
Inter-International School Netball Tournament
"If you can imagine it you can achieve it. If you dream it you can become it." This is what you would have first read when you entered the Sugathadasa Indoor Stadium on January 26 for the exciting event, the Inter-International School Netball Tournament, hosted by Ilma International Girls' School.
It began at 7 o'clock and went on until 6.30 p.m. The participating schools were Lyceum International Nugegoda and Wattala, Gateway College Rajagiriya and Kandy, OKI International, Leighton Park, Royal Institute, Asian International, the British School, Leeds International and Ilma International. After many exciting matches, quarter-finals and semi-finals, our school took on Gateway College, Rajagiriya in the finals. Gateway College became victorious with nine points while Ilma International came runners-up with eight points. The chief guest for the finals was Mrs. Rosy Senanayake.
Thakreema Hilal was awarded the best centre-court player and Sarah Fairooz was awarded the best defence from our school. The Netball Queen and the best shooter were awarded to two participants of Gateway College. The day ended with speeches from the chief guest, the principal of our school, the vote of thanks from our school games captain Thanzeela Hilal and the singing of the National Anthem.
Ashooha Samsudeen (Grade


Ilma Int. Girls' School
---
Who am I?
I have lots of holes.
I can drink lots of water.
I am light when I am dry.
I can help you in
cleaning. Can you guess?
I am a sponge.
Shakya Karalliyadde (Grade 4)
Hillwood College,
Kandy
---
Importance of reading
Reading makes a full man. Reading helps us to improve
language
ability and also knowledge. Reading fables teaches us to become good people. We should cultivate reading as a hobby from childhood. Today a reader, tomorrow a leader.
Shesni Hilmy (Grade 4)
Royal Int. School, Kegalle
---
The importance of learning English
English is an
international language.
It is spoken in many parts of the globe. English can be considered as the key to open the treasure house of knowledge. We can improve our knowledge, if we know English. And English is a must for higher studies.
On the other hand, many good jobs are opened to the English educated people.
In Sri Lanka, English is a link language. Sinhalese, Tamils and Muslims can use this language to communicate with each other.
We live in a global
village and we must learn this beautiful language. Otherwise, we will be like frogs in a well.
Anuda Sanjula (Grade


St. Mary's College,
Matugama
---
My school trip
We went on our school trip to Colombo. We left school for Colombo at 6 a.m. We ate breakfast in the bus.
First we went to the Kelaniya
temple and worshipped Lord Buddha, offering flowers.
We next went to see the zoo at Dehiwela. There I saw ostriches, elephants, parrots, tortoises, snakes, camels, owls, hippopotamus, monkeys, giraffes, foxes, pigs, butterflies and beautiful fish in the Min Medura.
We ate lunch at the zoo.
Then we went to Colombo to see the B.M.I.C.H., hall and Prime Minister Bandaranaike's dress, hat, shoes and watch. The B.M.I.C.H. has an
exhibition hall and its garden is
very beautiful.
Lastly we went to see the Nelum Pokuna hall. At the Nelum Pokuna hall I saw a very beautiful pond with blue lotuses and white lilies and a large round stage in the centre. The chairs were above it and around it.
On the way, I saw Hatton National Bank and other large buildings and the Katunayake Highway. I saw boats and ships in the sea. We came to school at 9 p.m. It was a very happy day.
Madushani Dissanayaka
(Grade 7)
Sarasavi Uyana School, Peradeniya
---
Oceans of love
Her weariness never challenged her
tender smile,
She is caring and selfless at heart,
She ignores her own needs – they are not worth her while,
Thus does my mother play her vital part.
She is God's miracle – the epitome
of excellency,
Her child is all that matters, in her eyes,
I mean everything to her as does she mean everything to me,
She is perfection in an angel's disguise.
She is compassionate; her every concern is
for me,
She is a legend – one like no other,
Her love in itself, for me is fierce security,
She is one in a billion, my mother.
Haala Marikar (13 years)
Badiuddin Mahmud Girls' College,
Matale
---
Friendship
Friendship is a real attachment between our friends. A friend in need
is a friend indeed. Real friends share their feelings in happiness and sadness. When we live in society we can meet a lot of friends. So we should find who are good and bad friends. Therefore we should  realize that valuable bond as companionship.
Friendship helps us to live in the world with  happiness, peace and harmony.
Yasara Jayasumana
(16 years)
C.W.W. Kannangara C.C.,
Matugama
---
My garden
My garden is big. Many birds come to my garden. My garden is beautiful. There are lots of flowers and trees in my garden. There are lots of butterflies in my garden too. Bees also come to suck honey. I love my garden.
Mina Al Fathima (Grade 1)
Lyceum Int. School, Panadura
---
A trip to U.A.E.
During my December
holidays I went to U.A.E. with my grandparents.
My uncle is an engineer
working at Abu Dhabi.
He came to pick us up.
My aunty warmly
welcomed us. My uncle took us to parks, shopping malls, restaurants, the world's tallest building called Pencil Tower and the world's biggest five star hotel.
Also we went to see all the states. They are
Abu Dhabi, Dubai, Sharjah. I have another uncle in Sharjah. We visited him too. I went to Ferrari Park. I went shopping to buy toys and dresses for my sisters and for myself.
After two weeks we came back to Sri Lanka.
It was a very interesting and enjoyable trip for me.
Umaira Shariz (Grade 7)
St. Anthony's B.V.