Wrong translation of PM's speech in Hanoi causes diplomatic row
View(s):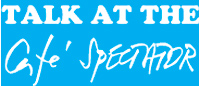 When a Sri Lankan dignitary like the President or the Prime Minister visits another country on an official tour, it is customary that he or she is accompanied by an official or more from the External Affairs Ministry (EAM). That is a tradition that had been practised for years, but is no longer done today. No briefing papers seem to be given either on issues concerning the country being visited.
The EAM has a life of its own. Nominally, the head, of course, is Minister G.L. Peiris. When he is out of Sri Lanka, as is the case most often, it falls on the shoulders of his deputy, Neomal Perera. Besides the duo, running the day-to-day affairs is Sajin de Vass Gunawardena, MP in charge of the EAM.The result of this messy situation is more and more embarrassment to Sri Lanka, a nation striving to become the 'Wonder of Asia'.
One noteworthy instance is Prime Minister D.M. Jayaratne's visit just a week ago to Vietnam. Soon after he took part in a United Nations sponsored Vesak celebrations, Hanoi's national news agency reported that Premier Jayaratne had hit out at China. He was quoted as saying that on the issue of China's placement of its oil rig in Vietnam's waters, Sri Lanka backed Vietnam's position. He was also reported as saying that China should strictly adhere to international law, particularly the UN Convention on the Law of the Sea.
Just seven hours after the event, in Sri Lanka, China's Ambassador Wu Jianghao woke up a VIP hours before dawn to express his country's displeasure at the comments. The result was a prompt clarification in the morning by the External Affairs Ministry which said such disputes should be settled bilaterally through negotiations by the concerned parties.
Well and good, one would say. Does that mean that Premier Jayaratne caused a gaffe? It has now come to light that he did not. If an EAM official was on hand, a source said, he could have ensured the release of an English text of the speech. Moreover, they would also know immediately that there was a wrong translation and that may cause damage.
Premier Jayaratne's speech in Hanoi was made in Sinhala and interpreted into English by the Premier's Secretary. Thereafter, a Vietnamese official had translated it into their national language. Thus, it was not just a case of 'lost in translation.' More appropriately it was loss of face to Sri Lanka.
That was last week's gaffe by the EAM. There is one more among many others which occur with regular frequency. Sri Lanka's Deputy Ambassador Esala Weerakoon was called back from Washington to Colombo after he had completed his term of two years. He was named High Commissioner to Canada and his appointment was accepted by the Ottawa Government. That was not all. He was also cleared by the Parliamentary Select Committee that scrutinises appointments to high posts.
However, in that period, Ambassador Jaliya Wickremasuriya, who had completed five years in Washington, was named High Commissioner to Canada. His nomination has still not been accepted by the host Canadian Government. As a result, he has now been offered the post of Additional Secretary to the Ministry of Defence and Urban Development. This is until his Ottawa appointment comes through.
Since Mr. Wickremasuriya relinquished office last Friday, Mr. Weerakoon was sent again to Washington D.C. This time, he will serve as "acting Ambassador" for some six weeks. Of course, he will not be able to use the residency since all furniture there has been removed. This appointment is until Prasad Kariyawasam, High Commissioner in India, , assumes duties in Washington as ambassador. There is a delay in his relinquishing duties until the Indian elections were over and the Cabinet formation takes place.
Mr. Weerakoon, who was asked to return to Colombo from Washington, was sent to set up a new Sri Lanka diplomatic mission in Seychelles. Earlier he was asked to 'hold the fort' in Cuba. He has now been called back and given another stop gap appointment. He is fast becoming a roving Ambassador-at-large.
The EAM also named Gamini Talpahewa as Deputy High Commissioner in the UK to succeed former journalist Neville de Silva. The young foreign service officer has declined to accept the position. There seems to be no takers for the deputy's post in London for reasons well known in the EAM.
Chris Nonis, the High Commissioner, is in Colombo this week after being summoned by the EAM. This is amidst reports that President Mahinda Rajapaksa is considering whether or not to attend the Commonwealth Games in Scotland in July this year.
---
Certificate Man vies for portfolio
Unbelievable but true. A bureaucrat-cum-politico-cum master of ceremonies who finds himself in an unassailable position felt he should go a notch higher, at least into the ministerial fraternity. Last week he was entertaining foreign guests, those who are important in the light of ongoing developments in the international arena.
During dinner, he turned to one of them and pleaded, "Can you please put in a good word for me to boss. Tell him that I am doing a great job."
The guest was nonplussed. "How can I ever do that with boss? I have no way of explaining how it came about," the guest, most embarrassed, told a colleague of the man about town.
Though the guest wanted it kept a secret, unwittingly the colleague, not happy with this jack of all trades, whispered in the ears of a lady colleague. They have now given him a rather funny name among many others he now has — Certificate Man. One of them warned another not to use the name openly for they will find themselves transferred to Timbuktu (Mali) or Ouagadougou (Burkina Faso). That is even if there are no Sri Lankan diplomatic missions there despite Sri Lanka's 'Look Africa' foreign policy.
---
It was my purse, not pistol
The protest when UNP Parliamentarians visited the Mahinda Rajapaksa International Airport in Mattala, where a pistol (toy or otherwise) wielding Hambantota Mayor was photographed among the mobs that attacked them seems to have had its sequel.
Wild Life Conservation Minister Vijith Wijayamuni de Soysa who once said he was able to enter Parliament only because he brandished a pistol at a counting centre. This frightened the others from resorting to any malpractice, he would say laughingly.Now, his version has changed. He says that he only pulled out his purse. Others present at the counting centre had thought it was a pistol.
---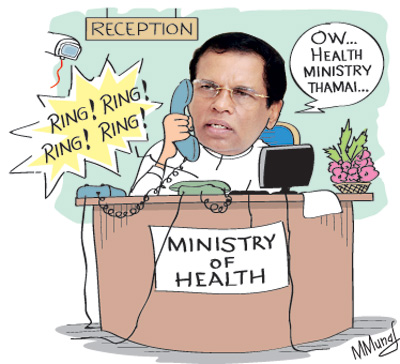 Health Minister acts as telephone operator
On Friday, just after the two-day Vesak holiday, Health Minister Maitripala Sirisena decided to turn up in his office.
When he arrived there, he was annoyed. He looked at the surveillance CCTV monitor where he could see live what went on in other parts of the Ministry.
This included the reception area. It was deserted. The minister was forced to answer a telephone call. As the phone rang, he picked up and said in Sinhala. "Ow Health Ministry thamai, kaatada katha karanna one, mama emathithuma' (Yes, this is the Health Ministry. Whom do you want to speak to? I'm the minister)
The dumbfounded silence from the other end, left the minister grinning. The caller rang off.
---
Basil plans 100-day crash programme for polls
Signs that the Government is making preparations for a possible Presidential poll in January next year emerged this week.
Economic Development Minister Basil Rajapaksa chaired a meeting of senior Government officials. The idea is to formulate a 100 day work programme to be implemented when the Cabinet grants approval. He has said that all State sector officials should take part in implementing these proposals which are now under formulation.
---
Money flows like water for overloaded bureaucrat
A senior bureaucrat who has two major assignments in the State sector has been given a third one, an area where money flows more than water.
His role drew attention in ministerial circles only after he went to brief senior officials in the new body he has been placed in charge.
He told a managerial type he had little time to "keep an eye on operations" and added that "you will have to look after all that."
Then came the shocker. "I will be looking after all the foreign funded projects," he said.
When the meeting ended, the talking point among staffers was how those projects were bringing in plenty of money. In some cases even the cost estimates were going through upward revisions.  That was why the man in charge earlier was replaced and the added responsibility given to this 'overloaded' bureaucrat, said one of them. "Money flows on the tap for them," he added rather sarcastically.
Rs. 833 m. for railway barriers
The Ministry of Transport wants to spend a staggering US$ 6.4 million (more than Rs. 833 million) to instal "protection systems" at some 200 level crossings.
The move comes at a time when the Railway Department is experiencing head on collisions on its tracks due to a number of defects including faulty signal systems.
Some ministers say the move was ill timed since funds should be spent first to improve the services provided by the railway so that commuters will not face much hardship.
Transport Minister Kumara Welgama has made a recommendation that US$ 6,478,190 be approved to instal barriers at 200 unprotected level crossings. He has said the award should be made to a private company with consultancy services from a firm operated by the University of Moratuwa.
---
Pro-LTTE journalist loses deposit
Anita Pratap, an Indian journalist known for her close association to the now defunct Liberation Tigers of Tamil Eelam (LTTE) and its late leader V. Prabhakaran contested the just concluded Indian parliamentary elections but lost badly.
Contesting on the Aam Admi Party ticket, she polled only 51,517 votes at the Ernakulam constituency in Kerala. Her rival, Congress Party candidate K.V. Thomas won convincingly by polling 353,841 votes.
Ms. Pratap lost her deposit.
---
Hope for failed bidders in Water Board's foreign funded projects
Water Supply and Drainage Minister Dinesh Gunawardena sought approval of his ministerial colleagues recently to amend appeal procedures for those who fail to win procurement contracts. The Ministry of Finance and Planning (under President Mahinda Rajapaksa) has agreed to some changes and they have now been approved.
One is to "identify a limited number of specific grounds" on which appeals could be made by unsuccessful bidders relating to foreign funded projects.
The other is to explore the possibility of further limiting the existing period of time allowed for the Procurement Appeal Board to submit its recommendations to the Cabinet of ministers.
The Water Supply and Drainage Board is to get several foreign funded water supply projects for the country.