Kids world
View(s):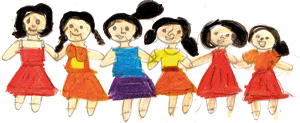 My dolls
I have a lot of dolls. They are very pretty. Some dolls have short hair and some dolls have long hair. Some dolls are small and some dolls are big. Their names are, Tikiri, Ramya, Thushari, Shashini, Malisha, Hasini, Ranmali and Nirosha.
My nangi and I play with my dolls every day. I love my dolls so much.
Hasali Siriwardhane (8 years)
Musaeus College
---
My favourite characters
My favourite characters are princesses. They are Cinderella, Aurora,
Snow White, Belle, Ariel and Jasmine. The reason they became my favourite characters is because they are kind, brave and beautiful. They always say that "Dreams do come true."
I learn a lot of things from them. Princesses are a very good example for girls like us. Princesses will be my favourite characters forever and I think that every girl has a princess in her heart.
Shanza Rahim
(Grade 5)
Holy Family Convent, Dehiwala
---
My school
The name of my school is
Zahira College, Colombo. It is situated in Maradana. There are
six buildings in our school.
The principals of our school are
Mr. Trizviiy Marikar. The vice principal of our school is Mr. Reza and Mr. Shazuly. Our school was started in 1892.
I have been studying for 6 years
in my school. There are about
5000 students and 1000 teachers. The founders of our school are
A. Orabi Pasha, A. M. Wapchie Marikar and M. C. Siddi Lebbe. My school is a semi-government school. My school is a boys' school.
In my school there is a gigantic ground and a swimming pool. In my school we are divided into four houses. They are Angora, Cordova, Baghdad and Istanbul. I love my school very much.
Mishal Ayubkhan (11 years)
Zahira College, Colombo 10
---
My flower garden
There is a small garden in front of my house. It is my flower garden. I have grown many kinds of flower plants in it. After coming back from school, I spend some time to nurse the flower plants. It is necessary to water them every day. There are a few rows of flower beds in the flower garden. My sister also helps me to nurse them in the evenings. These plants would bear beautiful flowers someday. During the rainy season, the flower plants grow rapidly.
It is a great pleasure for me to see my flower garden every morning. I like my flower garden very much.
Yumna Fahim (10 years)
Al-Sharia English Institute
---
Wind
The unseen wind drives
by the side on the hills
It flows like leaves
falling from the trees
and rolls and rolls
across the great seas
across the big
mountains
and passing me by
like a soft cotton ball.
Hasindu Vithanage
(8 years)
Horizon College Int., Malabe
---
Model trains
Powering model trains is sort of like a hobby.
I love model trains but
I have only one, the Santa Fe. That is my only Bachmann Train. The only Hornby Train I have is the City of London. I got the City of London from my grandfather. It is very old and a bit slow – it's slower than the Santa Fe.
The Santa Fe is really fast.
I would also like to get the Thomas Model train.
I love Thomas!
Model trains are my hobby.
Nivedhith Jeyashanker
(10 years)
Logos College,
Colombo 6
---
My pets
I have two pet dogs. They are Simba and Cherry. Simba is like a lion. She is a six month old Golden Retriever. Cherry is like a wolf. She is eight years old and a Black Labrador.
Actually I had three dogs.
The third one was Pongo, a Dalmation. I named it after the movie 'A 101 Dalmations'.
She loved to play with Simba.
She could run very fast.
Pongo used to protect us.
She was five years old.
One day suddenly Pongo got sick and we took her to the doctor. The doctor gave saline and other medicines. But the next day Pongo died. I was very sad. Cherry and Simba were very sad too. Cherry cried. I saw tears in Cherry's eyes. We buried Pongo in our garden. We offered alms to the temple and blessed Pongo with merit.
Now Simba does not have Pongo to play with her. So she is bothering Cherry. Cherry does not like that. Simba likes water.
She loves to bathe. When we give her water to drink, Simba puts her head into the water and drinks it. Sometimes she puts her front legs into the water bucket and gets wet. My mother says Simba is not drinking water, she is eating water. Simba loves to eat Pedigree. Cherry also loves to eat Pedigree. Cherry has a wound on her leg.
We put a bandage on it.
I love my pet dogs very much.
Udayangi Perera (Grade 6)
Visakha Vidyalaya
---
A tree speaks
Hello, my dear friends,
I am a tall tree.
I can't move from place to place. But I'm very happy.
I am also a living thing. I am a mango tree. I bear all my mangoes. When the children are coming to play they all come near me.
There is a man cutting down the trees. That man came near me. "Oh! No, don't cut me down until I die,"
I said sadly. In my body
I make flowers, fruits, leaves and my hands the branches. I grow from a small seed that the children put in the ground. They water me
everyday to grow well.
Now the children pick up my mangoes and eat the mangoes. I am bathing when raining. I have a big trunk. The trunk helps me to be straight. I am a girl. Now I am very happy because that man is not cutting down trees now.
Diwya Samarasekara (Grade 4)
Royal Int. School,
Kegalle
---
My Mother Lanka
There are nice flowers and trees
Butterflies roving here and there
With a nice clear sky,
Birds flying like a spy
I was proud to be born in
Sri Lanka
Because it's my Mother Lanka.
Rinard Bernard (Grade 6)
Gethsemane Int. College, Wattala
---
The book I was really impressed by
It is 'Totto Chan – the little girl at the window'. This book was written by a Japanese authoress, Tetsuko Kuroyanagi about her own school days.
Her school was Tomo. Tomo was conducted in abandoned train  compartments by a teacher named Sosaku Kobayashi. There were only about fifty students in this school.
Tomo was started in 1937 and was blasted in 1944 during the Second World War. This book was based on Totto-Chan's (Tetsuko Kuroyangi's) amazing experiences during this period. The first edition of this book was published in Japanese language titled 'Madogiwano Totto-Chan.'  This book was translated into
English by Dorothy Brittans and  was translated into Sinhala by Leelananda Gamaachchi. I was so impressed by this lovely book and I hope you will enjoy it too.
Anuththara Gunathilake (12 years)
Hillwood College, Kandy
---
Water
Water is a very important thing for all living beings.
We cannot live without water. It is a valuable gift of Mother Nature. The Earth is the only planet where water can be found. Seventy-one percent of the Earth's surface is covered with water but we can't use all that water. We can use only 1% of the water. Hence we should protect our water resources. What are the water resources? They are wells, rivers, tanks, streams, water springs etc.
We use water for our
domestic purposes such as washing clothes, drinking etc. Also water is useful for travelling and farming. Rain is the main source that gives us water. The rainforests are very important. If we waste water we will not have water for drinking.
Nowadays, water
evaporation is high. Hence we shouldn't waste water. Some people pollute water resources. If we don't protect water, our Earth will be an empty planet.
Lochana Ganegoda
(Grade 6)
Ananda Srastralaya, Matugama
---
A special day in my life
The special day in my life which I can remember was a very special day for me. That was the Final Oratory Competition 2013, in which I participated for my school.
It was held at Colombo Jana Kala Kendraya. I participated in three
languages, English, Sinhala and Tamil.
I was awarded the 1st places in English and Tamil and the 3rd place in Sinhala.
On the same day, I was awarded the 'Best Speaker of the Year 2013' in the whole JMC International Schools.
I should thank my parents, school and the Managing Director for helping me to succeed and this brought me happiness not only for the day but for my whole life.
Ramanathan Praveen (Grade 5)
JMC College Int., Kothmale
---
Environment is our life blood
Oh! What a beautiful environment,
That we can see in our surrounding,
If we love our environment,
It will love us too.
Air, water, land and many more things,
That we can get from this environment,
Without these we cannot live,
Environment is our life blood,
So let us protect it.
Mihashi Ranasinghe (Grade 7)
Ave Maria Convent, Negombo
---
The parrot
The parrot is a beautiful bird in the forest. It has green feathers. The parrot has a beautiful red beak.
It has a line around its neck. It likes to eat fruits and nuts.
Parrots can imitate man's voice. It has a long tail. Parrots live in tree hollows. Some people take it as a pet. I also like
parrots.
Hafsa Azman (Grade 3)
Lexicon Int. School,
Kandy