The law according to Geneva Losing
View(s):

My Dear Geneva Losing,
I thought I should write to you after your 'man of the match' performance in Geneva last week. After hearing what you had to say both before and after the vote in Geneva, I was so proud of you and realised how fortunate we are to have you as our External Affairs Minister.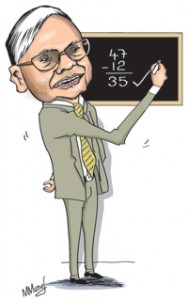 There you were like the boy on the burning deck, cleverly explaining from Hambantota how we had 'won' in Geneva when the rest of the world was saying that we had lost by 23 votes to 12 because the resolution proposed by the ugly Americans against us had been adopted.
It took a genius like you to figure out that there were a total of forty seven countries voting in Geneva and that forty seven minus twenty three is twenty four. This meant that the number of countries voting against us was less than the number of countries which didn't — by one!
Ah, I thought to myself, listening to your brilliant logic, such an explanation could come only from someone like you. We knew that you were an outstanding professor of law but what we didn't know was that you were a mathematical genius who could have given Isaac Newton a run for his money.
It is also then that I realised that why people often complain that they cannot understand a word of what you are saying because you use 'big' words and long sentences. Of course, they don't because you are so intelligent and most people aren't — and that is why you are so special!
If all these people who criticise you cared to look carefully at what you have done, they would know that you have been the minister who has done the most service to our country over the past 20 years since Satellite asked you to leave your university and join her Cabinet.
Why, during the time when Satellite was the boss, it was you who drew up laws that would have granted control of the North and East to the Tigers for ten years. At that time, you were able to convince at least some of us that this was the best thing to do — although it did not eventually happen.
Then when Uncle Ranil took over for a few years, you quickly jumped ship and joined him. And there you were once again, telling us why we should be entering into a Ceasefire Agreement with the Tigers and why it was important because we would never win a war against the Tigers.
What happened to the Ceasefire Agreement is history now but when Mahinda maama took over, hey presto, you had done your hop, skip and jump once again and here you are now, telling the rest of world why it was so important to defeat the Tigers militarily, human rights notwithstanding!
I must say, Geneva Losing, I admire your flexibility on these issues. And I am sure when you explain these complicated matters to us simpletons in your own way, pursing your lips and pausing for dramatic effect, it has me spellbound. Surely, you must be the reason why we 'won' in Geneva!
I know you have your critics. Some are complaining you should have been in Geneva at the time of the vote instead of holding media briefings at Hambantota. They don't understand that you are an 'External Affairs' Minister — so you can do your work externally, from outside!
Anyway, Geneva Losing, my only fear is that your talents are so phenomenal that we may lose you. One day, you might announce — like Kumar Sangakkara did the other day — that you won't represent your country anymore but would be happy to perform short term assignments overseas.
Why, given your ability to justify and explain almost anything, I am sure Obama will want your services to convince the rest of the world why he is using drones to kill civilians in Afghanistan and Cameron might hire you to tell us why he is still hiding the report on Britain's role in the Iraq war.
Geneva Losing, I think you should also protect your theories and explanations with some form of copyright. Since they are so valuable, if you are not careful with them, others will try to steal them from you and use them as their own.
Why, only the other day, the Greens were trying to steal your Geneva winning theory and claim that they had won the provincial council elections! Their logic was the same as yours. They counted all those who didn't turn up to vote as a vote against the Government!
Geneva Losing, we are so grateful to you for all that you have done. When the country felt humiliated about what happened in Geneva, it took a genius like you to tell us that we have in fact won in Geneva and lift our spirits. I am sure you will keep up your good work in the future!
Yours sincerely,
Punchi Putha
PS: Since you have this amazing ability to convince anyone about anything, Geneva Losing, could you work your charm on Mahinda maama and convince him to watch today's cricket match at home instead of catching a flight to Dhaka? We all know what happened at the Asia Cup, don't we?