Kilinochchi, where the latest success story of UMT Unity Camp unfolded
By Vinusha Paulraj
View(s):
Building bridges between communities- bringing together 500 schoolchildren from different parts of the country, housing and feeding them for four days is no easy task but managing to do it six times with nothing but the support of a few dedicated individuals and companies is truly commendable. 
The Unity Mission Trust (UMT) has since the end of the brutal civil war in 2009 been brave enough to venture into the troubled territories and promote peace among young people. Springing from one family's effort to make the lives of the displaced people of Menik Farm bearable, the generosity and encouragement of friends and well wishers saw this non-profit organisation grow from strength to strength. Investing in the future of the nation and inculcating values of unity and harmony in children is their primary objective and this is done by holding these Unity Camps. Working with the support of the Education Ministry, Police and even the Armed Forces, they have held a series of Unity Camps since 2010.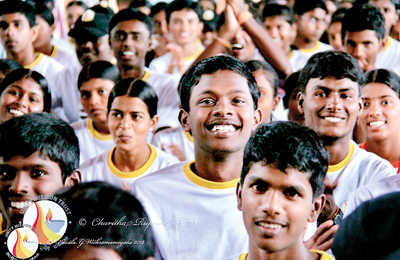 Their latest success story was the UMT Unity Camp in Kilinochchi held in October. This camp in Kilinochchi came with a unique set of organisational challenges. 
"The political situation was not stable at the time we scheduled the camp because Kilinochchi had just been subject to a provincial election," said UMT Co-Founder and Trustee Bertal Pinto Jayawardena. Still they went ahead and successfully completed the leadership training camp for children from 16-20 years of age from October 17-20.
"The armed forces were so supportive, as they always are. They were in civils so as not to upset any of the participants, they cooked for the entire gathering for four days and even surrendered their mattresses for the children to sleep on," shared Bertal. 
The first day of camp saw some students apprehensive after being separated from their friends and allocated team mates from different parts of the country, so much so that they were in tears. But all the initial strains were soon dispelled as they were immersed in the camp's activities- art and drama workshops, the rigorous yet fun-filled sports and leadership training. "Most often than not it is the very students who bawl their eyes out on the first day who do exceptionally well and forge lasting friendships with someone of another ethnicity," laughs Sharanya Sekaram of the UMT.
Entertainment and music for this Unity Camp was provided by veteran musician Rukshan Perera.  "We were encouraged by the fact that the 'Camp Supervisors' for this camp were mostly from the regions and not only children from Colombo," said Bertal. "It shows us that children who had been at earlier camps are truly convinced of the need for a change and have continuously taken part in our programmes and are now taking a leadership role."
Among other rules the Unity Camp emphasises that Tamil students must learn a few Sinhala words and Sinhalese students must learn some Tamil ones. Students are encouraged to strive for unity and students who do so wholeheartedly are recognised and are even awarded. 
The Regional Youth Network established by UMT was put to the test when the student leaders in Jaffna had to host 24 American undergrads from Davidson College, North Carolina in early November. "The student leaders managed to work purely on guidance from Colombo and have been able to host the visitors who were studying ground level post-conflict reconciliation in an exceptional way," said Bertal. "We always tell students that they are equal sons and daughters of this beautiful Mother Lanka, and encourage them to believe that they are a precious resource."