After CHOGM, Rajapaksa Regime faces fresh challenges
By Our Political Editor
View(s):
Indo-Lanka relations on collision course again, consequences could be disastrous

GL's 'Look Africa' policy fails as Africa is not looking at Lanka; Ranil decides to boycott following Siri Kotha attacks
The Commonwealth summit that ends today has posed tough and newer challenges to the UPFA Government.  It is still too early to make a fuller assessment of the week-long event including the three-day meeting of leaders. Yet, some important foreign policy and domestic issues have already come to the fore. One is Sri Lanka's future relations with India, the country's one time strong ally and closest neighbour.
The two now appear to be heading again towards a frightening collision course. Another is External Affairs Minister G.L. Peiris' much touted 'Look Africa' policy. He wanted Sri Lanka to veer away from close ties with western nations to build strong alliances with African countries. This was his mantra to gain international support. After an investment of hundreds of millions of rupees over many months, CHOGM showed it was only a pipedream. As one wag commented, the problem with Peiris' 'Look Africa' policy is that Africa is not looking at us.
On the domestic front, conspicuous by their absence were representatives of all opposition parties at Friday's colourful CHOGM opening ceremonies at Nelum Pokuna National Arts Theatre. Earlier in the week, the country's main opposition United National Party (UNP) leader Ranil Wickremesinghe (also Leader of the Opposition) had made a strong case to take part. His party General Secretary Tissa Attanayake set this out in a detailed statement on why Wickremesinghe should attend. It came after UPFA 'intermediaries' won an assurance from the UNP leadership in private that they would not stage any demonstrations in the City of Colombo after November 7 until CHOGM was over. 
"Government sponsored protestors attacked my official vehicle and tried to prevent me from entering Siri Kotha (the UNP headquarters in Kotte)," Wickremesinghe told the Sunday Times. Hence, he said, the Leadership Council had decided at its very first meeting to boycott CHOGM. This was after a string of incidents by the same protestors outside the party headquarters for a second day. President Mahinda Rajapaksa telephoned to persuade Wickremesinghe to attend. The President had explained he was unaware of the incident. Following suit was Defence Secretary Gotabaya Rajapaksa. However, Wickremesinghe, who had just conferred some of his powers to the Leadership Council, had to stick to its decision. With a new Leadership Council in place, the UNP is becoming assertive by making tough decisions even at the expense of an uneasy 'rapport' with the UPFA leadership. That is a turning point.
Fears that Sri Lanka and India may head for another collision course surfaced after it became known that Indian Prime Minister Manmohan Singh would not attend CHOGM. The first official intimation to President Rajapaksa came in a telephone call from Prasad Kariyawasam, Sri Lanka's High Commissioner in New Delhi, last week. He was to say that a phone call to Rajapaksa from Premier Singh could be expected. This was besides a communication in writing expressing Premier Singh's regrets over his inability to travel to Colombo for CHOGM.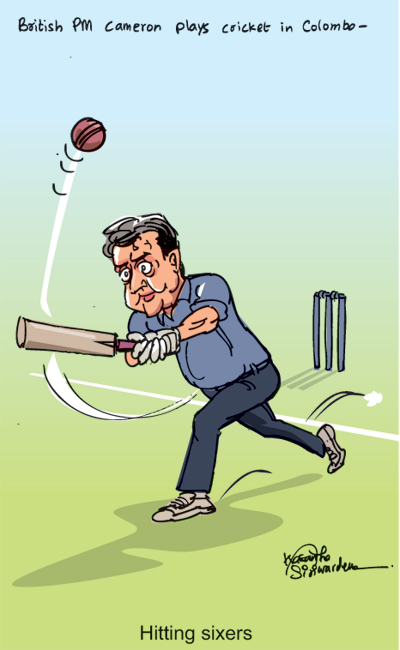 As is now known, opinion over the Indian Prime Minister's participation was sharply divided between political considerations on the one hand and strategic reasons on the other. India's parliamentary elections are due before April next year. For the ruling Congress Party, should it win the polls, the support of the Dravida Munnetra Kazhakam (DMK) in Tamil Nadu would be imperative. DMK leader Muthuvel Karunanidhi insisted Singh should not attend. At least three Cabinet Ministers — Palaniappan Chidambaram (Finance), A.K. Anthony (Defence) and Jayanthi Natarajan (Environment and Forests) — strongly backed the demand. However, the Indian External Affairs Ministry hierarchy in the South Block in New Delhi as well as its High Commission in Colombo took a more pragmatic approach. They argued that it was in India's strategic interests for Premier Singh to take part and thus not distance New Delhi further away from Colombo. Such a move, they argued, would be to India's disadvantage. They called for engagement with Sri Lanka instead.
In the higher echelons of the UPFA Government, the belief that Premier Singh would come to Colombo was bolstered by the two day visit of External Affairs Minister Salman Khurshid on October 6. In behind-the-scene moves ahead of his arrival, UPFA leaders had agreed to finalise the protracted Sri Lanka-India coal fired thermal power project in Sampur, Trincomalee costing US$ 500 million. In fact the agreements were signed by Khurshid giving rise to further confidence that a major irritant in Colombo-New Delhi relations, now that the Northern provincial Council had been established, has been removed paving the way for Premier Singh's participation at the CHOGM. As reports of heavy pressure on the Centre by the state government politicians in Tamil Nadu mounted, ruling UPFA leaders believed he would surmount them and come to Colombo. The fact that he did not was to cause some serious concern.
This was reflected in a discussion President Rajapaksa had with his close advisors and senior officials. He noted that despite domestic opposition, his Government had moved in favour of India on a number of issues and had even conceded the Sampur coal power project to it. India wanted elections in the North and the UPFA Government held them. How could just one state out of 28 ask him not to attend CHOGM? However, Rajapaksa told a news conference on Thursday that Premier Singh had not told him in his letter that pressure from Tamil Nadu was the reason why he was unable to visit Sri Lanka. President Rajapaksa queried at the meeting whether it was now necessary to consult India when it comes to local issues like matters relating to the 13th Amendment to the Constitution. On the other hand, he also raised issue on whether it was incumbent on Sri Lanka now to give ear to matters raised by India in this regard.
Though no firm decisions have been made, in the recent years Rajapaksa has played an increasing role in the conduct of Sri Lanka's foreign policy. It began with failures by External Affairs Minister G.L. Peiris and his Ministry to execute Government policies on many instances. In that exercise, now that Rajapaksa is Chair in Office of the Commonwealth, such a role, highly placed Government sources say, would increase.
That apart, it is known that senior officials in the External Affairs Ministry often must guide themselves on the Government's thinking on foreign policy issues only during discussions with President Rajapaksa. These sources said if the Government is to take a tough stand, it would encompass not only key issues now in focus like the 13th Amendment to the Constitution but even other lesser important ones. One such example, the source said, was the Indian request for its Central Bureau of Investgation (CBI) to question Kumaran Pathmanathan alias KP in connection with the assassination of one time Indian Prime Minister, Rajiv Gandhi in May 1991. Pathmanathan, who was responsible for equipping the Tiger guerrillas with sophisticated military hardware at various stages of the war, is now free to move around and was one of the invitees at the CHOGM related People's Forum in Hikkaduwa. 
Apart from legal and other implications, there is a serious downside to any move to freeze relations with India. It would only be logical to expect a retaliatory response. One such area would be the March 2014 United Nations Human Rights Council (UNHRC) sessions in Geneva. India has voted in favour of two successive resolutions by the United States at the UNHRC sessions. There is little doubt there will be redoubled efforts by Canada, which boycotted CHOGM together with the US to push for stronger measures. British Prime Minister David Cameron who met nine different British-based Tamil Diaspora groups at No 10 Downing Street ahead of his visit to Colombo told them his Government would back a call for an "international investigation" if the Government did not conduct a "domestic investigation" by that time. UPFA leaders had believed that the "thaw" resulting from the October visit by Indian External Affairs Minister Khurshid and Sri Lanka conceding the Sampur coal fired power project would pave the way for Premier Singh's visit and leave a clean slate for future relations. The question now facing senior officials in the UPFA administration is about the freeze in Colombo-New Delhi relations.
If that is cause for concern, another is External Affairs Minister Peiris' 'Look Africa' foreign policy adventure, which took him repeatedly to that continent in recent months. If it was intended to harness support of African nations at international fora, only four — South Africa, Rwanda, Lesotho and Tanzania – sent their Heads of Government for the three-day summit. One of the countries where the initiative was first tested was Uganda. Its leader Yoweri Mussaveni was a notable absentee saying one of his relatives was unwell. He was represented by Vice President Edward Kiwanuka Ssekandi. Also absent was the Kenyan President Uhuru Kenyatta. Charged with 'crimes against humanity' before the International Criminal Court, his appeal to the UN has been rejected. It was only last month Minister Peiris told Parliament that Kenya had denied newspaper reports that it was lobbying African countries not to attend. He asserted that they would be present in Colombo at the highest levels.
At the CHOGM ceremonial opening at Nelum Pokuna National Arts Theatre on Friday, the seats reserved for opposition parties were empty. It was only early this week UNP General Secretary Tissa Attanayake set out the reasons why the UNP leader Wickremesinghe would take part in the event. He said there was "one valid reason for holding the CHOGM in Colombo." He said as Chair in Office, President Mahinda Rajapaksa and the Government of Sri Lanka "are now under obligation to enforce the Commonwealth Charter." That included adhering to principles of democracy, human rights, freedom of expression, separation of powers of the role of Legislature, Executive and Judiciary, rule of law, good governance, access to health, education, food, shelter, gender equality and role of civil society. "On contemplation and in cognizance of all these facts, the Leader of the Opposition has decided to attend the opening of CHOGM," the statement said.
Attanayake's statement also noted that "One of UNP's main concerns, however, is that the expenditure incurred by the Government to host the summit will become an overwhelming economic burden on the people of this country. While the Government purports to host a summit on behalf of an organisation that extols the values of democracy, human rights and good governance, there has been no transparency regarding the expenditure incurred by the state for this purpose. The Rajapaksa Government has not only far exceeded the original expenditure estimates, but has been tight lipped about the numerous contracts and favours granted to its cronies." 
He claimed that the "opportunity to restore eroded democratic values and express its (Government's) commitment to strive to live up to the values of the Commonwealth, the Sri Lankan Government has turned CHOGM 2013 into an extravaganza to showcase the Rajapaksa regime."
The UNP's position was to change following the incidents outside Siri Kotha, the party headquarters on Wednesday and Thursday. UNP leader Wickremesinghe outlined the events. He told the Sunday Times, "Our party together with other organisations that form the Samagi Balavegaya (United Force) held an exhibition that related to the implementation of recommendations of the Lessons Learnt and Reconciliation Commission (LLRC) and upholding the Charter of the Commonwealth. I went to Delkanda for a funeral and was returning to the party office. A foreign delegation was coming to see me there.
My security was advised to use a side entrance since crowds had gathered outside. When we did that, Government-sponsored thugs surrounded my vehicle and began pounding on the side I was seated. Secretary Tissa Attanayake telephoned the Inspector General of Police. He was not available. He had then spoken to the DIG of the area. Yet no help arrived. Many attempts were made by the thugs to get into my vehicle. It was with great difficulty that I managed to get into the office."
He said that his visit to the party headquarters was also to meet a Maldivian delegation that was complaining about the volatile situation in the archipelago. After the mob attack which they witnessed, they must have thought that the situation in Male is safer than Colombo, Wickremesinghe quipped.
The exhibition on Wednesday, UNP's Communications Director Mangala Samaraweera, explained was the result of an arrangement between the UNP and some 115 civil society groups. They had first sought to have it at the Jayewardene Centre but permission to use the premises was refused. "It was the same case when we went to a few other venues. Hence, we decided to have it in the rear building at Siri Kotha," he said. The exhibition had photographs about the incidents at Rathupaswala, the death of a worker at the Export Processing Zone in Katunayake and other "human rights" violation issues, he said. There was also a section that depicted photographs of those who had disappeared. Other sources said at least five busloads of widows and next of kin of missing persons were to come from the north for the exhibition and arrangements for this had been made by a civil society group. However, they were stopped by the security forces and asked to turn back. 
The next day, (Thursday) Samaraweera said, the party's Leadership Council was meeting at Siri Kotha. "Government-sponsored groups, most of whom were present the previous day, turned up carrying placards. They began shouting slogans calling me and our leader Ranil Wickremesinghe traitors who should be killed," he said. The meeting went on in the upper floor. Some were specifically asking for me, he added.
The Leadership Council meeting began with its Chairman Karu Jayasuriya signing a document at an auspicious time just after 10.30 a.m. Up for discussion were three different documents — one formulated by Wickremesinghe, one by Samaraweera and the third by Gampaha District parliamentarian Ruwan Wijewardene. Around 150 members of the Buddhist clergy were invited to a dana (alms giving) to bless the Leadership Council. Venerable Giraambe Ananda Thera, Anunayake of the Ramanya Nikaya delivered an anusasana (speech). He said, "The Buddhist clergy have always come out whenever there has been a national issue or a religious issue. The monks intervened as we noticed that the country was heading towards disaster. We should unite to draw this country out of disaster. If Sri Lanka is to be converted to a prosperous society, I pray those responsible would have the wisdom to do so. I regret that Sajith Premadasa has not come for this event. If he is a true son of the late Ranasinghe Premadasa he should attend the Leadership Council meetings."
Security personnel manning Siri Kotha were confused when more members of the Buddhist clergy entered. They had believed they were arriving late for the ceremonies connected with the Leadership Council. However, it later turned out that they were members of the Bodu Bala Sena (BBS). Some of them were on the lookout for Samaraweera. There was confusion and scuffles where the BBS monk-Secretary was also roughed up. Later, the monks who had attended the alms giving had persuaded the BBS members to leave.
The Leadership Council decided unanimously to recommend that the UNP leader should not attend the ceremonial inauguration of CHOGM. A letter dated November 15 and signed by General Secretary Attanayake was despatched to the Commonwealth Secretary General Kamalesh Sharma. In that Attanayake charged that a service arm was involved and Government vehicles transported the "thugs who had attacked their leader's vehicle whilst the Police looked on." He said the mobs returned again on Thursday to "continue their vitriolic campaign against our leader." The letter added, "Ironically, these fascist thugs were protesting against an exhibition organised by Samagi, a coalition of civil society groups highlighting the need to implement the Commonwealth Charter through the speedy implementation of the President's own LLRC proposals. The exhibition was labelled as treacherous and the state media has unleashed a vicious campaign against all those who have been involved with the exhibition and they have been labelled as "traitors" and LTTE sympathisers."
"Until Thursday morning, we had decided we were going for the CHOGM. Last night we were branded all kinds of names in the state electronic media. They attacked my vehicle. The Police just looked on and did nothing. Enough is enough," Wickremesinghe said. He said he sought the views of the Leadership Council. A few said I should attend but the majority felt I should not go after what has been done by the Government, he added. He charged that Criminal Investigations Department (CID) detectives were in the precincts of Siri Kotha checking the national identity cards of those present. One Tamil youth was arrested on suspicion that he was from the north. However, it turned out that he was a member of the Nava Sama Samaja Party (NSSP) leader, Wickremabahu Karunaratne's staff. He was later released.
Both the Tamil National Alliance (TNA) and the Janatha Vimukthi Peramuna (JVP) also kept away from the CHOGM ceremonies on Friday. TNA parliamentarian Suresh Premachandran told the Sunday Times, "This was a decision taken because we strongly feel that issues of the Tamil people need to be addressed. Four years after the war there is still heavy militarisation in the north, more than 35,000 people are in welfare camps still and people do not have access to their own lands. The Government is painting a rosy picture to the world. When the government says everything is fine, that there are no human rights violations and that there are no internally displaced people we cannot be part of it. That is why we decided to boycott CHOGM." 
JVP parliamentarian Vijitha Herath told the Sunday Times there were two reasons why his party did not take part. "Prince Charles came to Sri Lanka to represent the Queen for the CHOGM. We refuse to be any part of it because we are against becoming a British colony again. It cost the country a colossal amount which the Government has not disclosed. This comes at a time when the country is going through an economic crisis. The people find it hard to live. We see this event as a waste of money and it is wrong for the government to host such an event at a time like this."
Criticism notwithstanding, Rajapaksa's speech at the ceremonial inauguration won plaudits from both the Government and Opposition side. "His delivery in English was perfect and the speech had substance," said one of his bitterest critics who did not wish to be identified. That was the "best speech" during the Commonwealth events in Sri Lanka, he added. The talking point among many cabinet ministers was also on the same lines, though there were those who argued if he should not have rubbed it in to his detractors by some of his comments, especially being the host.
An event of some importance on the sidelines of CHOGM was the meeting between President Mahinda Rajapaksa and British Prime Minister David Cameron. An official statement from the Presidential Secretariat on Friday night said:
"Prime Minister Cameron expressed his satisfaction on the manner CHOGM 2013 has been organised. He said he did not believe the idea of boycotting the meeting as some proposed. Referring to his visit to the North today (Friday), the UK Prime Minister noted that much progress has been made since the end of the conflict four years ago. He described holding elections to the Northern Provincial Council as a very positive step toward reconciliation.
However, he said that there are still several concerns to be addressed relating to displaced persons, land issues, military presence in the Province and devolving powers to the newly elected Council. 
"President Rajapaksa in response explained that an enormous amount of work has been done in terms of resettlement, rehabilitation and reconstruction of infrastructure destroyed during the conflict. In order to reach consensus on political matters a Parliamentary Special Committee (PSC) has been established for all parties concerned to air their views and reach a settlement.
"The PSC is the best forum for the purpose", observed the President." As it is now only four years since the end of the conflict the country needs some more time to overcome all major challenges", he stressed. 
"Mr. William Hague, Foreign Secretary and Mr. John Rankin, the UK High Commissioner in Sri Lanka accompanied Prime Minister Cameron.
Minister of External Affairs Prof. G. L. Peiris, Monitoring MP for the Ministry of External Affairs Mr. Sajin de Vaas Gunewardena, Secretary to the Ministry of Defence and Urban Development Gotabaya Rajapaksa, Secretary to the President Mr. Lalith Weeratunga, Secretary to the Ministry of External Affairs Karunathilake Amunugama, Sri Lanka's High Commissioner in UK Dr. Chris Nonis and Chief of President's Staff Mr, Gamini Senerath were also present at the meeting."
However, the Sunday Times learnt that the hour-long meeting saw heated exchanges between President Rajapaksa and Premier Cameron. The British Prime Minister was to say that his Government would back an "international probe" if the Rajapaksa Government did not conduct its own inquiry into alleged war crimes issues before March, next year. This was to prompt Rajapaksa to say Cameron should not talk without knowing all the facts. He charged that with the backing of the Tamil Diaspora, Cameron was creating dissension in the Tamil Community and paving the way for confrontation. When it came to discussion on media freedom issues, Rajapaksa replied Cameron by pointing out that he should have also visited newspaper offices in Colombo and spoken to media personnel there. The British Prime Minister's office had scheduled a visit by Cameron to Jaffna's Uthayan newspaper office which has been subject to a string of attacks. The idea was to project that he was addressing media freedom issues whilst in Sri Lanka. This is when his Government has come in for heavy criticism over a Royal Charter it wants to introduce in Britain to regulate the media there. Cameron took pictures of his meeting at the Jaffna newspaper office with publisher Easwarapatham Saravanapavan and Editor Vallipuram Kanamylnathan.
They sat in a room where the walls had been peppered with bullets. Red circles had been marked to identify them. Cameron tweeted, "Journalists point out pictures of colleagues killed in north Sri Lanka – red rings surround bullet holes in the wall." That was the caption to a photograph he circulated. Premier Cameron told the duo that he had read most Amnesty International reports on attacks on Uthayan. Other than that visit, the British High Commission in Colombo was quite indifferent with the media in Colombo. In one instance, a media outlet was offered an eight minute interview with Foreign Secretary William Hague, perhaps something which is not done by the Conservative Government with the UK media. Or does it? They were all even left out of a news conference by Cameron yesterday. It was only confined to the UK media that was covering his visit. "Under the guise of press freedom, Cameron is playing Diaspora politics," said a senior cabinet minister. The highlight of the news conference was his threat that if Sri Lanka does not conduct a "domestic inquiry," Britain would push for an "international investigation" into alleged war crimes in March next year.
Commenting on his talks at yesterday's news conference Cameron also said "In terms of the issues I raised with the President, well, it's the full set of issues that we've been discussing – the need for an independent inquiry into the events at the end of the war; the need for displaced people to be given homes and livelihoods; the need for human rights and journalistic freedoms; the need for reconciliation; the need to make sure that the right track is taken. You know, I say this as head of one sovereign country to another. These are the sorts of things that we can discuss. The President made a series of points in response. His point is very much that they need time. And I accept it does take time to reconcile.
"We discussed, for instance, the example of Northern Ireland where, in my country, you know – there was, you know, years of conflict in part of the country. And we have taken huge steps to try and reconcile people together. I gave, for example the – as an example, the building of a police service in Northern Ireland that reflects all communities and people from all communities can join. So, we had a very open and very frank discussion about these issues." 
President Rajapaksa has now worn the mantle of Chair in Office of the Commonwealth. On Thursday, he will present his Government's budget for 2014. He will no doubt spend time for a review on how the CHOGM went and where the failures, if any, lay. Challenges to his Government's foreign policy as well as domestic issues, with the main opposition now at logger heads, would no doubt assume a higher level.