Sinhala speaking Russian PM looks for Syria's smoking-gun
View(s):

Russian Foreign Minister Sergei Lavrov, who was in the news last week over the breakthrough agreement with the US on the destruction of Syria's chemical weapons, was a onetime junior diplomat in the Russian Embassy in Colombo in the early 1970s.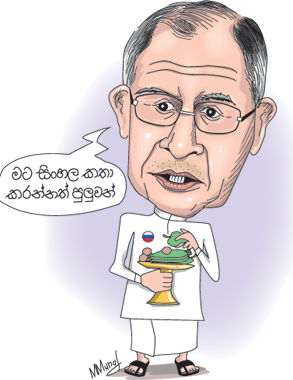 According to a former UN Tass correspondent, who was also based in Colombo at that time, Mr. Lavrov was so fluent in Sinhala that one of his duties was to translate key political stories from Sinhala newspapers into Russian.
Later, the affable, chain-smoking Lavrov was Russia's Permanent Representative at the UN. And by a coincidence, he was a contemporary of Peter Burleigh Snr, former US Ambassador in Colombo. Mr. Burleigh was another Sinhala-speaking foreign diplomat, who served in the Security Council along with Lavrov in the 1980s.
When former Secretary-General Kofi Annan tried to impose a no-smoking rule in the UN building, Mr. Lavrov was defiant. Asked by reporters for his response, he pulled out a cigarette, lit it up outside the Security Council chamber and said: "This building does not belong to Kofi Annan, it belongs to member states." And he was right.
Channel 4 journo bashes Lanka again
Television presenter and the man linked to the controversial Channel 4 videos on the final stages of the separatist war in Sri Lanka seems to have forgotten some of the finest traditions which the British created. One in particular is how things are talked over during drinks or a cup of tea. For him, even that seems reprehensible. Here are excerpts of what he has to say about a Sri Lanka related event in his blog:
"Last night, in a dimly lit side street a stone's throw from the towering UN headquarters here in New York, Britain co-hosted a drinks party with Sri Lanka — a country led by a regime accused of the worst war crimes committed this century. Australia joined the fray to render it a tripartite affair.
"Large black shiny cars ferried Sri Lanka's large UN delegation to the door of an un-extraordinary town house. The hosting of the party was personified by British Foreign Secretary, William Hague, Sri Lanka's External Affairs Minister GL Peris and – six days into her job – Australia's Foreign Minister Julie Bishop. "We found ourselves the only team attempting to record what went on. Our presence outside in the street attracted the joint concern of both British and American security — both of whom made plain their discomfort with our presence.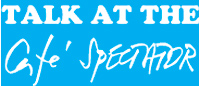 "This was a celebration by three members of the British Commonwealth of this year's Commonwealth Heads of Government Meeting (CHOGM) to be staged in Sri Lanka in November……
"It is just four years since the ending of Sri Lanka's bloody civil war. A war that ended, as Channel 4′s Sri Lanka's Killing Fields ' has described in eye witness detail, with 120,000 Tamils being herded into an ever shrinking 'no-fire zone', in which the UN itself believes at least 40,000 – possibly more than double that – were slaughtered in the final three weeks……."
"But all this was a far cry from the tinkling glasses and warm ministerial speeches that graced the townhouse in this New York side street last night. Ms. Bishop talked warmly of her visit to Sri Lanka.
"Sri Lanka's Professor Peiris talked of Sri Lanka's economy having "turned a corner". Mr Hague was both humorous and expansive in his praise for the Commonwealth, but managed diplomatically to say all but nothing of Sri Lanka………
"I and a tiny handful of New York based journalists were put on the guest list, but we were told we could not bring our cameraman in. The atmosphere was strangely awkward. Those that knew each other spoke to each other, those who did not know each other avoided doing so.
"Britain's Development Secretary, Justine Greening, looked in. So did the UN's Humanitarian Affairs and Emergency Relief Co-ordinator Valerie Amos……..".
UN Chief admits failure to monitor Lankan situation 
In his keynote address during the high level debate by world leaders in the General Assembly last Tuesday, Secretary-General Ban Ki-moon referred to "systemic failure" within the United Nations to effectively monitor the grave human rights violations during the final stages of the battle against the LTTE — both by Government forces and the rebels.
This was also the subject of a question and answer at Friday's UN media briefing. Question: I wanted to know about this report on the UN's actions and inactions in 2009 in Sri Lanka. I did notice that the Secretary-General, obviously, in his speech to the General Assembly, said that an internal review has identified systemic failure. But, I wanted to know if the report itself is going to be made public in any fashion.
Spokesperson Martin Nesirky: Well, as you point out, the Secretary-General did, indeed, refer to this in his speech in the General Assembly. I think you can take that as a sign of how seriously he takes this whole process. He did refer, indeed, to the difficulties and failures within the UN system, but also within the international community as a whole. And that is something that we need to look at for the future. 
And so, therefore, this report and the findings are clearly quite important. When we get to that point of coming out with details, I will be sure to let you know. But, we are not at that point yet. And, as you rightly point out, there is still, as far as I can figure it out, three days to go.
They took the roof, but voted for the house
Amid the resounding victory for the Tamil National Alliance (TNA) in the Northern Provincial Council election comes the story of a political muddle.  A UPFA candidate distributed roofing sheets to voters in several areas. The man who made speeches in Tamil told them "Veetukku Podunga." A literal translation would mean "put it for the house."
The candidate who failed to win a seat learnt from one village that he had made a mistake in making that remark. Most voters had cast their votes to the 'house', the symbol of the Ilankai Thamil Arasu Katchi (ITAK). Little wonder he lost.
Politico goes on his knees but is taught a lesson
He was once accused of ordering a school teacher to kneel before him in obeisance and extend an apology. All this was because this politico's daughter was admonished for coming to school in a short uniform.  That cost Ananda Sarath Kumara the opportunity of contesting last week's North Western Provincial Council elections.
Instead, his nephew Nilantha Wimalaweera was fielded. Despite Sarath Kumara going on his knees seeking votes for his nephew, he lost. He came 15th out of 19 and obtained only 11,723 votes.
Commonwealth takes tough stand on Maldives
The political crisis in the Maldives has taken a new turn with the Commonwealth Ministerial Action Group meeting this week in New York taking a tough stand against the moves to put off yesterday's run-off elections.  According to a statement issued in New York, the Ministers referred to the conclusions of the Commonwealth Observer Group on the September 7 Presidential Election, in particular the Group's comments that "this was a credible electoral process and met the standards for democratic elections to which the Maldives has committed itself."
The statement added: "Ministers further noted that national and other international observers had concluded that the 7 September election was competently administered, and that the Maldivian people had been free to express their will through the ballot.
"In this context, CMAG Ministers expressed concern at developments since the declaration of results of the first round poll, with one unsuccessful party having filed a case with the Supreme Court to annul the first round of the election because of alleged electoral fraud, and the Supreme Court subsequently issuing an injunction to delay the second round of the election until a court ruling is delivered in that case…
"CMAG Ministers welcomed the continued presence of Commonwealth Observers in Maldives, led by Dr Lawrence Gonzi, and looked forward to the continued close engagement of the Commonwealth Secretary-General's Special Envoy, Sir Donald McKinnon."
SLFP has no sympathy or tea for its founder
It was a handful of Government members, including Prime Minister D.M. Jayaratne who took part in ceremonies to remember the 54th death anniversary of Prime Minister S.W.R.D. Bandaranaike at Horagolla last Thursday.
None of them from the SLFP, the party founded by Mr. Bandaranaike, stayed for tea after the ceremonies ended. Hence, those present were all UNPers — Karu Jayasuriya, Tissa Attanayake, Mangala Samaraweera and Eran Wickremeratne.
Also present was former General Sarath Fonseka, now leader of the Democratic Party.
Ecstasy and agony for Dayasiri
It was past 11.30 p.m. last Sunday when the announcement came from the District Secretariat in Kurunegala.  Dayasiri Jayasekera, the new UPFA candidate, had won a record 336,327 votes at the North Western Provincial Council election.
Ahead of the announcement, Jayasekera and his supporters had set up an "operations room" at a hotel in Kurunegala. News reached Jayasekera that his life would be in danger.
He telephoned Police Chief N.K. Illangakoon. Soon, a team of armed policemen arrived at the hotel and escorted Jayasekera to the Secretariat.  In what seemed his first speech after the election, Jayasekera urged his supporters not to light even a single cracker. He wanted all of them to return to their homes and ensure there is a peaceful atmosphere.
It took Jayasekera and his entourage seven hours to reach home. That was from Kurunegala to Hettipola, a journey of 58 kilometres. "Chandey dinalath, gedera enna vune policiya ekka hirakarayek vagey (after the poll I had to return home with the police like a prisoner)," Jayasekera remarked to his supporters waiting for him at home.
comments powered by

Disqus