The success behind the award winning website dfcc.lk
View(s):

DFCC's corporate website www.DFCC.lk secured Gold for the Best Corporate, Banking and Insurance website and the Silver award for the 'Overall Best Website' at the recently concluded BestWeb.lk 2013 Competition organized by the LK Domain Registry. They also won a Silver and Bronze for their Sinhala and Tamil websites respectively.

The Bestweb. LK Competition recognises the best Sri Lankan websites for their creativity, the use of graphic design, artistry, technological expertise and the quality of content. Launched in 2009 by the LK Domain Registry, this competition has encouraged Sri Lankan companies to enhance the quality of their web identity. This year more than 500 websites were competing including consumer goods and retail sites such as Odel, Avirate, Nestle, Hemas etc.

In an interview with Rosheeni Wijesekara, Vice President, Group Corporate Communications, she discusses how DFCC built a winning website.

Your website has been winning several awards in the last two years. Can you briefly mention them?

It all started in 2012, after we re-launched the website; we secured a Bronze at the BestWeb.lk 2012 competition in the Corporate category. In 2013 we received the Gold award for the Best Website at the annual awards of the Association of Development Finance Institutions in Asia and the Pacific (ADFIAP). At the BestWeb.lk competition this year, we secured four awards including the Silver for the 'Overall best Website' which I think is a good achievement for a Bank website.

Can you tell us something about the re-launch?

DFCC Bank and its retail banking subsidiary Vardhana Bank maintained two basic websites prior to the re-launch. When drawing up our communications strategy in 2011, we knew it was time to take the non traditional media seriously. It was decided to up the presence of our Corporate Brand on the web and social media. With the re-launch we consolidated and integrated the information output of the two banks into one integrated easy to navigate portal under dfcc.lk.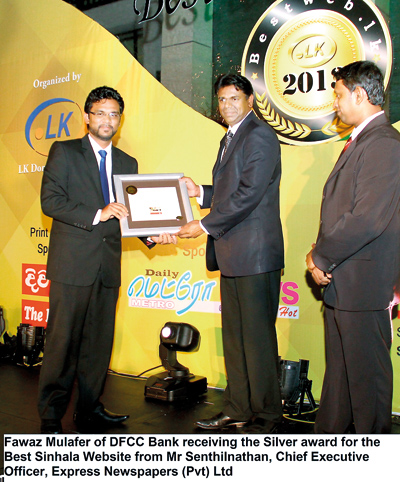 After careful scrutiny, we engaged a top of the range web developer, Pyxle, to work in partnership with us. At DFCC, a dedicated project manager was tasked with researching on award winning international websites, their technicalities, user friendliness, use of graphics, presentation of content etc. His target was to come up with the best website in Sri Lanka. A lot of quality work had to go into building the website before it was re-launched last August.
Why do you think it is time to treat web solutions seriously here in Sri Lanka?
In a knowledge-based world, technology plays a vital role in increasing access to information while contributing to economic growth and productivity. It is estimated that Sri Lanka has more than two million internet users with many more having mobile connectivity. Facebook, the social media juggernaut boasts more than 900 million active users of which, over one million are estimated to be from Sri Lanka. All of this leads to a compression of human connectivity, leading us to re-think the well touted concept of a cyber-village.
What are some of the key features of your website?
Bank websites in general are not interesting spaces to visit even though money plays such an essential role in our lives. Our attempt was to build a website that is refreshing to visit and easy to navigate in order to access information.
Our website has many features that help a visitor access information easily. Especially in a Banking website there is a lot of content, some which are mandatory. We have to anticipate what information the different target groups will want to access and arrange the site map accordingly. These needs will vary with time and so nothing is cast in stone. The site needs to be updated constantly. Some of the features which are there today are,
Search function – this will enable users to find information on the website through keywords or phrases
GPS enabled branch locator
Connectivity to the Banks' social media pages (Facebook, YouTube, LinkedIn, etc.)
Web forms related to loan applications, account openings, etc.
Loan and deposit calculators related to specific products displayed on product pages.
Embedded video links
News blog
Application/widget delivering the latest financial news
Forex and other Bank Rates
You also have websites in Sinhala and Tamil. Has the same effort gone into building these?
The fact that we won Silver and Bronze for overall best Sinhala and Tamil websites respectively, must mean that the websites are good. At the time we decided to re-launch our website, a key criterion was to make this project inclusive and that meant building very good Sinhala and Tamil websites. A greater effort went into building these sites as they had to be user-friendly.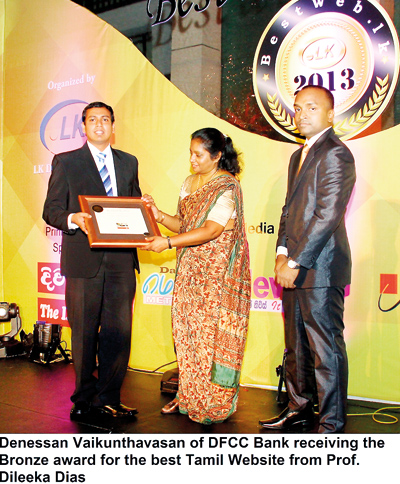 Generally the focus is to introduce websites in English. Lot of the time we ignore that out there is a generation who wants to get on the information superhighway but is precluded due to the lack of English. We were determined to cater to that large section of the community and that has brought a different dimension to this project.
What are your future plans for dfcc.lk?
Winning an award is recognition of a quality website. BestWeb.lk boasts a very prestigious panel of judges and we would make every effort to be the Overall Gold Winner in 2014. We also want to improve interactive elements of the Sinhala and Tamil sites. Our next target is to promote the DFCC Facebook page and to introduce web versions for mobile users.
We are also presenting the idea of a virtual branch through connectivity to our internet banking portal, which connects our customers to the services they require, at the speed of a key-stroke"
comments powered by

Disqus