In search of a friend
By Manoshi de Silva
View(s):
Volley was taken to a new house and he was very excited. He went around the house exploring and sniffing everything within reach. This was the first time the kids in the house had a dog. So Volley was constantly petted. Volley loved all the attention and had a wonderful day.
However, things changed from the next day. The kids got ready and went to school in the mornings and came home only after lunch time. Volley was alone till they got back. Now it was time to find new friends to play with in the mornings till the kids got back home.
Volley went near the gate and crept out. The gate next-door was open. He walked in. There was a big dog sleeping in the backyard. "Let's try making friends!" thought Volley as he quietly went near the big dog. "Hello!" said Volley.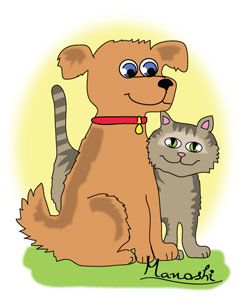 The dog jumped up startled and barked in a deep scary tone. He barked looking all around but didn't see Volley, who was much smaller in size. Finally when he saw Volley he pounced on him growling fiercely and started chasing after him. Volley ran as fast as he could but he was no match for the big dog. When the dog was just about to bite Volley, he got pulled back and stopped. Only then did Volley see the chain the big dog was tied with.
The big dog kept growling at Volley. "What was that all about? I only wanted to make friends!" said Volley still shivering in fright. "I don't make friends with dogs your size. I only chase them and bite them so that they don't bother me," growled the big dog. "This is my territory and no one dares enter! Now get out before I chew you into pieces!"
"Well, if you don't want to be friends that's fine!" said Volley. "I only wish you said it in a nicer way!" And with that he walked out of the garden.
There was another house on the other side. "Maybe there's someone friendlier in this house," thought Volley and he crept in from under the gate. Sure enough there was a dog in that house. She looked a little old but had beautiful long white fur and the fluffiest tail Volley has ever seen. "Hello!" said Volley. The dog looked and turned up her nose proudly. "I am new to this neighbourhood," said Volley. "Just came to make friends!"
"I am not interested!" said the white dog. "I don't associate with mutts!"
"That's not a very nice thing to say!" said Volley feeling very hurt. "I've won many dog shows and my friends are of good breed," said the white dog and walked into the house with her nose and tail in the air.
Volley came back
home feeling very sad.
"Why are you looking so sad?" asked a busy squirrel who was on a tree.
"I tried making friends with the dogs in the neighbourhood but they were very mean to me!" Volley said with tears in his eyes. "Well, if someone doesn't want to be your friend and if they don't treat you the way you deserve, then you're better off without them!" said the squirrel. "But I feel so lonely!" replied Volley. "Don't worry!" said the squirrel. "This world is a big place. You'll find a friend who will love you and accept you for who you are!"
The next morning Volley didn't go out of his garden. He didn't want to meet the unfriendly dogs outside. Suddenly he saw a cat on the parapet wall. Volley started to bark.
"Oh shut-up!" said the cat. "What are you so annoyed about?" "Sorry!" said Volley. "I just got excited. What's your name? Where are you from?"
"I am called 'the cat'" replied the cat. "Don't have a name. Don't have an owner!" Volley felt very sorry for the cat. "Who looks after you?" Volley asked sadly. "I don't need anyone. I am very independent!" replied the cat and jumped on to the roof. "Wow!" barked Volley. "You are a super cat! How did you do that?" The cat stopped and smiled a little. No one had ever admired her before. "It's just a cat thing!" she said trying to be modest. "You are so cool!" said Volley.
The cat walked away looking happy.
The next morning Volley left some of his breakfast in the plate. When he saw the cat on the wall he shouted. "Hey, I left some food for you!" At first the cat was a little proud to accept it. She looked suspicious as well. "Are you trying to get me to come down and then bite me?" she asked slowly moving her tail.
"No! Why should I?" asked Volley. "Because that's what dogs always do! They chase cats," replied the cat. "Well, I just thought you might be hungry," said Volley. The cat jumped down from the wall and slowly approached the food. She ate it slowly; ready to run away should things get out of control. But Volley didn't bother her. He just sat and watched.
"Thank you!" said the cat when she finished eating. "The food was very nice. You are a good dog!" Volley felt happy. It was the first time someone from the neigbourhood said something nice to him.
"Would you like to play ball?" Volley asked carrying a small red plastic ball in his mouth. "I don't play the way you dogs do. I just chase after it," said the cat. "That's alright!" said Volley. "You can chase after it and I can fetch it when it gets far." And so they both started playing. "I see you've found a friend!" shouted the squirrel from the tree. "Yes!" replied Volley happily. "Our differences don't really matter. What really matters is how well I am treated as a friend!"
Follow @timesonlinelk
comments powered by

Disqus