The crooked arm of the law
View(s):

My Dear Mervyn,

I thought I will write to you to tell you what a lucky man you are considering recent events that have taken place. I know you will be puzzled by this but I will explain and I am sure you will then understand.

The first shocking news that we heard was that a DIG has been arrested and charged with committing many offences including murder. I know that a Police officer allegedly committing a murder should be shocking news but in the case of this officer, that was not what was surprising!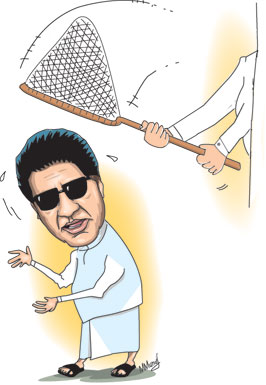 What was indeed shocking was that someone had ordered his arrest and he was in fact arrested and is being charged with these offences. And all these days, we had been led to believe that he was one of those persons who considered themselves to be above the law.
That was because some years ago his wife and son were accused of kidnapping a student and then torturing him. The incident made huge headlines but then, as it often happens in this paradise of ours, nothing was done thereafter and everyone forgot all about it.
More importantly, the DIG was allowed to continue in his position and engage in all his activities. And a few years later, we find that those activities allegedly involved kidnapping people, extortion, and murder!
Now, Mervyn, why I say that you are a lucky, lucky man is because some years ago you too were involved in an in incident at Rupavahini when you stormed into its offices and intimidated an official in an incident that was telecast live over the network.
That event captured the attention of the country at that time and there was a lot of discussion about what the consequences for you would be but being Sri Lankans we forgot all about it and you continued in your own merry way, Mervyn.
That is not all, Mervyn. Your son obviously carries your genes which is why he was involved in several incidents as well, including that famous one where he was alleged to have assaulted an army officer but it was the officer who was later found guilty!
Don't you see a pattern here, Mervyn between the incidents involving the DIG and his son-who we thought were above the law-and you and your son? And yet, there you are still free to do as you please and say what you want to, so that is why I say you are a lucky, lucky man!
Now, as if that was not enough, we heard another shocking news last week. A provincial councillor has 'punished' a teacher who advised his daughter by asking the teacher to kneel in view of everyone else!
Does that sound familiar to you, Mervyn? Remember that little incident where you once 'punished' a Samurdhi officer for not obeying your instructions by tying him to a tree in view of not only the general public but also the television cameras, so that the entire country could learn a lesson?
When that happened, we all thought you had met your Waterloo and would have to tender your resignation but lo and behold, we were later told it was all a 'drama' and that the Samurdhi officer was 'acting', so you got away yet again!
Mervyn, do you know what happened to the poor innocent Provincial Councillor who asked his daughter's teacher to kneel down? He was asked to resign immediately and he has also been charged and produced in court!
I wonder why he didn't say that his 'punishment' was also a drama and the teacher was 'acting'. And all he would have had to say was that he was trying to set an example to the rest of the country about how teachers should handle schoolchildren. You know, he might even file a fundamental rights case saying that he has not been given equal treatment before the law-that is, treatment equal to what was given to you-and if he does that I think he would have a good chance of success.
Mervyn, with the DIG going behind bars and the provincial councillor being sacked, some people are saying that law and order is once again returning to this land of ours, so you will need to be extra careful about what you say and what you do.
Just the other day you were saying that Gota is a great King. We know you sing for your supper but this latest song suggests that you too are aware that the long arm of the law may finally reach for you. We wish you all the best, only because we do not want to be deprived of our greatest entertainer!
Yours truly,
Punchi Putha
PS-If you were worried about your future because of recent events, I think you have reason to feel that you are reasonably safe now. Why, young Duminda has returned to Parliament with a heroes' welcome-and if he can enjoy all those privileges they surely can't lay a hand on you!
Follow @timesonlinelk
comments powered by

Disqus