National Heritage Ministry: Caught but not out
View(s):

Sri Lankans are cricket lovers and to most, the gentleman's game is a second religion.  They are glued to their television or radio sets when a game is under way and remember the names of players much the same way they recall their last meal.
However, with all that, cricket is yet to become a national heritage. There have been no official suggestions so far to even bring it under that label or obtain UNESCO status as world heritage. Yet, the annual performance report of the Ministry of National Heritage submitted to Parliament this week lists something extraordinary. It starts with the number of foreign tours undertaken by officials of the Ministry in that year.
While most tours are to attend training programmes, seminars and conferences among others, one trip that was undertaken by two officials to India early last year stands out. It was to attend Cricket Tournaments at Wardha and Chandrapur in India.
The report, however, does not explain the link between national heritage and cricket. Yet, the money went out of the taxpayers' pocket. Officials say there has been no probe so far why the two officials scored their way using State  funds.
President's delay turns into blessing for temple road
It was bad weather that prevented the Sri Lanka Air Force VIP helicopter from taking off. A Saturday ago, President Rajapaksa had arrived at his official residence in Nuwara Eliya. That was after taking part in ceremonies in Badulla.
Bad weather prevented him from taking a flight. So he did the next best thing, travel by road. However, it was not only the thick fog but also the bad road condition that prevented him from reaching a temple in Boralanda in Welimada. He was late by more than an hour. The chief incumbent of the temple, during his speech, urged the President to have the road reconstructed. Rajapaksa turned to Udith Lokubandara, UPFA Parliamentarian and chief organiser of the Haputale electorate.
He asked why he had not been able to have the road repaired. Lokubandara declared that he had already obtained Cabinet approval. He said road reconstruction work would begin immediately. During his speech, Rajapaksa said he was delayed not due to his own fault. It was bad weather. And now he realised that the road was in a poor state. He said he would order officials to repair the road immediately.
UNP seeks divine power to topple Govt.
Today, the main opposition United National Party (UNP) will begin a string of religious ceremonies.  Its aim is to seek divine intervention to change the Mahinda Rajapaksa Government. The first in a series of Vishnu Poojas or Deva Kanna Lavva will be held at the Dondra Temple. It has been organised by UNP organiser H.R. Wimalasiri.
In the coming weeks, similar ceremonies will be held in other leading temples in different districts, the UNP's Communications Chief Mangala Samaraweera said. "Through prayers, devotees will appeal to the gods to save the country through a change of government," he said. He was quick to point out that this was a "peaceful, democratic process."
The religious ceremonies, he added, were a prelude to public discussions the party had planned in different districts on its new draft Constitution for Sri Lanka.
CJ 44 gives privileges to media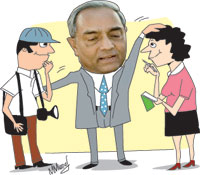 Chief Justice 44 Mohan Peiris has given some privileges to journalists covering court proceedings. He has reserved a separate room from where they can type their reports and send them via e-mail to their offices. That seems a one up on CJ 43 Shirani Bandaranayake.
One-Shot joke for MPs
At the President's office in the Parliament complex, a group of MPs had gathered. For some, it was a discussion on media ethics.  However, for Minister Anura Priyadarshana Yapa it was on a religious note. He was relating to actress-turned-MP Malini Fonseka an anecdote he had heard.
A mother and son, Mr. Yapa said, had gone to the cinema to see the film "Siddhartha Gauthama." UNP Parliamentarian Ranjan Ramanayake, dubbed by his fans as 'one shot' was playing the role of Siddharatha's father, King Suddhodana.
The son had asked his mother when the film was over, "Ammi, Budhu Haamudurwange kaaleth one shot indala thiyanawada?" (Was 'One Shot' living during the Buddha's time?").
The MPs who were around Yapa and Malini Fonseka burst into laughter.
Nirmala gives his vehicle to accident victims
Deputy Transport Minister Nirmala Kotalawala played the Good Samaritan last week. The scene was a fatal accident at Sapuwatte in the Matugama area. He and his entourage of security men were among those stuck in the long line of traffic.
When he reached the scene, he found the victims were still there with no means of transport to the Nagoda Hospital in Kalutara.  Kotelawala alighted from his vehicle and offered it for transporting the injured. That was after the rear seats were removed to accommodate three victims.
For good measure, he was also a visitor to the hospital to see the victims.
Ministers clash in Parliament
Two ministers from the same district were at loggerheads in the lobbies of Parliament this week. One accused the other of colluding with an Opposition Parliamentarian to raise what he claimed were embarrassing questions against the other.
The dispute ended with one shot by the aggrieved minister. He told a confidant at the restaurant that the celebrating one was not happy with him. Was it over jobs that bring dollars or not, he would not say.
MR rushing here and there for anniversaries
Visiting political foes and friends when they are in hospital is one of President Mahinda Rajapaksa's traits from the time he took to politics.
When Jayalath Jayawardena, the UNP Parliamentarian was once at the Sri Jayewardenapura Hospital, Mr. Rajapaksa visited him for a lengthy chat.
Last week, he was at the late Parliamentarian's residence in Ja-ela for his funeral. There he met Tissa Attanayake, the UNP General Secretary.
After a brief chat, President Rajapaksa told Mr. Attanayake it was time for him to leave. He had to fly to Badulla. "Mata thiyenne 25, 30, 40 samaru uthsawa walata yanna thamai (What I have to do now is to attend event to facilitate those 25th, 30th and 40th anniversaries)," Mr. Rajapaksa told Mr. Attanayake.
Weerawansa sees hidden hand behind cartoons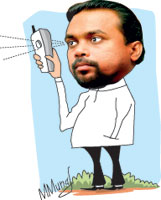 Minister Wimal Weerawansa, who is now spearheading a campaign to halt the impending Northern Provincial Council elections, has now turned a media critic. Just last week, he berated the media, particularly the English ones. The reason? According to him, they had all published adverse reports simultaneously about the tourism industry.
This week, he took on the cartoonists who often lampooned him carrying around his neck a mobile telephone. He said he would send them a small gift – diaries for the current year.
That was to help them keep track of cartoons they drew daily. He charged that the cartoons in different media outlets had the same theme. Hence, Minister Weerawansa said he wondered whether they were working to an agenda provided by just one source.
He should know after all. He was at one-time a journalist.
Follow @timesonlinelk
comments powered by

Disqus