MR gets Lunu Dehi with Dosa
View(s):

The occasion was the wedding ceremony of the son of Justice Sri Skandarajah, President of the Court of Appeal. A number of judges and those in the legal fraternity had gathered for the ceremony followed by lunch. President Mahinda Rajapaksa who was among the guests sat to have lunch according to Hindu tradition.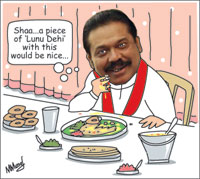 It was rice and other dishes served on plates covered with banana leaves. There were other delicacies too. Rajapaksa who was enjoying Dosa and Wadai declared "Lunu dehi kellakuth tibuna nam hondai (it would be nicer if there is a piece of salted lime)". Soon he received what he asked for. The President then went on to reminisce with some colleagues from his Law College days.
Gangaramaya Prelate reassures Mayor
"Bayawenna epaa. Maath ekka hitiyai kiyala vipaksha nayakathuma vinaya parikshanayak thiyanne nehe (Don't be frightened. The Leader of the Opposition is not going to conduct a disciplinary inquiry against you for being with me)," Venerable Galaboda Gnanissara Thera told Colombo Mayor A.J.M. Muzammil, triggering laughter allround.
Mayor Muzammil had been seated in a back row during Vesak celebrations at the Gangaramaya Temple. The remarks were made when the prelate asked him to take a front seat. Present at the occasion were Prime Minister D.M. Jayaratne, Opposition Leader Ranil Wickremesinghe, UPFA Parliamentarian Namal Rajapaksa and several other politicians.
When the ceremonies were coming to a close, Ven. Gnanissara Thera told Muzammil to let him know if any disciplinary action was taken against him. "I will take care of that," he said.
Road named after Sarath N. Silva
The latest person to have a road named after him is former Chief Justice Sarath N Silva.  A newly constructed road that connects the historic Seruwawila Rajamaha Viharaya and the Somawathiya Rajamaha Viharaya has been named as Sarath Nanda Silva Mawatha.
Economic Development Minister Basil Rajapaksa unveiled the plaque naming the road.
Democracy international, not only internal
When Thai Prime Minister Yingluck Shinawatra addressed Sri Lanka's Parliament on Friday, she touched on the subject of political dimensions.
"Democracy is not an internal affair of one country alone. Democracy is rather something that the world must join to preserve and protect for the people," she said. "Our two countries with our experiences and lessons can contribute greatly to the advancement of the democratic process."
Opposition Leader Ranil Wickremesinghe who spoke after the Thai Prime Minister also endorsed her view that "democracy is not an internal affair." "Democracy and people's will have to eventually prevail," he said.
Shirani still CJ on JSC website
The Judicial Service Commission thinks its Chairperson is still Chief Justice 43 Shirani Bandaranayake – that is, if its official website is to be believed. Even five months after Parliament voted to impeach Ms. Bandaranayake, the JSC states on its website: "Hon. Jus. Shirani Bandaranayake, Chief Justice of the Supreme Court and Chairman of the Judicial Service Commission".
The caption is printed under a picture of a beaming Ms. Bandaranayake sporting the ceremonial wig.  The other members of the JSC are described as "Hon. Jus. R.A.N. Gamini Amaratunga, Judge of the Supreme Court and Member of the Judicial Service Commission" and "Hon. Jus. S.I. Imam, Judge of the Supreme Court and Member of the Judicial Service Commission".
Justice Imam retired in February. Justice Amaratunga does, indeed, hold his position in the JSC but is due to retire next month. (It might strike the JSC several months later that he has left…or, maybe not).
The outdated information on the JSC site is in stark contrast to the website of the Supreme Court of Sri Lanka. It was updated with information of Mohan Peiris taking over as the new Chief Justice almost immediately after the event. Mr. Peiris, as Chief Justice, is now chairman of the JSC.
Politics is a business, SLFP, UNP big companies, says Minister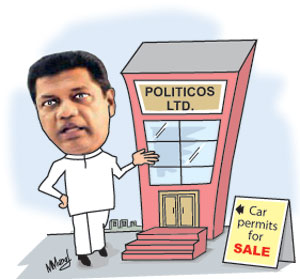 Transport Minister Kumara Welgama was man enough to make a bold revelation when he delivered an oration at the funeral of Daya T. Pasqual, one-time Sri Lanka Freedom Party (SLFP) Parliamentarian for Matugama.
The Minister, who spoke in Sinhala, said the late Deputy Minister travelled to Parliament by bus. "Today, politics has become a business," he noted and added, "Both the SLFP and the UNP are two main companies in the country."
He said MPs received vehicle permits. "I also received one but I sold it for Rs. 15 million. That is the truth.
When I contested in the 1988 Parliamentary elections, I spent around Rs. 125,000 but the last elections in 2010 cost me Rs. 8 million. That is why I say politics is a business," he declared.
Follow @timesonlinelk
comments powered by

Disqus