Pakistan votes in landmark polls, attacks kill 18
View(s):

LAHORE, Pakistan, May 11 (AFP) -Millions of Pakistanis turned out to vote in landmark elections today, defying deadly Taliban attacks to take part in an historic democratic transition for the nuclear-armed state. Bomb attacks killed 12 people in Karachi while gunmen shot dead six in the restive southwest, as the election commission extended voting by an hour nationwide amid a high turnout estimated to be up to 60 percent.

The main issues are the tanking economy, an appalling energy crisis that causes power cuts of up to 20 hours a day, the alliance in the US-led war on Islamist militants, chronic corruption and the dire need for development. More than 86 million people are eligible to vote at 70,000 polling stations for the 342-member national assembly and four provincial assemblies in Khyber Pakhtunkhwa, Punjab, Sindh and Baluchistan.

It marks the first time that an elected civilian administration has completed a full term and handed power to another through the ballot box in a country where there have been three military coups and four military rulers. The front-runner is ex-prime minister Nawaz Sharif, head of the centre-right Pakistan Muslim League-N (PML-N), but much of the campaign has been electrified by cricket star Imran Khan with promises of reform and an end to corruption.

Sharif arrived to vote in Lahore, driven in a bulletproof vehicle and greeted with roars of "long live the lion" from supporters using his nickname. "I am confident that tonight we will start receiving good news from across the country," Sharif told reporters after casting his vote.

There was a festive atmosphere in Lahore as voting drew to an end. Cars, motorbikes and rickshaws streaming with party banners and blaring support songs thronged the streets, along with voters draped in flags who shouted slogans, an AFP reporter said.
"It's a very happy atmosphere," said Rashid Saleem Butt, 50.

"We're really enjoying this moment — people are very much happy about the chance to have change."Earlier, long queues formed outside polling stations in Pakistan's main cities where people spoke enthusiastically about exercising their democratic right and voting for change, although some people expressed nervousness about security.

"People have been up all night, actually I haven't slept, a lot of my friends haven't slept. People just wanted to come out and do this, because we never had this chance," said Natasha Ejaz, a singer, in Islamabad.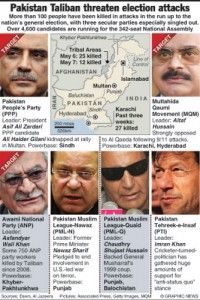 Voting in Pakistan's financial hub Karachi was marred by allegations of rigging from rival parties and the Taliban targeted a candidate for the Awami National Party (ANP), an ally of the outgoing government. The target, Amanullah Mehsud, escaped unhurt, police said, but 11 other people were killed, including a small child, and around 40 people wounded.
Another person was killed and three wounded when a low-intensity bomb exploded in a bus elsewhere in the city.Islamist party Jamaat-e-Islami boycotted polls in Karachi after accusing the Muttahida Qaumi Movement (MQM), which controls the city, of vote fraud and violence.
The MQM, which itself boycotted a stronghold of the rival Pakistan People's Party (PPP) in Karachi, denied the allegations.
The election commission also raised concerns about threats to its staff in the port city, which it says has prevented them from performing their duties.
The commission announced it would extend voting hours by three hours to 1500 GMT in seven of the city's constituencies to compensate for a delay in opening booths.Nadir Hassan, 29, said: "I came to vote at 7:45 am and waited until 1pm before leaving. First they said they had no papers, then no ballot box, then no ink."Officials said turnout was around 30 percent by midday and was expected to rise to 60 percent before the polls close, which would be the highest since 1977.
Analyst Imtiaz Gul said the election's high turnout was due to Khan galvanising millions of first-time voters, although he cautioned that higher turnout may not necessarily translate into seats.
Follow @timesonlinelk
comments powered by

Disqus