Home » Sports
Sports
Royal fast bowler Chamika (9/87)bags the man of the match and best bowler awards as they end the six year wait  By David Stephens A S. Thomas' College fleet, which had been navigating troubled waters throughout their second innings, was sent plunging to a seven-wicket defeat by a ferocious bowling barrage from Reid Avenue, as [...]
Sports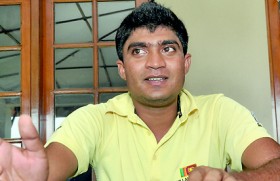 By Naushad Amit Golf is a sport that is turning out to be extremely productive from Sri Lanka's point of view. Over the past five years or so, it has produced professionals on an annual basis, promising to match cricket as a lucrative sport. Vijitha Bandara from Digana, Kandy- the top amateur golfer in Sri [...]
Sports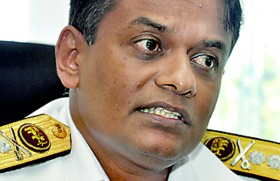 Annual General Meeting in 21 days With 21 days to go for the Annual General Meeting of the Athletics Association of Sri Lanka (AASL), the battle among candidates has heated up, as its serving officials sketched out the pros and cons of the concluded term. One of the developments that occurred according to Rear Admiral [...]
Sports
A tricky situation A lot of talk centers around the AGM of a leading sports body and two candidates are also having problems. Both candidates are not being favoured by the Big Man due to various reasons. Speculation is rife that an entirely new candidate may appear on the cene. Whilst this is going on, [...]
Sports
Local CRICKET: Sri Lanka vs Bangladesh 1st Test Day 3 at Galle International Stadium SLC Emerging XI vs Bangladeshis (3-day warm up game) at Uyanwatte, Matara SLC Inter-Club Premier BRC vs Panadura SC at BRC Moors vs Lankan at Moors Ragama CC vs Army SC at Katunayake Saracens vs Bloomfield at Bloomfield Air Force vs [...]
Sports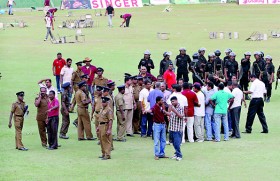 The Big Match season has been off and swinging (quite literally) these past few weeks with schools reviving long-held rivalries on the cricket pitch. However, have the activities surrounding these traditional competitions, such as drunken scuffles and trffic-halting cycle parades, now gotten out of hand? Pix by Amila Gamage
Sports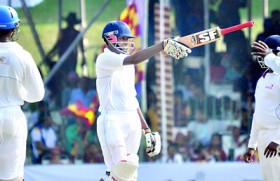 Under 19 Review By M. Shamil Amit The Under 19 inter-school cricket season is at its tail end and now it's the big match fever which now is being fought out by the top schools. The traditional big match between St. Peter's and St. Joseph's ended in a draw with both sides sharing honours. The [...]
Sports
 St Servatius vs St Thomas' 113th Battle of Nilwala on 22nd, 23rd and 24th at Uyanwatta Text and pictures by P. D. De Silva Matara's big match — the 113th annual cricket encounter between St. Servatius College and St. Thomas' College Matara will take place on 22nd, 23rd and 24th of March at the Uyanwatta [...]
Sports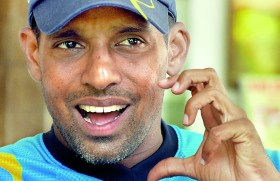 Lanka's Test drought claims its first victim  By Naushad Amit It might be a coincidence or fate but the month of March will surely be of everlasting memories for the now-retired Sri Lankan 'wall', Thilan Samaraweera. In 2009 March Samaraweera had to expect the unexpected, when the touring Sri Lanka cricket team's bus came under [...]
Sports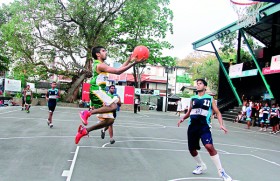 In a pulsating basketball game between two evenly-matched teams, Achievers needed to dig deep to pull out a tight 12-9 victory over ACBT, to win the Informatics Basketball Play-offs last weekend, at the Henry Pedris courts. Adding further weight to their achievement was the award of Most Valuable Player of the boys' segment, which went [...]
Sports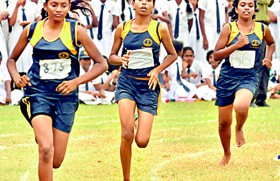 Dias Hose with an overall tally of 530 points ran out champions at the Visakha Vidyalaya inter house sports meet, which was held at the school premises recently. Pulimood House with 500 points ran into second place, while Dawes House came in next with 453. In fourth place was Jayatilake House with 370 points and [...]
Sports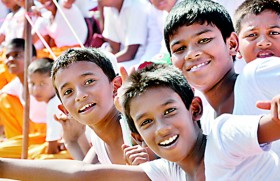 Zahira College Colombo held its annual sports-meet at the college premises in Maradana with many young athletes taking part in numerous track and field events. Many students took part with great keenness as they competed for their respective houses: Angora, Baghdad, Cordova and Istanbul. – Pics by Amila Gamage
Sports
Bultjens House accumulated 195 points to edge out Dias House, which received 186 points to seal second place at the annual Inter-House sports meet of S. Thomas' College Matara, held at the Uyanwatta stadium last Friday (15th). Ondatjie House was a close third with 172 points while Edirisinghe House came in fourth with 164 points. [...]
Sports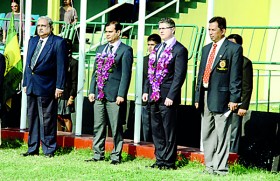 13th International Schools' Athletic Championship Lyceum International School Wattala outclassed 23 other rivals as they clinched the International Schools' Athletic Championship (ISAC) for the fifth consecutive year, at the Sugathadasa Stadium in Colombo last weekend. The ISAC which was held for the 13th year running was held on March 1, 2 and 3 with the [...]
Sports
 All Island Inter school Table Tennis  Team championship 2013 Maliyadeva College, Kurunegala clinched the girls' Under 19 'A' Division All Island Inter School Table Tennis Championship title, beating Southlands College, Galle by three sets to one, while Vidyartha College, Kandy's 'B'team downed their 'A' side by three sets to nil, to win the Under 19 [...]
Sports
The Education Times inadvertently described the Wycherly swimming meet as Sportsmeet in its Sports pages last week. It should have read Wycherly swimming meet.
Sports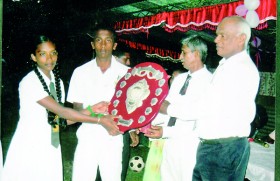 Vijaya House, with 225 points, took the championship title at the Inter-House Sports-meet of the Kedala Sri Dheratanda Maha Vidyalaya, Boosa. The above picture shows G.P. Premadasa, Deputy Educational Director Southern Province and Principal N.J. Somasiri, handing over the trophy. – Text and Pic by Gamini Mahadura Galle Corr
Sports
By L.D. Chandrasiri (Matale Corr) Saman House, with an aggregate of 456 points, emerged champions at the annual Inter-House sports-meet of Sri Sungamitta Girls' School, Matale which was held on February 19 at the Bernard Aluvihare Stadium in Matale. Araliya House finished runners-up with 439 points, while Manel (419) and Kumudu (329) were placed third [...]
Sports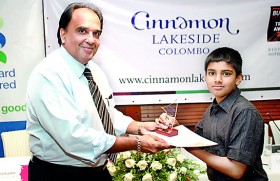 Young Chanith de Silva of St. Thomas' College, Bandarawela who won the Boy's Under-12 Singles championship at the Cosmos Open Ranking Tennis Tournament held in Dehiwela last week, also became the Under-10 Boy's Singles champion at the Open Ranking Tennis Championship held at the Cinnamon Lakeside Hotel, Colombo recently. Sri Lanka Tennis Association President, Iqbal [...]
Sports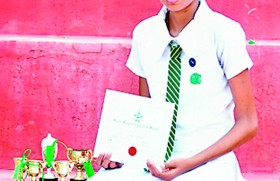 Nimshi Madushani Rodrigo emerged best track athlete and the Under-19 champ ion at the Inter-House Sports Meet of Good Shepherd Convent Panadura. Representing Elbie House, Nimshi won the 100m dash, 200m dash and long jump events of the Under-19 age category.
Sports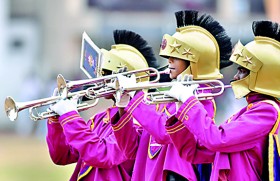 Prince of Wales' College Moratuwa conducted their annual sports and athletic meet at the school ground in Moratuwa recently. Many students took part in the event. – Pics by Amila Gamage