Rural education in crisis: How to take teachers to schools
View(s):

Reforms urged to deal with poor student performance at O/L exams, misuse of transfers, political interference, transport and accommodation problems 

By Chamal Weerakkody

As experts cite the dearth of subject teachers as one of the main reasons for poor G. C. E. Ordinary Level examination results in rural schools, many of them also call for an overhaul of the teacher service which is riddled with irregularities.
Experts said Examinations Department statistics showed that students from rural areas obtained lower averages than students from urban schools and attributed the poor performance of rural schools to the shortage of teachers for science, mathematics, information and communication technology (ICT), and other key subjects.

While the average marks of students from Colombo, Batticaloa town and Jaffna are 72.28, 80.08 and 63.39 respectively at the 2011 Ordinary Level examination, students in rural areas such as Minuwangoda, Kinniya and Kilinochchi recorded a dismal average of 57.37, 40.42 and 35.39 respectively, according to the statistics.

An education official said political interference in the administration of the education service was one of the main factors that had contributed to the shortage of subject teachers in rural areas such as Madhu, Thunukkai, Kilinochchi, Kalkudah and Kinniya in the Northern and Eastern Provinces. With political influence, teachers managed to obtain appointments to schools in Jaffna, Batticaloa, Mannar and other urban areas, he said.

The official said that the problem could be solved if provincial authorities used powers under the 13th Amendment and recruit graduates to fill the vacancies in the teacher service.

He warned that if the situation was allowed to deteriorate, the exam pass rate would decrease further in rural areas, especially in the war-affected Northern Province where some 1,200 teacher vacancies exist. In the Eastern Province, the authorities will have to recruit at least 2,000 teachers to tide over the crisis.

Exigencies arising in the state school service usually call for secondment to other state schools. This may also be a contributory cause for the teacher crisis in rural schools. Some teachers in urban schools continue to remain in the same schools despite the fact that they have been seconded to another school.

In some schools, teacher shortages have led to one teacher handling many subjects.  The Sunday Times spoke to a veteran teacher in a school in Nugegoda. She has been teaching multiple subjects in this school for the past ten years owing to the shortage of teachers. She said the reason for teacher shortage was largely because poor salaries and allowances drove teachers to take up other jobs or because of teachers' preference to move to urban schools.

"Urban schools usually have an excess of teachers who continue to remain in the same school. This happens because of irregularities in the system and in the end the students are affected," the teacher said. She also said that according to the national teachers transfer policy, a pregnant teacher could get a transfer to a school close to her residence and this also had contributed to the teacher shortage.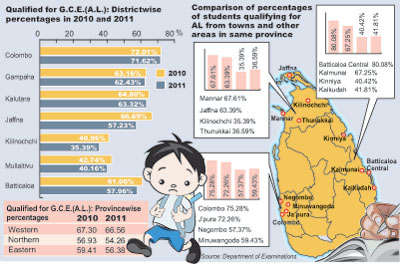 A retired education official said he had observed that some teachers, after serving five years in the Eastern Province, were in the habit of seeking transfers to provinces such as Western, Central or Uva to enrol their children in popular schools.
Education Minister Bandula Gunawardena acknowledged that the dismal performance of rural students at the 2011 Ordinary Level examination was largely due to teacher shortages.
The percentage of students who passed mathematics at the Ordinary Level examination has dropped from 60.38 per cent in 2010 to 55.33 per cent in 2011 and the percentage of students who passed history from 73.78 per cent to 66.44 per cent.
The pass rate in ICT has dropped from 82.33 per cent in 2010 to 71.39 per cent in 2011 and in the new subject, citizenship education and governance, it declined from 77.60 to 71.30 per cent.
He said the Government had taken steps to overcome the crisis, by recruiting 3,000 graduates and education diploma holders to teach English, mathematics, science and ICT. However, most of these appointees were yet to report for duty as they had not sorted out travel and accommodation issues, he said.
The minister said that as a long term plan, he was preparing a Cabinet paper to enable the enrolment of Tamil students with GCE Advanced Level qualifications for the five-year diploma course at the National Institute of Education and recruit them for teaching positions in the Northern and Eastern Provinces.
Mr. Gunawardena said the ministry had also taken measures to eradicate the irregularities in the secondment system and to improve the education standards.
Commenting on the issue of teacher surplus in leading and urban schools, the minister said that under a new system, a teacher who had served 10 years or more in a school would be transferred to a national or provincial school and this was one of the means by which he hoped to minimise the crisis over teacher shortages in rural schools.
He said the ministry would call for allocation of funds in the 2014 Budget to pay an allowance — amounting to 10 per cent of the salary — to teachers, who serve in rural schools. He said a point system based on performance and a housing scheme are some of the other measures the ministry was adopting to encourage teachers to take up posting in rural areas.
A Sabaragamuwa education official said provincial authorities would provide staff quarters to teachers in rural areas because accommodation and transport problems were the main impediments to teachers taking up postings in rural schools.
A Central Province education official said the provincial Education Ministry recently appointed 127 higher national diploma holders as English teachers.
He said the ministry would also recruit graduates to fill the vacancies for science, mathematics and English teachers.
Follow @timesonlinelk
comments powered by

Disqus