Men are from Mars, women from Pluto
View(s):

Yes. I know. It seems wrong. But it's quite deliberate. There was a time when women were from Venus. All that's changed now. Especially since Pluto is no longer a planet – new moon around it notwithstanding. And also the stellar fact that women are farther out of regular orbit than they used to be in the 19 – um, never mindů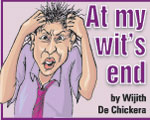 Take colours, for instance. Although, if you want to retain your sense of well-being, don't take it too seriously. Men can recognize four – at best, five – colours: blue, green, yellow, redů and maybe orange, if it is on a Volkswagen or in Vodka. What? No, Violet is not a colour: it is a girl's name; and Indigo is an Indian national or international airline. With a spectral handicap like that, women should be grateful if and when their men volunteer to help in colourful pursuits.
"What have you done now? My mauve blouse is stained, silly!"Ignoring the damning 'now' in the accusation, Mere Male is bold enough to ask, "Stained silly? Why what colour is it now?" (Ah, tit for tat – with that 'now' thrown back for good measure.)
"Don't be facetious. This is serious. It's turned lilac after you laundered it – why, it's almost lavender now… no, wait, it's heliotrope!" Loud wail from injured party.
"Looks all right to me – er, a lighter shade of purple, perhaps?" Which, as it turned out, was a silly thing to say. Blotched my escutcheon. Stained my reputation further."Purple? PURPLE? Is that all you can say? After you had the gall, the gumption, to launder my lovely mauve blouse with that maroon top! Aiyo… it's like a puce blouse now, no!"
It was at the tip of my tongue to venture that yes, indeed, in my humble male opinion it was a "puss blouse" indeed ('puss' being the vernacular for hopeless or lacklustre) – but good, sixth, or common sense prevailed; and drew me back from the brink of the abyss.
"Huh!" I huffed in wounded vanity. "So that's the thanks I get for putting your wash in the machine."
"Thank you, dear," riffed Rosa Klebb icily, clutching the laundry bag with arctic disdain. "Please don't do me any more favours – if you can't tell lilac from lavender."
"But I thought you washed colours together, and blacks and white separately together," I riposted, getting two togethers separately mixed up in the rush to get the sopping words out."What! O shock, O horror! Black IS a colour! No wonder my whites are tainted grey…"
"And here I was thinking that EVERYTHING is a shade of grey…"
My colourful pun went unappreciated. Although her kaleidoscopic punch (sometimes women are from Mars too) found its target. It made a mark that's only just fading away. It is, I think, a lighter shade of vermilion (as she would say) – to me, it looks plainly and simply dark red.
But spare me your jocular witticisms and jovial wisdom, folks. My wife knows my weaknesses, and I her strengths. So twelve years of light-hearted banter ("Ouch!" I yelped. "That hurt!") across the darks and lights on our wash-line won't kill either of us. There are darker doings tainting the state of the nation and staining the reputation of its citizens than our laundry.
For starters, the sordid revelations in the media of recent weeks – that rape is on the rise, and some notorious lawmakers and shameless law-enforcers are working hand in despoiled glove to ruin our country's womanhood.For instance, the turning of a blind eye by the police on the 'rape parties' of bestial politicos and prurient businessmen.
For example, the stygian carnality of a uniformed officer of the law who dares to rape a rape victim in a police station.
Take the Lethe-like forgetfulness of society as regards the myriad schoolchildren who are sexually abused by schoolmasters and schoolmistresses, "van uncles", wardens and guardians, priests and other putative protectors of puerile innocence. Then again, the younger (lost?) generation themselves – who play dark, deadly games of "kissing cousins" and wind up dead and floating in a convenient canal when concupiscence has slunk back into the cave, drug-induced brief madness spent.
Last but not least, the shameful sale of children by their own parents – trapped in abject poverty, seduced by the prospect of a quick and easy buck… which they do not have to earn… but which their torn, bruised, bleeding offspring can obtain – at grim and everlasting cost.
Grey is the new black and white. (Wait, grey is the old black and white – come to think of it.) Hope your face – and your heart – are both a lighter shade of pale… and that the head knowledge will prompt and provoke you to stern civic duty. Much dirty laundry has never been washed in public since the monstrous days of Nero and Caligula. They were paragons of virtue in comparison. Stop the rot before the men from Mars and Venus in venial conjunction come for our children from Earth.
comments powered by

Disqus