RIO DE JANEIRO, June 16 (AFP) Talks on a new global charter to protect the environment and eradicate poverty were heading into overtime Friday as officials admitted they faced a battle to seal a deal ahead of a UN summit.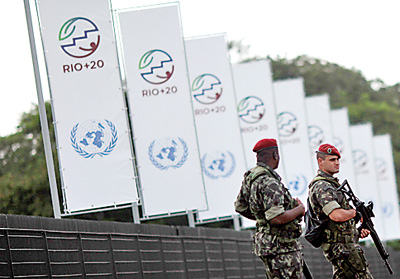 Brazilian soldiers on patrol at the "Rio +20" Conference(REUTERS)
The cornerstone document of the June 20-22 Rio+20 summit aims at setting a path for nurturing the planet's natural bounty and promoting green growth. But after five months of wrangling, talks on a draft entered their final scheduled day on Friday with agreement on only 28 percent of the 81-page text, officials said.
UN's Division for Sustainable Development member Nikhil Seth said, "It's everyone's hope that by (June) 19 at the latest, everything will be wrapped up," he said.