Ex-spy Anna Chapman has walked a Turkish catwalk in a long red dress at a fashion show.
Fashion designer Hikmet Eraslan said his Dosso Dossi clothing company donated to Chapman's charity foundation for children with poor eyesight in Volgograd in return for her appearance last Friday.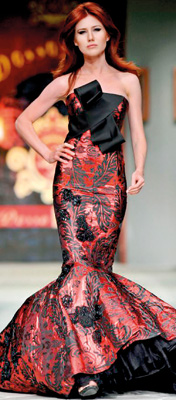 Russian ex-spy Anna Chapman walks a Turkish catwalk at a fashion show in Antalya, Turkey
The 30-year-old Chapman was arrested in the U.S. in 2010 for espionage and then deported along with nine other Russian sleeper agents.
The pin-up, the daughter of a senior KGB agent, has become a celebrity in Russia since her dramatic Cold War-style prisoner swap deportation back to her home country in July 2010 and was quickly catapulted into the limelight as her pictures were splashed around the world.
© Daily Mail, London