An energetic, lively performance is nothing new to the choristers of Methodist College. It is no wonder then, that their upcoming performance is aptly titled Canto Vivace- in other words, lively choral.
Directed by Sanjeev Jayaratnam and accompanied by Dharshi Edward, the performers of 14- 19 years eagerly await the experience of bringing to the stage three months of almost non-stop singing and commitment to the performances they love.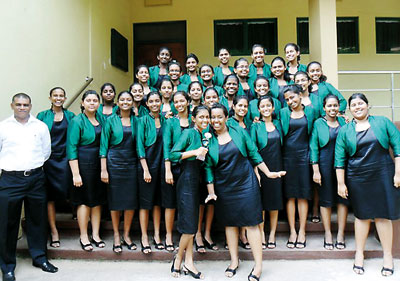 'Canto Vivace' will take place on June 28 and 29 at 7.30 pm at the Lionel Wendt. "There are many standards that you have to live upto- most often the ones you've set yourself," comments Ms. Edward who will be the accompanist for the show. "If you already have a certain image then you have to either keep it up or do better." Judging by the choir's track record, high standards have no doubt been set. A group of 33 choristers participated in the first Vietnam International Choir Festival and Competition held in the city of Hoi An, Vietnam, where they emerged winners of the 'Youth Choirs of equal voices' category and were awarded a gold diploma. Additionally the choir was awarded a silver medal for their performance in the 'Sacred Music' Category, narrowly missing out on the gold by a mere 0.5 marks.
The choir was then invited to compete for the Hoi An cup along with 6 other choirs. The group was also given the honour of being requested to sing for the closing ceremony of the competition. After the excitement and pressure of the competition, 'Canto Vivace' is being put together with the aim of showcasing the talent of these young singers, giving them the opportunity to revel in a more laid back performance, while channeling all their energy towards delivering a solid performance."The choir as a group is ever-changing," says Ms. Edward. Each year the oldest batch in school leaves and a new one joins, and it requires a great deal of hard work to train everyone to reach one equal standard.
The costumes, lights and the hall can be perfect but at the end of the day your performance is what matters; it has to be worth it." "Catering to everyone in the audience through your performance is also quite difficult," she continues, " there should be a line-up of items showcasing a wide spectrum of genres, types and styles. Most importantly you should remember to enjoy what you're doing."
This performance aims to showcase the talents of the choir while the group Asteria- a premier female choir in Sri Lanka trained by Mahen Peiris, which consists of past pupils from the school; as well as the MC OGA Choir, "Metho Cantanti" trained by Anagi Perera will also perform at the show.
Tickets for the show priced at Rs. 1000, 750, 500 and 300 are available at the School Office.