Education is one of the most sought after qualities in this modern world, and in this global environment it has become a greater need to obtain a truly international qualification. However, with high cost involved in studying overseas, it is a great relief for many students to learn that they can pursue an international qualification without leaving the shores of Sri-Lanka. A greater reward is when students are offered this study opportunity through a scholarship.
The past 21 years has seen CFPS (the Center for Professional Studies) provide a learning environment for students preparing for the law entrance exams for law college. It was in 2007, that CFPS was able to offer the University of London, LLB degree through the University of London International Programme.
"It was in 2011 that CFPS launched the scholarships scheme for the students" said Mrs. Asanka Yatawara, the Chief Operations Officer of CFPS. "we want to motivate our students and to recognise the talented and enthusiastic students. We offer one full scholarship, where it is truly a full scholarship. CFPS takes care of the students' payments towards the University of London as well as the local fees payable to CFPS. So the student is completely free and has to focus on their studies and do their best" added Mrs. Yatawara.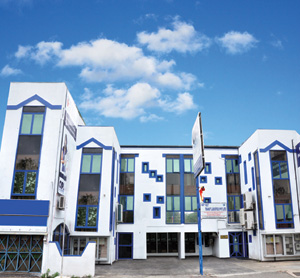 CFPS Law School
The other scholarships also on offer are a 100%, 50% and 25% scholarships on the fees payable to CFPS. "students are selected based on an examination conducted on IQ, general knowledge and an English written exam followed by an interview" added Mrs. Yatawara "we offer scholarships worth SLR 15 million, and we want our students to benefit from this and to obtain a good education"
Students are awarded the scholarships at the CFPS open day, which is also attended by representatives of the University of London. The scholarship is offered for both the September as well as the February intakes for each year. The scholarships are currently on offer for the LLB degree students only.
CFPS also offers a diploma in law for students, "this is essentially for students who do not meet the entry requirement for the LLB degree, either because they are just after O/Ls or because their A/L grades do not meet the entry requirements.
The diploma is essentially the first year of the degree programme but students have extra teaching hours; if they have sufficient marks at the end of the year, then the students can transfer directly to the second year of the degree. So this provides opportunities for students who are genuinely interested in studying law" added Mrs. Yatawara.
The classes for diploma students are carried out on weekdays, while on weekends classes are dedicated for the LLB degree students. CFPS also hosts an excellent orientation programme preparing students on sessions like, study skills, specific research methods etc. that aim to develop the skills that will enable them to have a successful education.
So who should apply for the scholarship for the LLB degree at CFPS? "if you are a person who reads, and has general knowledge and you have basic English, our aim is to see how expressive an individual is and to test their general knowledge. They should have an open mind. These are all interests that help in studying law" added Mrs. Yatawara.
"we encourage students with minimum two credit passes at A/L to apply for the degree, they should also have a Credit pass in English and Sinhala at O/L." Added Mrs. Yatawara. She further added "at CFPS we have a very good lecture panel and we maintain a very high standard. They are all qualified they are practising lawyers in fact most of the staff have a law qualification"
CFPS has an atmosphere is very friendly and helpful, it is located in the heart of Colombo and has easy access. The center also offers students visits to court sessions and parliament visits from the first year itself.
Scholarship student for 2012 February, Nirmal Silva had this to say "CFPS is looking for people with a vision not to just be lawyers. I am in engineering and law, gaining the scholarship adds value to all that I have done in the past. Being a scholarship recipient gives you an edge. A lot of people look up to me, people use me as an example and look to me for advice.
So it has definitely helped me to become a better student, and has motivated me, which is one of the goals of CFPS in offering this scholarship"
Scholarship for September 2011 – Chathuni Uduwela said "I thought the admission exam might be general knowledge that is not so general, but it was a lot of common sense, logic and rational thinking and basic math skills and language skills. The main objective is to check whether you are aware of things around you. First year has been wonderful, I have been getting involved in student activities. Its very easy, cause u have tutes and the libary is opened all the time. Students can breeze through exams because CFPS is so organised and their tutes are streamlined so its easy to follow"
Mrs. Yatawara added "through CFPS students gain easy access to a British degree as they do not have to compete with thousands of international students, so if you meet the entry requirements admission is guaranteed"