Entrepreneurial brothers, Shiwantha Dias and Shalin Balasuriya, who single-handedly infused glitz and glamour into Sri Lanka's age-old Ayurveda traditions and rituals with their Spa Ceylon range of luxury bath and wellness products, have broken new ground again in creating a world first of a complete range of spa formulae, bath and body care, as well as treatment products infused with 100% Pure Ceylon Tea!.
"The world's finest tea comes from Ceylon, and tea is proven to be rich in natural antioxidants, chlorophylls and polyphenols which offer potent therapeutic as well as soothing benefits when applied externally.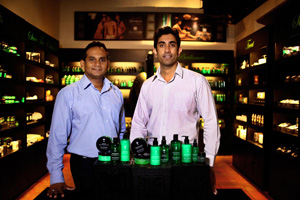 Shiwantha Dias and Shalin Balasuriya
It is only fitting that we blend pure Ceylon Tea [organically grown], with Ayurveda herbs and oils to create this unique range of tea based products," said Managing Director, Spa Ceylon, Shiwantha Dias in a media statement. Spa Ceylon's totally natural Ceylon Tea range is infused with organically grown and processed White Tea, Green Tea and Black Ceylon Tea blended to a proprietary formula. Manufactured according to Ayurvedic principles of health and wellbeing, the range includes Ceylon Tea and Citron Massage and Bath Oil, Ceylon Tea and Spice Body Scrub, Ceylon Tea and Lemongrass Bath Tea, Ceylon Tea and Ylang Hand and Body Lotion, Ceylon Tea and Tuberose Body Butter, Ceylon Tea and Aloe Soothing Body Mist, and a range of aromatic Ceylon Tea Cleansing Bars. "Our teas are sourced from organically certified pure Ceylon tea producers and we are extremely particular about the quality of the tea we use and its source," said Mr Dias.
Spa Ceylon products are manufactured within their group companies, at a modern 75,000 sq ft manufacturing facility which is a BOI project. It is GMP certified to the latest EU manufacturing standards and is a licensed Ayurveda manufacturing laboratory, registered under the Department of Ayurveda of the government of Sri Lanka.
Spa Ceylon has also introduced a range of Ceylon Tea-based soothing and protective spa rituals which are practiced exclusively at their signature spas across the country. The ritual includes a detoxing and purifying body scrub with tea leaves, tea seeds as well as exotic Ceylon spices, followed by a relaxing Royal Kandyan massage with Citrus and Ceylon Tea infused aromatic Ayurveda oils. The Spa Ceylon brand is currently exported to India, Saudi Arabia, South Africa, the Seychelles, Russia and the Maldives.