The Board of Investment of Sri Lanka (BOI) has signed an agreement with Sri Lanka Gateway Industries (Pvt) Ltd in what is seen as the country's biggest, ever (in value terms) FDI investment – US$4 billion.
The project entails the development, operation and management of a special industrial zone for heavy industries, in the Trincomalee district.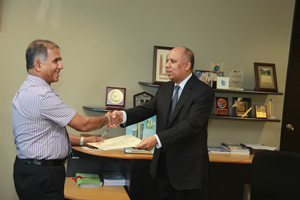 M.M.C.Ferdinando (left) and Prabath Nanayakkara
"The project master plan includes the development of a deep water jetty, bulk commodities terminal with stockpiling and blending capabilities, power generation plant, and a host of other heavy Industries and complementary industries, and will be delivered in three phases, with a total investment exceeding $4 billion," the BOI statement said.
The project was first reported in the Business Times edition of May 13, 2012 in a story headlined "Tug of war between Treasury and BOI hinders US$2 billion FDI target". That report quoted acting BOI Chairman and Director General, M.M.C Ferdinando as saying that "he initiated a massive project to set up (a) heavy industrial investment zone in Sampur at an investment of US$4 billion."
This project will open opportunities for many export/import markets in the Asian, African, Australian and American continents, and provide a strategic access gateway to satisfy the growing demands of the Indian market.
Some 5000 direct employment opportunities and over 20,000 indirect employment opportunities are expected to created from this project. Prabath Nanayakkara, Chairman of Sri Lanka Gateway Industries said the project will change the economic landscape of Sri Lanka.