Two outstanding efforts firstly by Tillekeratne Dilshan (119 not out off 139 balls) and Thisara Perera (24 not out and 6 for 44) made sure that Sri Lanka scored a 76 runs win over Pakistan in the Second ODI at Pallekele last night. In doing so, they leveled the series and brought it alive.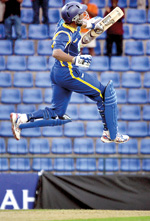 An airborne Dilshan celebrates his comeback 'ton' in style at Pallakelle. Pic by Amila Prabodha
The Sri Lankans put the runs on the board, and did so with style and substance. The bowlers, 280 to the good, then obliged with Perera playing the stellar role to grab his first six wicket haul in ODIs.
Azhar, elegant and assured, played an exquisite hand. But alas he didn't receive the hoped for support from the other front-liners.
280 to the good, a confident Sri Lankan team took the field. That old spring was back in their step. Malinga and Kulasekera began with maidens. The Pakistanis got on the board in the 16th delivery. Then there was a run-fest especially from Azhar Ali, who played delightfully. His drives through the covers were beautifully executed. Wisely, Hafeez gave him his head. Perera struck with his first ball, taking a brilliant one-handed reflex catch to send Hafeez on his way.
Younos the man who often guides his team to victory in a composed manner, got going as soon as he came in. Of the 49 added to the third wicket, Misbah had made 27. Then the 'man with the golden arm' Thisara Perera had him leg before with a delivery that hurried on. Azhar continued more serene and sober than earlier. But assured in his stroke play.
Pakistan made just 11 runs in the five overs from the 26th to the 30th. Herath was part of the reason, being miserly and parsimonious – Mathews, too was authorative early on. Akmal perished, not moving his feet and edging flat-footed to Sangakkara.
Scoreboard
Sri Lanka
U. Tharanga c S Ahmed b Tanvir 18
(Good length – Pushed forward, edged)
T.M. Dilshan not out 119
K. Sangakkara c and b Hafeez 18
(Ball stopped on him – tame push)
D. Chandimal lbw b Afridi 32
(Played forward: missed straight one)
M. Jayawardena b Ajmal 53
(Drew away – stumps exposed)
T. Perera not out 24
Extras (1b, 7lb, 7w, 1nb) 16
Total (for 4 wkts) 280
Fall of wickets: 1-37, 2-84, 3-154, 3-240
Bowling: U. Gul 9-0-58-0; S. Tanvir 9-1-51-1; S. Afridi 10-0-50-1; R. Ali 4-0-34-0; S. Ajmal 10-0-49-1; M. Hafeez 8-1-30-1.
Pakistan
M. Hafeez c & b Perera 14
(Pushed back to bowler – good reflex catch)
H. Ali b Kuasekera 96
(Moved away, stumps exposed – leg stump Yorker)
Y. Khan c Sangakkara b Perera 04
(Played away from body – delivery lifted)
M. U. Haq lbw b Perera 27
(Ball hurried on – Late on shot)
U. Akmal c Sangakkara b Perera 03
(Fished outside off stump and edged)
S. Afridi c Sangakkara b Malinga 17
(Opened face, brilliant one handed catch)
S. Ahmed lbw b Kulasekera 20
S. Tanvir c Tharanga b Perera 03
(Pick up shot to deem mid wicket)
U.Gul lbw b Perera 14
(Swished and missed full length ball)
S. Ajmal c Sangakkara b Malinga 04
(Wild swish and edged rising ball)
R. Ali not out 00
Extras (2lb) 02
Total (in 46.2 overs) 204
Fall of wickets: 1-48, 2-78, 3-127, 4-139, 5-157, 6-165, -7-170, 8-197, 9-204, 10-204
Bowling: N. Kulasekera 8.2-1-33-1; L.Malinga 8-1-40-2; A. Mathews 10-0-48-0; 10-048-0; T. Perera 10-0-44-6; R. Herath 10-1-37-0.