Sri Lanka Ports Authority retained the Munchee Super League title when they defeated Air Force in a thrilling five setter with a three sets to two win in the final played at National Youth Council Volleyball courts in Maharagama yesterday.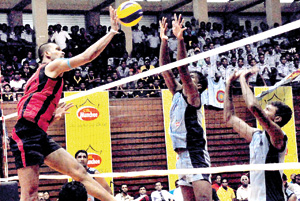 A Sri Lanka Ports Authority player smashes the ball against Air Force in the men's Super League Final which Ports Authority triumphed. - Pics by Mangala Weerasekera.
The champions who came into the final as favourites underwent some anxious moments as they had to pull out all the tricks out of the bag before brushing off the stiff challenge put in by the Airmen.
Air Force in fact took the lead in the five set contest by taking the first but a rejuvenated SLPA side came back with vengeance when they took the second with ease to make it one each.
Air Force undeterred struck back with some solid dashes whilst denying their opponents to make any headway to take the lead. The fourth set which was decisive for both sides was again keenly contested with the two teams going neck to neck.
But SLPA using their experience to the hilt prevailed which left the two teams to battle out for honours in the deciding set. It seemed that Air Force was going to come out on top as they took a commanding five points lead but crucial mistakes at the latter stages saw them giving the advantage for SLPA to retain the title for yet another year.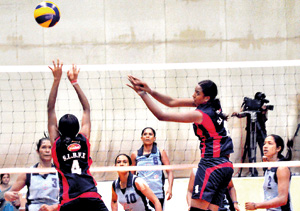 Action from the women's final between Air Force and Sri Lanka Foreign Bureau which Air Force won
Meanwhile in the women's final between defending champions Sri Lanka Foreign Bureau SC (SLFBSC) and Air Force which preceded the men's final saw the game ending in favour of Air Force.
Defending champions SLFBSC though winning the first set had little to offer as the Air Force ladies playing to a plan rattled their opponents to take the next three sets to come out worthy champions.
In the morning session Army (Kandy) and Air Force overcame Army (Eheliyagoda) and Torrington SC to lift the Division Two title respectively.
Results
Super League: Men - Sri Lanka Ports Authority beat Air Force 3/2 (25/22, 12/25, 18/25, 25/20, 15/13).
Women: Air Force beat Sri Lanka Foreign Bureau SC 3/1 (20/25, 25/22, 25/15, 15/7).
Division Two: Men - Army (Kandy) beat Army (Eheliyagoda) 3/2 (25/20, 23/15, 20/25, 25/22, 15/12).
Women: Air Force beat Torrington SC 3/1 (25/27, 25/20, 25/16, 25/20).