Royal were given the scariest day of their life when Kingswood almost turned the game around but eventually edged out by 27-24 at Bogambara.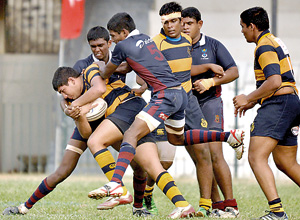 A Royal forward is well tackled by two Kingswood players at Bogambara. (Pic by Amila Prabodha)
The Under-20 Schools League Division I A rugby match played in Kandy almost took a twist turn as Kingswood scored heavily in the second half. But it was the Royalists who dominated the first half with a lead of 20-nil. Their points came from three converted tries and two penalties while Kingswood made a strong comeback scoring through four tries and two conversions, all in the second half.
Royal opened scoring off a penalty from skipper and fly half Arshad Jamaldeen who added another penalty after their first try scored by Damian Ratwatte. The try was converted by Devin de Silva. Royal led 13-0 but shortly before the short whistle centre Dilshan Jayawardene scored a try to leave Jamaldeen an easy conversion.
After the turnaround Kingswood returned with a gallant force to score four tries, one each from No.8 Ruwin Ariyaratne, flanker Tharindu Chathuranga, centre Chathura Piyasena and lock Rumesh Prematilleka. Lock Nisal Perera successfully made two conversions. Royal were able to expand their score from only a converted try with the combination of winger Ijaz Bohoran and Jamaldeen.