Phoenix Industries Ltd recently announced its appointment as the sole licensee in Sri Lanka to manufacture the world renowned FlowGuard potable water distribution systems, manufactured by Lubrizol of USA. Lubrizol is the world leader of CPVC [Chlorinated Poly-Vinyl Chloride] pipe and fittings, who first invented it way back in 1959 (formerly known as B F Goodrich).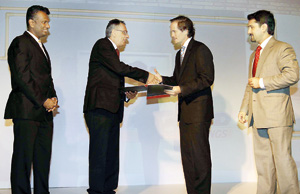 Picture shows from left - Hasith Prematillake - CEO Phoenix Industries, Aslam Omar - MD Phoenix Industries, Timothy Earl Madden - MD Lubrizol Advanced Materials India [Pvt] Ltd, and Sanjay Durani - Associate Head Marketing, Temprite Engineered Polymers
In Sri Lanka for the launch was Managing Director for South Asia for Lubrizol Advanced Materials India Pvt Ltd, Timothy Earl Madden and its Head of Temprite, Temprite Engineered Polymers, Manoj Dhar, Phoenix said in statement.
"Lubrizol may not be a household name, but chances are good that you'll find Lubrizol products throughout your home, your work place and anywhere your day takes you. As a company, we strive to be an essential ingredient in our customer's success through collaboration, applied science and demonstrated value," said Mr Madden.
He said for more than 50 years, Chlorinated Poly-Vinyl chloride (CPVC) has been offering the process industry a superior, corrosion-resistant piping alternative. This high performance material has proven, through solid field performance, as well as extensive third-party testing, that it possesses a unique combination of chemical resistance, mechanical strength and excellent life-cycle economics, to offer a highly attractive option for the construction industry.
The FlowGuard could withstand temperatures greater than uPVC, thus contributing towards its popularity for water piping systems both in residential as well as commercial construction. It is also lead free and therefore safer, does not propagate fire and is often preferred for its straight professional appearance.
In Sri Lanka, FlowGuard will be manufactured and marketed under the brand name Phoenix FlowGuard by Phoenix Industries Limited at their manufacturing plant in Makandura.