Seven young Sri Lankans are to compete at the Cannes Advertising Festival 2012 in France this time. The winning competitors come from Leo Burnett (two), Triad (2), Aitken Spence (2) and Grants (1), the local organisers said at a media briefing last week.In a separate media release, Triad said it won for the second consecutive time in the print completion.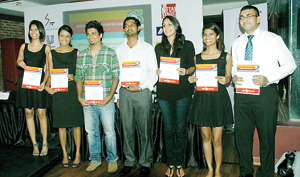 Left to right - Lakmini Wahalathanthri (Grants), Wishmini Perera (Aitken Spence), Rameez Fazal and Danushka Kathriarachchi (Leo Burnett), Ruani Wijenaike and Tarisha de Alwis (Triad), and Dinal Edirisinghe (Aitken Spence). Pic by Saman Kariyawasam
Tarisha de Alwis, one of the winners from Triad, said that over seven days and over 50 sessions, thought-leaders and experts in all forms of communications and creative thinking are scheduled to come together to inspire, debate and entertain at Cannes Lions 2012 in France.
"As young lions, we too will have the opportunity to enjoy a week of insightful, informative seminars, fun and interactive workshops and inspiring master classes - and apart from that, we are very excited at the chance to also meet with some amazing people from the advertising world and make lots of new friends."
The other Triad winner - Ruani Wijenaike, a second time winner, said, "the information and ideas you absorb as well as the unique work that makes the winners stand out really does inspire you to go back and work as hard as you can in order to bring back a gold lion for Sri Lanka."