The inadequate growth in exports in the first two months of this year raises further apprehensions about the trade balance. Hitherto the balance of payments problem had been perceived of as being mainly due to the huge increases in imports that outpaced export growth.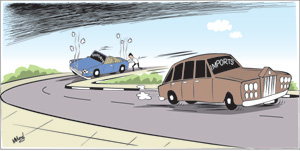 Now the modest export growth of only 3.3 percent in the first two months portends a prospect of poor export performance. It increases fears of a further widening of the trade deficit that could aggravate the balance of payments problem this year.
Last year exports grew by 22.4 percent though inadequate to compensate for the massive increases in imports. There were also some healthy signs in industrial exports. This year export growth has fallen and consequently worsened the trade imbalance. This decline in export growth in the first two months of this year -- with exports growing by only 3.3 percent, while imports increased by 24.7percent -- worsens the already serious balance of payments problem that has been caused by a surge in imports.
As imports are continuing to increase, this poor performance in exports is aggravating the serious problem of a huge trade deficit. Another large trade deficit this year is unlikely to be financed by increased inflows of worker remittances, foreign direct investment, earnings from tourism and other capital inflows, even though some of these are likely to increase significantly. Besides this the slow growth in exports implies serious problems for the country's economic growth in the long run.
Industrial exports
Both industrial and agricultural exports have performed badly in the first two months of this year. Agricultural exports declined by 11.3 per cent. Even more worrisome is the fact that industrial exports grew by only 1 percent. This industrial export growth of only 1 per cent in the first two months of the year could have serious consequence not only for the balance of payments but for the economy as a whole. It will affect the long term development of the industrial sector and the economy.
This is especially so when one recognises that the country's main industrial exports have fared badly, especially garments exports which are still the main industrial export. Garments exports grew by only 1.5 percent in the first two months of this year.
The export growth in February this year is especially disappointing. The increase in earnings from textiles and garments was only 1.4 per cent in February. This portends a serious problem for the future of garments that is the largest industrial export. Furthermore export earnings from petroleum products, transport equipment, food, beverages and tobacco, leather, travel goods and footwear and ceramic products declined in February 2012. The modest growth in industrial exports has come from gem, diamonds and jewellery and rubber products. According to the Central Bank, export earnings from gems, diamonds and jewellery increased by 34.1 per cent and rubber-based export products increased by 17.5 per cent.
Agricultural exports
Agricultural exports have fared badly. Earnings from agricultural exports declined in the first two months by 11.3 per cent compared to the first two months of last year. Although rubber exports declined by 32.9 per cent this was due to the increased domestic demand for rubber-based manufactures whose exports increased 19.1 percent.
Tea exports have fallen by as much as 15.5 per cent as a result of the turmoil in the Middle East that is an important and large market for the country's main agricultural export. The Central Bank describes the reason for this downturn as due to "geopolitical uncertainties in major tea importing countries in the Middle East". In as far as it is possible to predict these uncertainties and difficulties in marketing tea are likely to continue throughout the year. However, Kenyan tea exports increased by 10 per cent in the first quarter of this year.
Serious concerns
The inadequate performance of exports in a context when imports are growing means that the trade gap would increase substantially. If this trend in exports continues, while imports continue at the current pace, then the trade gap this year would exceed the US$10 billion record of last year. It is likely to be in the region of US$ 11 to 12 billion. This is a magnitude that is unlikely to be bridged with capital inflows. The worst scenario would be if import expenditure increases much more. This is possible if conditions in the Middle East deteriorate and oil prices rise further. If oil prices reach US$ 150 per barrel as happened some years ago, then the import expenditure would rise sharply and result in an unsustainable trade deficit and current account deficit.
In this situation it is vital that import expenditures are drastically reduced. The increased tariffs, depreciation of the currency, higher domestic prices for imported commodities, higher interest rates and credit controls are expected to reduce the quantum of imports. The Central Bank is confident that import expenditure would be reduced in response to these measures. It is perhaps too early to expect the impact of these policies to be seen in the import statistics for the first two months, although in fact consumer goods imports decreased by 2.2 percent in the first two months.
This trend may continue in as far as consumer imports are concerned, but intermediate and capital goods imports have increased substantially and these matter much in containing the trade deficit. Intermediate goods imports increased by 22.2 percent while investment goods imports expanded by as much as 57.2 percent in the first two months of this year, compared to the same period last year.
Further measures needed
It is prudent to consider further measures to reduce import expenditure. A significant reduction in imports could be achieved if government expenditure that has a high propensity of import expenditure is curtailed. The seriousness of the developing trade performance warrants the government reducing capital expenditure that results in high imports, such as petroleum, machinery and building materials among other imports. A serious dent in the trade balance cannot be achieved without a curtailment in intermediate and capital goods imports. The Government must consider policies to contain these imports.