On Tuesday, The Gap whose leisure wears are available in Sri Lanka and abroad, will decide whether or not to manufacture its products locally. Here is what the website Financial content has to say: "As The Gap's (GPS) shareholders reflect on how to cast their votes between now and the May 15 annual meeting, they've got a doozy of a proposal to sort out that one of our eagle-eyed researchers, B.B. Murti, spotted in the company's April 3 proxy.
"It's Proposal No. 4, submitted by Stephen M. Jaeger and Yasodha Natkunam, who own 125 shares of stock through their family trust. "Jaeger and Natkunam think that the Gap should not engage in trade with Sri Lanka until it ceases violating human rights. The country, called Ceylon until 1972 and now officially known as the Democratic Socialist Republic of Sri Lanka, is a tiny teardrop-shaped island in the Indian Ocean, slightly bigger than the state of West Virginia, close to the southeast corner of India.
"The human rights violations Jaeger and Natkunam refer to are real and brutal, stemming from the war that lasted almost three decades between the government and the separatist group known as the Liberation Tigers of Tamil Eelam (LTTE or the "Tamil Tigers"). Jaeger and Natkunam focus on the crimes committed by the Sri Lankan government; however, this March, 2011 report published by the United Nations (an executive summary is available here, if you prefer) makes it clear that both sides are guilty of unspeakably horrific conduct.
"The proponents argue that The Gap should heed the recommendation of the U. S. Senate's Appropriations Committee, which they say "has proposed that international institutions vote against any loan, agreement or other financial support (except humanitarian aid) for Sri Lanka unless it complies with standards set by international law." One of The Gap's major suppliers, Brandix, is located there and may soon expand its operations. (According to the 2011 proxy, unnamed shareholders submitted a similar proposal last year, although they missed the filing deadline and the resolution was not voted on.)
Jaeger and Natkunam submitted the resolution because: "We are concerned that a reputable company such as Gap Inc, which is one of the 'largest garment manufacturers in Sri Lanka, will appear to endorse the crimes perpetrated by the Government of Sri Lanka, if it continues its trade with that country. We believe that this claim is not merely theoretical since Gap Inc is providing Sri Lanka with the foreign exchange that keeps its massive military viable."
"Needless to say, The Gap's board doesn't see things the same way as Jaeger and Natkunam do. The board says that it shares the proponents' concern for "the protection of human rights and is committed to advancing the rights of garment workers around the world." Nevertheless, it urges shareholders to vote against the resolution…………"

Ranil not bothered about attacks on him
An unidentified UNP Parliamentarian rushed to his leader, Ranil Wickremesinghe, after he ended chairing his party's Parliamentary group meeting. "Sir, Mey ahanna" (Sir, listen to this), he intoned and played a mini tape recorder.
It was one of the top UNP men criticising Wickremesinghe to another at the Parliament canteen. The MP turned James Bond had recorded the conversation. Wickremesinghe smiled and declared that the man scolding him was nothing new to him. "Magey was dos okkama yanawa" (My evil omens will all go), he said.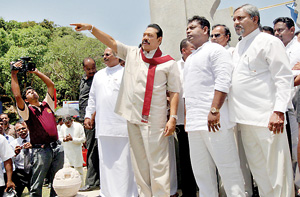 Developing the country is like driving through 18-hairpin bends: MR
President Mahinda Rajapaksa drove his vehicle for about 11 km last week after he declared opened the 18-hairpin-bend road between Kandy and Mahiyangana.
In the vehicle with him were Deputy Highways Minister Nirmala Kotelawala, Central Province Chief Minister Sarath Ekanayake and a Presidential Security Division staffer. This is the second time the President drove a vehicle marking the opening of a road. Last year he drove a vehicle after opening the country's first ever super highway built between Kottawa and Galle.
After arriving at the public gathering at Ududumbara Maha Vidyalaya, he said, " ada api vivurtha kale kopi kale parak. Eda peya hathak giya gamana yanda. Ada peya deken yanna puluwan. Mey rata me thathwayata genna eda 18 wanguwe yanawa wage amaru una. Namuth api idiriyata giya misak reverse kale nehe" (The road we opened today is very old. The journey which took seven hours earlier can be completed in two hours now. Transforming the country into the present state is also a difficult task like passing through 18 bends.
We moved forward and did not reverse.)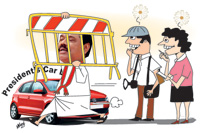 Café story drives President to speed-up journalists' vehicle loan
Last week's Café story on the President's promised vehicle loan to journalists and artistes drew a prompt response from authorities who had been sleeping on it. The wake-up call came from President Mahinda Rajapaksa after he read the story on Sunday morning.
The President, who was in Kandy, made inquiries from his chief spokesman Bandula Jayasekera and told him to immediately activate the process. The President was highly embarrassed by the lethargy of officialdom.
Following the Presidential wake-up call, top officials of the Media Ministry and the Finance Ministry are working out details and applications forms will be made available to journalists by next week after placing an advertisement in the newspaper. In November, the President during the Budget speech said journalists who had 25 years' experience would be qualified for the interest-free vehicle loan of Rs. 1.2 million. Later, the 25-year rule was relaxed to enable journalists with a minimum of 18 years' experience to qualify for the loan.
Moves are also underway to make the loan facility available to artistes with 18 years of experience under the second phase.

Diplomutt's oneupwomanship in Doha
A diplomutt trying a oneupwomanship is trying to creep in to Doha when the Lankan President is in that town on an official visit shortly. She is not a member of the Presidential delegation which is all male, but the Q bee who will be returning with her minister from the Potomac is trying to stay in Doha without continuing her journey back to paradise isle.
The minister is to join the President in Doha on his return from the United States while Qbee will have to return to Lanka with the others. But she has got the monitor to keep her in a nearby hotel in Doha at State cost for the three days that 'Lokka' will be in that town!
Karu wants to take prison officials to court
United National Party Parliamentarian and former deputy leader Karu Jayasuriya wants to take legal action against prison officials.
He told his party's Parliamentary group meeting this week that a prison official had asked him to leave barely 15 minutes after he had visited former General Sarath Fonseka at a private hospital. Joining in the lament was Colombo District Parliamentarian Ravi Karunanayake. He said he was also asked to leave in 15 minutes.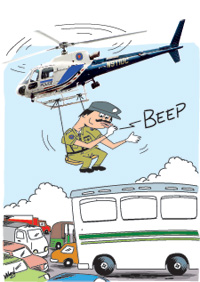 Cop-ters to ease traffic congestion
One of the top cops tasked to cope with traffic in the City is to come up with a novel but expensive idea to ease congestion. He is writing to Police Chief N.K. Illangakoon requesting that Air Force helicopters be obtained to observe traffic congestion from the air.
It seems the surveillance cameras in most parts of the City have not been able to cope with traffic jams.
Who will pay the bill for the Police Department remains the question. There is little doubt it would be a drain on its resources.

Rambukwella limping back
Political sources say Media Minister Keheliya Rambukwella will return to Sri Lanka later this month.
Minister Rambukwella broke his ankles after falling from the third floor of a hotel in Melbourne, Australia in early February.
He had to undergo multiple surgery and his Ministry officials say he has now recovered.
Sirisena criticises both Ranil and Sajith
Re-organisation of the Sri Lanka Freedom Party (SLFP) is the primary reason why party ministers, MPs, Provincial Councillors and local bodies are meeting for two days in Anuradhapura, General Secretary and Minister Maithripala Sirisena told a news conference. The meeting which began yesterday ends today.
Sirisena said, "One of the points we will be making is the lack of a strong Opposition. We are sorry about what has happened to the UNP and the JVP. If the UNP founder D.S.Senanayake was alive he will question Ranil Wickremesinghe as to 'What have you done to destroy the party'. If former President Ranasinghe Premadasa could appear he will wring Sajith by his ear and tell him you should learn from the patience I had to reach the leadership."
Politico in triple degree of deception
An Opposition politico, a vice captain of sorts, learnt this week that placing personal details in the internet could become embarrassing, particularly when they are wrong and made to impress others.
At first, he said in his Facebook that he was the recipient of a degree from a leading American University. Readers were to soon point out that no such degree has been awarded to him. Within minutes, the relevant entry was pulled out.
Now some readers have e-mailed him about a triple degree from a specialised university in the UK. There is no such thing called a "triple degree" from this university. However, the entry still remains in the Facebook. Perhaps the politico has not had the time to open his Facebook or e-mails yet.

Like father, Namal shows charming personality
UPFA Parliamentarian Namal Rajapaksa flew to the south to attend the funeral of the mother of former journalist Kumarasiri Hettige, now Parliamentary Affairs Coordinating Secretary for the President.
His helicopter landed at a school ground near the funeral house. He was accompanied by Chandana Kathriarachchi, SLFP organiser for Ratmalana.
After seeing young Rajapaksa coming out from the helicopter, students gathered around him to take his signature for autographs. "Mama artist kenek nemei ne Malliye. Athsan karanna oney nehe. Mang oyala ekka ne inne. Man ogollanta ewwa thegi lebenna athi neda". (I am not an artist, brother. No need to sign. I am with you always. Have you got the gifts I sent you?) Then he rushed to the funeral house.
"Thaththath e dawasawala ohomai" (Father was also the same those days), Kathriarachchi told others at the funeral house.
Taste of Temple Trees for Vesak
Temple Trees was the venue for a massive dansala for several days during the Vesak week with hundreds of people flocking there. All those entering the premises were searched and were given a security clearance sticker to enter the massive dining hall in the Temple Trees premises.
Following the buffet dinner, visitors were allowed to roam inside the gardens of the President's official residence which was grandly decorated.
The Temple Trees' front gates that open up to Galle Road were also opened. It was used as the exit gate for the large number of visitors who were eager to see Temple Trees rather than partake of meals.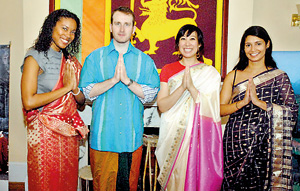 'Kandian' Sarees at embassy exhibition in Washington
When did the Sri Lanka Embassy in Washington DC become a public exhibition site or a miniature Disneyland keeping tabs of its millionth visitor?
In a media statement last week, the embassy proudly claimed that 2,500 visitors toured its premises after it opened its doors to the public recently. The purpose: To showcase Sri Lanka's cultural heritage -- and its rice-and-curry.
But how many Senators and Congressmen have visited the embassy -- particularly at a time when Sri Lanka's public image has been tainted with charges of human rights violations and allegations of war crimes? Possibly zero?
According to the media statement, there was also plenty of Sri Lankan sarees, sarongs and batik shirts on display. The statement looks as if it had been authored by the high-priced PR firm employed by the embassy which has been coughing out hundreds and thousands of dollars every year to elevate the country's sagging political image.
But if it did, it couldn't even get its spelling right. Whoever heard of "Kandian" sarees? At least Kandy was not Americanized to Candy, in which case the embassy would have had "candian sarees" on display. Who has to have a refresher course in spelling: The PR firm or head of the mission himself?

Fonseka release within days, his supporters say
The likely release of former General Sarath Fonseka, now undergoing treatment at a private hospital in Colombo, has resurged again. The former Army Commander's political supporters are speculating that such a release may take place anytime between May 17 and 19.
This time, speculation has reached feverish levels. Some of his supporters believe Fonseka, who has sought bail while his "white flag" case is in appeal, stands a strong chance of receiving it. In the wake of this, they claim that the Government may seize the opportunity ahead of it and release him.
However, there has been no formal official response from G overnment circles so far.