Samsung last night unveiled its latest flagship device, the Galaxy S3, the follow-up to last year's best-selling phone in the world. The smart-phone market moves on once more, with the hi-tech voice-controlled Galaxy S3 likely to becomes a standard-bearer for Google's Android operating system - and a device for the Apple refuseniks.
The phone's most innovative feature is built-in face-tracking and voice control - allowing, Samsung claims, for a more 'natural' control system. Other innovations include what Samsung claims is a 'more intelligent' lock system, that keeps the screen 'awake' when the phone's camera senses eyes watching it, rather than turning it off.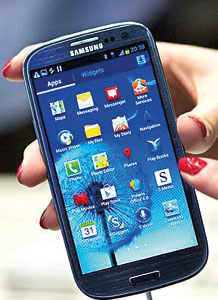 Ready for launch: A still from Samsung's presentation reveals the S3 for the first time
The voice control system is called S Voice - and allows access to weather forecasts, web searches and scheduling, similar to iPhone's Siri system. Saying 'I want to take a picture' launches the camera application - and will work in eight languages at launch.
S Voice can also reply out loud - which Samsung claims will allow the system to be used while driving.
Available in blue and white, the phone will be launched at the end of May, starting in Europe, with other regions following.
Samsung played on its expertise in screens with a large 4.8-inch Super AMOLED screen running a resolution of 1280 x 720p - far bigger than Apple's iPhone, and close in size to the smaller end of the tablet market.
The S3 is powered by a quad-core processor - similar to the ones found in many laptops, and far more powerful than the dual core found in the iPhone. The phone also includes an NFC chip - near-field-communications - allowing users to share content such as video by tapping phones together.
And if you are sick of wires, a separate wireless charging kit means you can charge your phone without hooking it up to the socket.
Samsung pointed out that while the screen is 22 per cent larger than the previous S2, the 'bezel' around it has been slimmed down, so that the gadget is barely bigger than its predecessor. The gadget will launch on May 29 in Europe, and in 10 other cities worldwide including Tokyo and Dubai.
The gadget also has some features clearly aimed at the business market once dominated by BlackBerry.
On-device encryption will allow secure emails working within business networks - catering for the new trend for businesses allowing employees to 'bring their own' smart-phones rather than using company phones. The NFC chip will also be used for tap-to-pay mobile payments, in partnership with Visa, with a 'virtual wallet' on the device making payment simple.
The phone is also armed with a battery claimed to last longer than other devices - despite a form factor which is 8.6mm thin and 130g in weight. The phone has an eight mega-pixel camera - on a par with both iPhone 4S and the previous Galaxy S2.
The device was presented by Samsung president JK Shin, who said: 'There were a lot of rumours and speculation - some were right, and some were wrong.
'The Galaxy S3 is the best-in-class smart-phone in the world.'
© Daily Mail, London