Nadaraja Thangaraja continues to grow in confidence and stature as he won the 51st Pakistan Amateur Championship in Lahore on the back of his triumph in India in the 7th Delhi Invitational Tournament in which the cream of the Amateur Golfers from India, Pakistan, Bangladesh and the South East Asian countries that participated.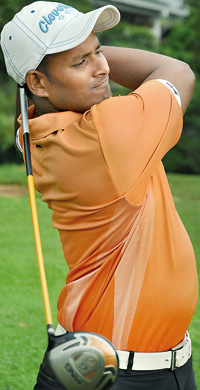 Thangaraja in action
The Sri Lanka Golf Union is well on the way to laying the foundation developing Golfers for the future under the watchful guidance of President Ana Punchihewa with support from the member clubs namely Royal Colombo Golf Club, Nuwara Eliya Golf Club, Victoria Golf and Country Resort and other associate members including several generous benefactors of the game of Golf in Sri Lanka.
UTE-CAT are the generous sponsors of the Pin Fernando Grand Prix which is conducted and organized by the SLGU where Medal Rounds are played monthly among the development squad players who have been grafted into the SLGU National Development Pool.
The SLGU has a rigid training and mentoring programme ensuring physical and mental development of the future Golfers in Sri Lanka. The positive fruits of the hard work are the results reaped by Thangaraja who is now a cut above the rest of his pool players and has clearly established himself as one of the best Amateur Golfers in South East Asia at present.
The Grand Prix format is and accurate barometer to assess the consistency and progress of the players. The April Monthly Medal rounds proved Raja's dominance as he completed the 3 rounds 5 under par 12 strokes clear of 2nd place. Thangaraja extended his lead at the Grand Prix table and is a definite medal prospect for Sri Lanka in the 'Region' games to come.
Pin Fernando Grand
Prix Points Standings
as at - 16th March 2012
Player Name Total
N. Thangaraja 1290
N. Ranga 918
Vijitha Bandara 916
M. Amarapathma 792
Sisira Kumara 790
M. Arumugam 772
M. U. Chanaka Perera 700
Danusha Perera 649
R. Sureshan 621
G. M. Pradeep Kumara 590
M. H. Chalitha Puspika 504
P Hemantha 496
I Lowrance 392
B A Rohana 364
M. Prabudda Silva 333
U M G Pradeep (VGCR) 70
D M Pradeep (VGCR) 63