Prior to Dambulla mobs led by Buddhist monks grabbing headlines, it was vehicle tax increases that grabbed most space in news media. The government raised taxes significantly on motor vehicles effective March 31, 2012, explained as a measure to arrest the growing trade deficit. It was reported the President turned down a request by vehicle importers when they met him to ask for tax reductions, as that would affect revised Treasury assessments of state revenue.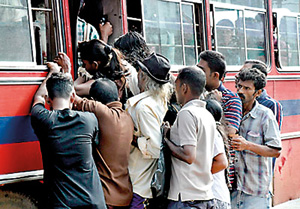 Rush to get in
Thereafter, it was news about unloading of vehicles at Hambantota port that hit the front pages. Chairman of the Ports Authority offered concessions for unloading at Hambantota port, with a grace period of seven days sans port charges and a 14 day relief for clearance.
The government clamped down a deadline for vehicle unloading in Colombo and after 31 May, 2012, vehicles will have to be unloaded in Hambantota. Seriously, will they? That would be an interesting story for adoption in "Alice in Wonderland" but for now, the issue has shifted to an annexure in the whole story of vehicle imports. To that of "city traffic jams". There were many experts who discussed traffic plans for Colombo, after the vehicle tax issue. There were those who raised issues about "road etiquettes" for better "movement" and clearing up "bottlenecks" in some parts of the city. Is that the actual issue(s), we face?
Making a note of importance to the media on changing ports for unloading vehicles, the Deputy Minister of Ports had said, Colombo harbour's traffic has caused four ships with 1,200 motor vehicles to be anchored in outer harbour, while another with vehicles, was to arrive in Colombo that same day. More would keep arriving, for sure.
The trend set during the last few years shows an alarming rate of imports, for a country already stuck with snail pace traffic each day, on its main city roads. In 2002, Sri Lanka had a vehicle population of 253,000 cars, 133,000 trishaws and 923,000 motorcycles. That leaves out other types like buses, dual purpose vehicles, lorries, etc. Eight years later in 2010, it was 410,000 cars, 529,000 tri-shaws and 2.1 million motorcycles.
Again, leaving out all other types that had also increased, substantially. In year 2010 alone, there had been 23,072 new cars registered, while in 2002 there had been only 12,003 cars registered. Year 2011 certainly cannot be any different. There are thousands of cars, trishaws, motorcycles and other types already unloaded and waiting for buyers. The one kilo metre stretch from Kohuwela Police Station to the Pamankade bridge alone has, over 22 "car sales" businesses on either side of the road.
There are two major issues that eventually tie up with such liberal exports of vehicles. One is the carrying capacity of our main roads inside cities and suburbs. Two, is the cost of consumption of imported fuel that every citizen has to pay for, even if he, she or their family does not travel by a vehicle.
Just one simple question, to provoke a dialogue on the topic, "Planning for efficient and affordable public commuting": How many more years will Sri Lanka take to completely block all its roads, with this liberal importing of vehicles, for private use? Sri Lanka seems such a "rich" country, that it has one car, (leaving out all other types) for every 59 of its citizens, while there is only one bus for every 259 citizens.
When we were schooling way back in the 60's, there were evenings when we sat on the wall, on top of our road in Dehiwala and collected bets on cars that went along the Galle Road. One had to say, whether the next car that would come along, would have an "odd" or an "even" number as the last digit of its registered number. There was so much time between two cars that roared along Galle Road for us to think, argue and decide, before taking a bet.
Ever since us counting numbers, the Galle Road up to Rawatawatte has not been widened and it cannot be widened, unless by forced eviction of large numbers. Therefore, two alternate roads have been opened up during the last 10 years or so from Kollupitiya, the old Duplication Road up to the Wellawatte bridge and the other called the Marine Drive, close up to the Dehiwala bridge. Yet in "peak hours", what most FM radio stations call "morning drive" and "evening drive", all these roads are getting "jammed" pretty fast. Radio stations believe they then have a captive audience, for over three hours, once in the mornings and then in the evenings. In a year or two, even if the vehicles are unloaded in Hambantota, which is an extremely doubtful dream, vehicles plying daily on Colombo streets would increase tremendously.
It's no easy task to keep moving on other main roads too, from Colombo to Kaduwala, to Peliyagoda and beyond, to Homagama and to Piliyandala during peak hours on any normal working day. Most connecting roads to these main routes have also been widened and carpeted, leaving no other options. Three overhead bridges have brought no answers to traffic jams, but commissions to those who decided. Now traffic police, the most effected public servant from city air pollution that has surpassed the WHO-allowed levels, are seen directing reconstruction of "roundabouts" as smaller circles, to allow more negotiating space for vehicles. None serves as answers to ever growing massive congestions on city roads.
According to the Chairman of the National Transport Commission, nearly 70 % of the total annual fuel consumption is by private passenger vehicles which carry less than 30 % of the passengers. Worst, it is also said, nearly or over 20 % of the fuel consumed by vehicles is burnt off in "dead mileage" in traffic jams - a colossal waste. Larger the traffic jams, more the fuel waste would be and the dollars spent on that waste. Can we go on with such a deteriorating situation that is decided and created by private commuting?
The notion, the human feeling to organise one's own transport that with affluence provides the comfort to own many vehicles in a household for the children's schooling, wife's shopping and for the husband's personal use, is mainly due to the neo liberal fashioning of the consumer mindset in the absence of a popular, public transport system. It seeps far down to the level of hiring a private vehicle, if one cannot own a private vehicle. The reason for the growing fleets of "Nano" taxis and metered 3wheelers. While one enjoys the comfort of getting a taxi to the doorstep on a "call", all of them keep adding to the fast growing traffic jams and to waste of fuel bought with dollars.
Yet, neo liberal thinking, the mindset created, does not allow a dialogue on developing an efficient and affordable public transport service in a free market. There are many powerful players in the market who decide on vehicle imports and the colour and design of our commuting. In fact this whole "traffic syndrome" started growing after the existing public commuter service that should have been further improved and modernised, was instead dismantled, allowing for the growth of a private trade in vehicle imports.
We thus remain with a railway that is archaic in every way. Walk into any railway station and buy a ticket to any destination, you would be given a ticket that was designed and crafted way back in 1900 or thereabouts. Operating systems have not been improved for over 50 - 60 years. It's an archaeological "look and feel" one is left with, travelling in our trains. Obviously, it is a poor man's mode of transport. Railway says it carries around 290,000 passengers every day, counting journeys and not passengers. The bulk is office travellers who commute on the heavily subsidised "season tickets". If this subsidy is removed (no doubt it would lead to chaos on railway tracks) there would hardly be any who would use the railway, daily. It is not the "service" that keeps commuters on rail tracks, but the heavily subsidised season ticket. It's that "push" which motivates a motorcycle trade that now has over 1.5 million motorcycles on the roads.
Sri Lanka cannot afford to go on accumulating private vehicles on roads that way, obstructing public life and slowing economic time. It cannot afford to waste dollar paid fuel and spend foreign loans on road "development" that has no commuter service planning. The issue of traffic jams is not about stagnant vehicles on roads demanding more roads and faster highways, but about economics of life and efficient mobility in society. Any developing country will have to plan in providing its productive and service labour, the facility of moving fast and safe, moving without stress and at an affordable cost. Any development plan thus would have to include planning of "greater city" public commuting. It would thus have to go beyond talking of traffic jams and import of vehicles, as a profitable trade.
This is what needs a change of approach in economic policy too. Investments on infrastructure development have to be within a planned commuter service. Lack of such planning and spending money on "fly-over bridges" show how ignorant the planners have been about transport and commuter services. It's a total disconnect and does not see an end result, or does not have a holistic approach to transport and public commuter services. The mindset of seeing traffic as an individual hazard has to change to one that sees commuting as a "social need" with common answers.
Railway thus should not be for the poor as it is now. It has to be for all who wish to have a comfortable, efficient and an affordable journey every day. Buses should be for all who want to commute daily in comfort and in time, at an affordable price. These two should have "connectivity" that would allow change of routes and destinations, without the hassle of daily queues for ticketing. Technology is so advanced and planning can be too. The Indian railway can be "booked" in advance from here in Colombo (or from any part of the world) and paid for by the credit card.
The bus and the rail services have to be planned together, to provide such a modern "combined" economical service in comfort for commuters who come to the city every day. They have to be planned as a single, effective, total public service that would help change public attitudes. The whole city transport (it would have to be Greater Colombo, Kandy, etc) would have to be so convincing, the daily traveller would leave his or her private vehicle at home on daily, routine travel. Or they could be provided with specially arranged vehicle parks near main bus or railway stations.
They could leave the car in the morning, get back in the evening to the original station, pick their vehicle and get back home. Such planning requires specialists with new and modern thinking. Those who'd dare to challenge the orthodox. Above all it needs a political will which this country lacks.
(The writer is a freelance journalist based in Colombo)