French Ambassador Christine Robichon recently visited Matara, Vavuniya, Kilinochchi and Mullaittivu districts, where she met with Government Agents, representatives of civil society and local politicians, according to a statement issued by the embassy.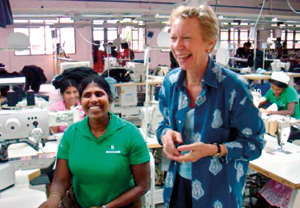 The French Ambassador shares a light moment with a garment worker.
In Matara, she visited centres run by local NGOs providing support and training to vulnerable groups, particularly children and young people. In the Vanni, the Ambassador observed progresses in the economic development of the region and the improvement of infrastructures. Visiting a garment factory, opened by Hirdaramani group in Vavuniya last November, she said:
"It is encouraging to see that a private Sri Lankan company, exporting to France, is creating jobs and employing women, in a region where many of them are breadwinners. I was impressed to see how the Tamil and Sinhalese employees quickly developed a team spirit, despite the language barrier ".
"In Vavuniya, the Ambassador visited the Family Tracing Unit supported by UNICEF, which aims at reunifying missing children with their parents. She listened to the deeply moving stories of people searching for their loved ones and met with a reunified family. In Kilinochchi, she was briefed by representatives of UNHCR and other UN agencies on their humanitarian activities. She then undertook several field visits of projects funded by the European Union and conducted by local and international NGOs, notably French ones," the statement said.
In the Pudukkudiyiruppu DS Division, she spoke with former IDPs who came back to their land and others who have been relocated to the Kombavil "new" village. The latter expressed their wish to be resettled to their original villages as soon as possible.