Today, 19 years after he first founded it, the Gratiaen Prize is what Michael Ondaatje intended it to be. In a country where more than one author has to pay to have their work published (and this includes last year's winner Sakunthala Sachithanandan herself), the Gratiaen Trust, in affiliation with the Standard Chartered Bank, offers their support in cold, hard cash. The Rs.200,000 that accompanies the prize must, at least in part, go toward the publication of the winning entry. The honour itself bestows that other great necessity – the publicity that inspires readers to descend in droves upon bookstores, in pursuit of an exciting new book.
Ondaatje established the Gratiaen in memory of his mother Doris Gratiaen, using his winnings from the Booker Prize his acclaimed novel 'The English Patient' shared with Barry Unsworth's 'Sacred Hunger' in 1992. Every year, the announcement of the shortlist is hosted by the British Council. (This year will be the last time it will have been held in their small, familiar auditorium, since plans to build a new auditorium are already underway.) Expressing his admiration for Ondaatje's decision to give back selflessly to Sri Lanka, Country Director Tony Reilly quoted William Makepeace Thackeray, scrupulously adjusting the wording to include both genders: 'There are a thousand thoughts lying within a man (or a woman) that he (or she) does not know till he (or she) takes up a pen to write.'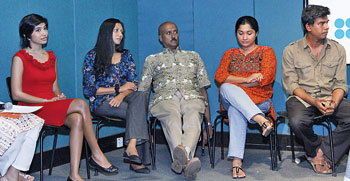 On the shortlist: L-r: Mariam Riza, Charulatha Abeysekara Thewarathanthri, Lucky de Chickera, Madhubashini Dissanayake-Ratnayaka, Malinda Seneviratne. Pic by Indika Handuwala
Charulatha Abeysekara Thewarathanthri for 'Autumn Leaves'
Lucky de Chickera for 'Sarasu: Amidst Slums of Terror'
Madhubashini Dissanayake-Ratnayaka for 'There's Something I Have to Tell You'.
Mariam Riza for 'Cry For Me a Little'
Malinda Seneviratne for 'Some Texts are Made of Leaves'
Judging these men and women this year was a panel made up of an academic, a writer and an informed reader. In a departure from past years, Senath Walter Perera, the current Chairperson of the Trust took to the stage to introduce the judges. Gill Westaway, (Chairperson of the panel) was the Director of the British Council until August 2010. Harshana Rambukwella is a Senior Lecturer at the Postgraduate Institute of English, The Open University of Sri Lanka and an Honorary Assistant Professor at the School of English, University of Hong Kong; and Delon Weerasinghe, whose play 'Thicker than Blood' won the 2005 Gratiaen Prize is a playwright whose work has also been commissioned for The Royal Court Theatre, London.
Levelling the playing field, the prize is only awarded to Sri Lankan nationals resident in the country. Fifty entries were submitted this year, spanning a variety of genres from fiction to poetry to short stories, but the judges appear to have been entirely agreed on who would make the final cut.
Charulatha Abeysekara Thewarathanthri was shortlisted for 'Autumn Leaves' which the judges' citation described as 'a moving and lyrical piece of writing that appears to adopt the form of a fictionalized memoir.' They praised her debut, noting that while it was simply told, the sense of melancholy added emotional depth to the narrative. Lucky de Chickera's 'Sarasu: Amidst Slums of Terror' with its 'fast paced and readable text' provided a change of pace. The novel, which follows a family they are displaced from the slums of India to the slums of Sri Lanka was replete with romance, suspense and action, said the judges.
Madhubashini Dissanayake-Ratnayaka, no stranger to the Gratiaen shortlist, was included this year for her novel 'There's Something I Have to Tell You'. The judges began by recognizing her work for being 'a considered and critical chronicling of the complex socio-politics of contemporary Sri Lanka through the interconnected lives of youth from contrasting social and cultural backgrounds' and concluded by praising the skilfully written novel for 'interweaving the personal with the political through a poignant, emotionally and morally compelling cast of characters placed in exigent circumstances.'
Mariam Riza, who appeared to be the youngest author in the group, made the shortlist for 'Cry For Me a Little' a collection of short stories. Her work engaged with controversial subjects from homophobia to ethnic conflict and exploitation of women to patriarchy. Adopting a terse and succinct style, Mariam succeeded in creating a heightened sense of drama noted the judges, adding '…these stories compel the reader to confront the harsh realities of our society and demand we take notice of the injustices and prejudices around us that complacency allows us to ignore.'
Malinda Seneviratne, who has also been shortlisted before, became the only poet this year to be so recognized. The judges applauded his collection 'Some Texts are Made of Leaves' for its 'finely crafted collection of verse' and for its 'fresh and innovative style,' noting how the poet succeeded in unifying the collection through a sense of poetic understatement, providing his work with 'a tone of controlled reflection which rarely spills over into melodrama. In a nice addition to the ceremony each author stood up to share with the audience something about their book and their inspiration for writing it. Despite the attempt to provide context however, the readings were simply too long.
Another point is what Chairperson Gill Westaway drew attention to - "while we were happy to note the prolific output of English writing in the country we were often frustrated by the lack of quality", she said. She also pointed out the obvious lack of proofing or editing even in published work by established writers. This is a serious yet familiar complaint, voiced by previous panels of judges as well. Perhaps, considering its mandate to nurture English writing in Sri Lanka, the Trust should be more ambitious - intervening earlier to help aspiring writers and editors in this country actually improve their skills in meaningful ways instead of confining themselves to judging the finished products.
In the meantime for the shortlisted authors, all there is left to do now is to wait with bated breath. The winner of the 2011 Gratiaen Prize and the HAI Goonetileke Prize (for which there is no shortlist) will be announced on Saturday, May 26.