She doesn't like the words 'bucket list', considers allowing oneself negative thoughts a form of self-defeat and bristles at the implication that it's time to retire 'Let's Get Physical'. "You think it stops now?" she asks, obviously enjoying putting a journalist on the spot. A few minutes later she says, "Someone told me in Sri Lanka that if you're over forty they think you're over the hill.
Let me tell you, I'm not." The stage at the Musaeus auditorium is bathed in lights, the instruments stand waiting to be claimed, and somewhere behind us, the audience has already begun to pour in. We're seated off to the left of the stage - three reasonably star struck journalists sitting down for a few minutes with the evening's luminary. The question is - have I just succeeded in mortally offending Olivia Newton John, beloved of millions? Probably not, Olivia is far more resilient than one would imagine.
Her fight with breast cancer and eventual triumph is a perfect example of this. Olivia, who seems to attribute her recovery as much to her positive attitude as to her treatment has dedicated a great deal of her energy to raising awareness about the disease and after a decade of campaigning she's ready to throw open the doors to the Olivia Newton-John Cancer and Wellness Centre this June. She and her husband 'Amazon John' Easterling got married in the Amazon, and their interest in alternative medicines and treatments extends into their business – The Amazon Herb Company. In fact, her trip to Sri Lanka might inspire a new range of products. "My husband is meeting tomorrow with some Sri Lankan herbalists to talk about the plants here," she tells us.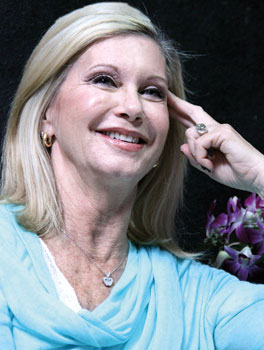 Time for the press: ONJ at the pre-show interview. Pix by Indika Handuwala
She doesn't hide her eagerness for their work; gesticulating gracefully, those famous blue eyes alight with enthusiasm. The years have been kind to her. Her age, when it shows at all, is only visible in the gentle lines that form in the creases at the corner of her eyes. She glitters – dressed in white and pale blue, she wears diamonds at her throat and sequins on her slippers. In an interesting contrast, her nails are painted black. But none of it conceals the fact that Olivia is clearly tired.
It only adds to my curiosity – why would a star who should be able to rest comfortably on her laurels still sign up for relentless touring? This time, she'll do something like 19 shows on her Asia 2012 tour, hopping between Thailand, Singapore, Malaysia, Philippines, Hong Kong and Indonesia with only a day off in the whole time. It's clear she's finding it tiring: "It's been a lot of the travel.
Two or three times it felt like we were going to Australia every day from LA." A scheduled press conference was cancelled and in person, she does seem weary. It shows in the cast of her face and the way she responds to some questions with almost uncharacteristic brevity – sometimes her answers are shorter than the questions themselves.
When she says she still touring because "I like to sing, it's who I am. I'll do it until I don't enjoy it or people don't show up," it sounds like an easy answer. It's only later, when Olivia steps onto stage that we realize it's the exact truth – and that at 63, she still has what it takes. She loves performing, she loves her crowd, and they can't seem to help but love her back – it's clear this Sri Lankan audience adores her. They're clapping even before she steps on stage, and when she does walk on dressed all in glittering black, the applause swells. (The De Lanerolle brothers having already done a stellar job of warming us up for her with renditions of 'Spanish Eyes' and 'Show Me The Way to Amarillo'.)
The next hour and a half is an education in how a star gets a crowd eating out of her hand. We're up on the balcony (somewhere below are people who've paid Rs.15,000 a head to get as close as they can) from where we have a clear view as she launches into the first song of the evening - a quiet, heartfelt rendition of 'Pearls on a Chain'. She follows with her hit 'A Little More Love' off her 1978 album 'Totally Hot'. Wrapping up, she turns to us and says "Ayubowan," and bows and then spoils the solemnity with a smiling "Did I get it right?"
It's the first time she wins a laugh from us, but it's far from the last. Olivia is warm and forthcoming with her audience; she displays a quirky, irreverent wit, and reveals a more vulnerable aspect when she confesses to having nights during her illness where she would wake up in her bed, afraid. "I thought I was going to retire," she says in her husky voice, "but then I realized I could never give into it." You get a sense, she relies greatly on the members of her band whom she treats like old friends: Marlen Landin Chapman and Steve Real Y Vasquez are on vocals, Timothy McDonald on keys, her long time music director Andrew Timmons on guitar, Warren Ham on horns and vocals, Matthew Mc Kenzie on bass and Mark Beckett on drums.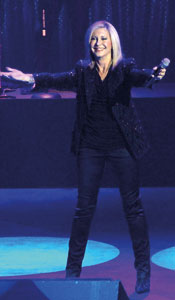 A particularly charming tableau is offered up when they gather around three stools to perform a series of covers of country songs – she begins with one of her earliest hits, a cover of Bob Dylan's 'If Not For You'. In her hands, it's a fluffier beast but when she sings 'Jolene' she gives the song some teeth. And yes, everyone knows the words to 'Country Roads' and with Olivia's encouragement the whole auditorium sings along.
Over the course of the show, she orchestrates more than one switch in mood, none more dramatic than when she goes from a rousing rendition of 'Let's Get Physical' to sit in the spotlight alone and sing 'Send in the Clowns'. Like Judy Collins and Barbra Streisand before her, she soars, she whispers, she breaks hearts.
She saves the songs from 'Grease' for the very end. (She's amazed, she says, at how the movie is loved wherever she goes and is amused by how everyone always wants to know what it was like to kiss John Travolta. Unfortunately, her lips are sealed on the subject.) Donning a leather jacket she and Marlen take one corner of the stage and Steve and Warren take the other. They get the audience singing with them. From 'Summer Nights' to 'Hopelessly Devoted to You' and 'We Go Together' these songs are all old friends, tunes we've known for years. She leaves us with a rendition of 'I Honestly Love You' and the feeling, which is perhaps her gift as a performer, that after our evening with her we might just be old friends too.