The Defence and Urban Development Ministry which has taken over a land in Thalawatugoda, which was already being cultivated, saying the land was required as a flood retention area, has allowed the land to be filled, residents complain.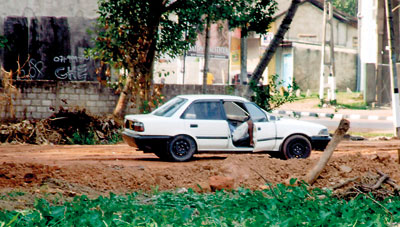 The land in question with buildings coming up and an earth-filled road running through it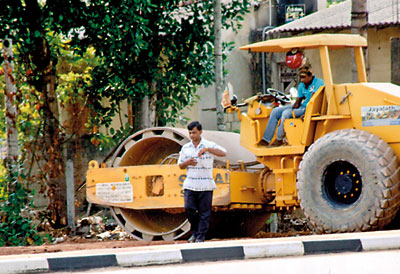 Top: The turn-off from the main road to the earth-filled road. Below: The road roller used in constructing the road
E.D. Ariyawathie, a tenant farmer has been cultivating the land for almost 50 years. Her land was taken over by the Ministry, with Senior Assistant Secretary S.G. Palliyaguruge assuring her the land was to be taken over solely to be used for flood retention purposes.
On January 30, 2012 she had received a letter signed by Mrs. Palliyaguruge stating that the land will be taken over by the State.
In reply to her further inquiries, the Assistant Secretary had replied that the land bearing project number 91901 of Batadeniya, Thalawathugoda is to be taken over by the Land Reclamation and Development Board for flood retention and that no construction will take place on the land.
However, according to her, land filling is taking place since April 1 under the supervision of an Urban Development Authority officer.
"I have been cultivating in this land for more than fifty years. At the beginning of this year I was forced to hand over the cultivated land to the Government. I have written to Defence Secretary Gotabaya Rajapaksa regarding this move taken by officials of his ministry," she states in a letter.
She said this was a violation of the Agrarian Development (Amendment) Act of 2011 which states that a land leased for cultivation purposes cannot be taken for any construction.